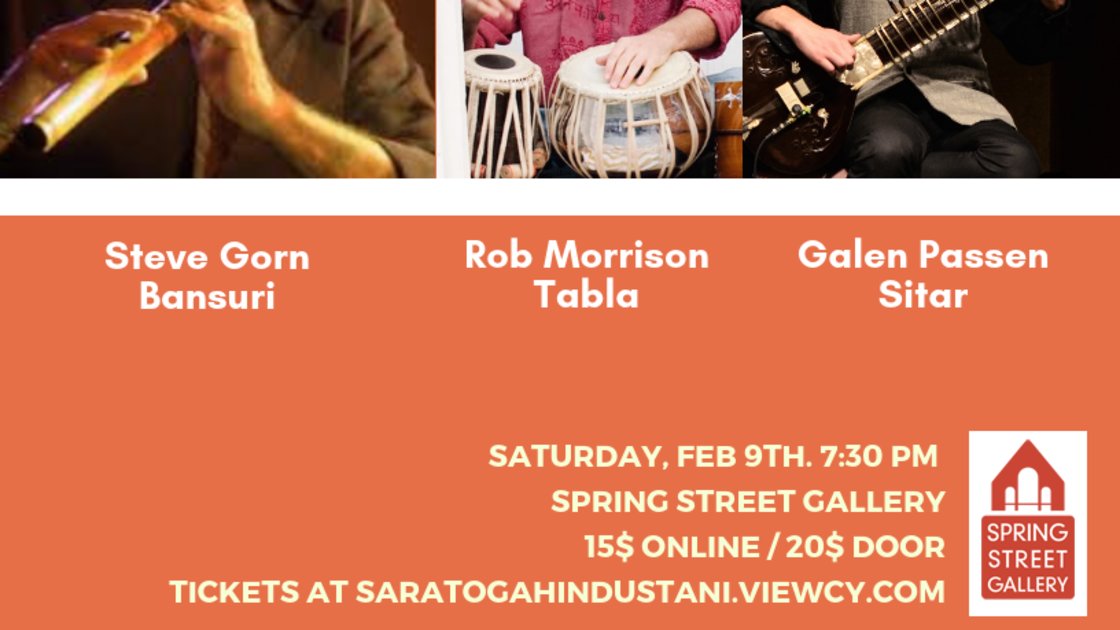 Day and Time
Sat, 09 February 2019
07:30PM - 09:30PM (EST)
Description
Saratoga Hindustani is honored to have bansuri virtuoso, Steve Gorn come to its stage! Gorn and sitar player, Galen Passen will play what is known as "jugalbhandi". Translating into "tied together", a melodic duet unfolds wherein the two musicians work together to express the raga. It is a fascinating process to watch unfold, adding an interactive dynamic to the art of Raga. On tabla, Rob Morrison will join with his playful and insightful sense of time and rhythm, providing a grounding guide to the music. As a trio we will share a selection of semi-classical and classical pieces. Looking forward to seeing you there!
Tickets can be bought online here for 15$ or 20$ at the door!
BIOS
Steve Gorn
Steve Gorn's bansuri is featured on the 2011 Grammy winning recording, "Miho – Journey to the Mountain," with Dhruba Ghosh and the Paul Winter Consort, as well as the Academy Award winning Documentary film, "Born into Brothels." He has performed Indian Classical Music and new American Music on the bansuri bamboo flute in concerts and festivals throughout the world. His gurus are the late bansuri master Sri Gour Goswami, of Kolkata, and Pt. Raghunath Seth of Mumbai, who he often accompanied in concert. He also studied with the late Ustad Z. M. Dagar. He has often performed in India, appearing at Bharat Bhavan in Bhopal, Habitat Center and Triveni Hall in New Delhi, The Sangeet Research Academy in Kolkata, NCPA, and The Nehru Center in Mumbai, and numerous other venues. His performance with Pandit Ravi Shankar's disciple, Barun Kumar Pal, at Kolkata's Rama Krishna Mission, was televised throughout India. In 2013, he was awarded the Pandit Jasraj Rotary Club of Hyderabad Award for Cross Cultural Achievement.
Galen Passen
Galen Passen has been studying North Indian classical music (Hindustani) for over a decade. From 2009 to 2017, he lived in New Delhi, India where he underwent intensive training in the traditional manner of private tutelage from a guru. He received his foundational training from Gopal Krishan Shah. Presently, he continues to learn under renowned sitarist, Abhik Mukherjee in New York City.
Galen regularly performs hindustani music in NYC and the capital region. He also works as a collaborator and composer within a variety of formats. He has performed contemporary composition and dance in New Delhi and at the OllomArt Gala in Manhattan, NY. He will be participating in new work with the Pittsburgh Opera in the coming months.
Rob Morrison
Rob began training on tabla under Anand Gadre and went on to study with Devesh Chandra, who he has been learning from for the past eight years. He has toured and performed with Ashana, Steve Gorn, Amit Chakraborty, and the jazz rock band Dirty Paris. You can learn more about rob at his website: https://robmorrisondrums.com/about
Day and Time
Sat, 09 February 2019
07:30PM - 09:30PM (EST)
Collaborator
Galen Passen