Sitar of Itawah
by
Chhandayan Programming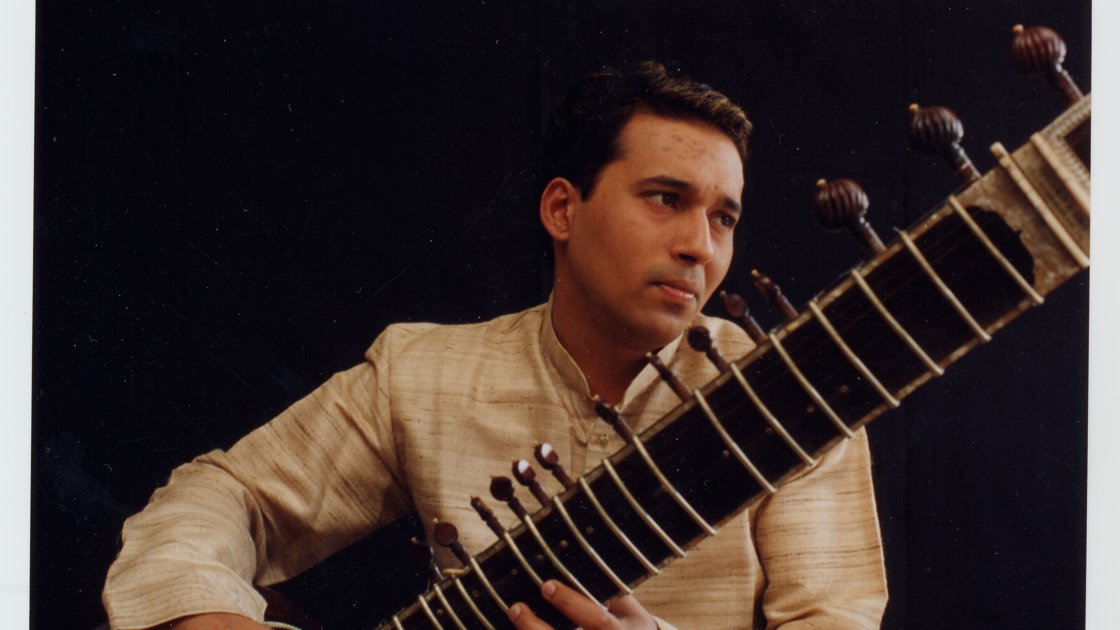 This is an in-person event that is also streaming online
Sat, 04 December 2021
07:30PM - 09:00PM (EST)
Event past
Chhandayan Center for Indian Music
4 West, 43rd Street, #618
NEW YORK, NY 10036
Open Map
Organizer
Chhandayan Programming
Hidayat Khan - sitar
Samir Chatterjee - tabla

"A daring dedicated performer. His fans fondly say he plays the sitar through strings that sing" an apt description by vibe for the sitarist/ vocalist Hidayat Husain Khan. Rolling Stones praises him and his music as "Jazzing up the sitar. Khan adds new shades to the music with his mastery." He has been described, as "born to play" by Montreal Times.


"Charismatic, charming and fun, Hidayat Khan plays with the audience" by Off Beat. His music has been praised by Le Mond De as "Divinity" and "His music was transporting, piercing the soul till the last drops of emotions were flowing through the body." by Khaleej Times. He is one of the rare sitarist who adds a soulful voice to his performance which Music-Online captured it well in "Dazzling bursts of amazing taans followed by mesmerizing vocals"
He has been fortunate to have performed at The Black Ball Charity in NYC with
Alicia Keys
and has collaborated with such illustrious musical names as
Ndugu Chancler, Ronnie Woods, Usher, Zakir Hussain, Pete Townshend,
Will.I.Am
, Jay Z and Darryl Jones.
Few performances and albums include a musical theater with Danish Hussain which will premiere in October 2018 in New York City. "Music and Story" book release with author Namita Devidayal on the life of Ustad Vilayat Khan in fall 2018 will be interesting book reading with live performance. He has ongoing "Art of Sitar" lec/dem on creativity and music. His new Single " Anjane Raste" with Carls Low and Amit Inderdo is to be released with a music video in July 2018.
His group album "Melodic Intersect" has been included in Grammy Ballot for the best World Music Album since 2016 where his music has been praised by The Chase as "Khan's solo builds the intensity, with quick lines and flurries, leading the ensemble into a climax that is both musically satisfying and leads to the ending statement.." The ensemble's recent sold out concert at the IndoJazz festival at The Jazz at Lincoln center was "the most eclectic act, the group eschewed slow and steady melodic development for a mercurial pastiche of changing moods and modes" by The NYC Jazz World. The ensemble has garnered a lot of praises, described as a "Giant step forward in the richly growing discography of this cohesive and empathetic ensemble." by The Jazz world and by SeattlePi as "The result is a world music that soothes and challenges simultaneously."
His solo album "Ziver" was voted "One of the best world music albums of the year" by MTV music charts and "Beautiful and unconventional to the core" – Midday. His talent is not restricted to albums and live performances, he has lent his versatility in several film score compositions, the most famous being "Kamasutra."
He harbors a rare, creative brilliance that effortlessly takes him across all genres and nuances of music and can seamlessly transition from the very classical playing the intricate meands (slides) of the Etawa/Vilayatkhani Gharana to the very colloquial. This is best reflected in The NYC Jazz World's quote "performing in a style, which, while patently steeped in Hindustani (North Indian) influences, defied facile categorization" and in Jazz Weekly describes his music as "If you want to know true "world music" Khan might do it for you."
It is not a surprise to know that he is a direct descendant and proponent of one of the most treasured lineages of eastern classical music. Youngest son of the legendary Ustad Vilayat Khan, globally acclaimed as the greatest of all sitarists. The London Times aptly describes Hidayat as "the tradition carries on impeccably."

Samir Chatterjee
Samir Chatterjee is a virtuoso Tabla player. He travels widely across the world throughout the year performing in numerous festivals as a soloist or with other outstanding musicians from Indian and western traditions. He performed at the Nobel Peace Prize Ceremony in Oslo, Norway in December 2007. He has also performed at the UN General Assembly several times. His compositions are widely acclaimed as well as his writings.

Samir can be heard on numerous recordings featuring as soloist, accompanying many of India's greatest musicians and in collaboration with western musicians of outstanding caliber. Samir lives in New Jersey and has been a catalyst in the fusion of Indian and Western music in the New York City metro area. He is the Founding President of Chhandayan, a not-for-profit organization promoting and preserving Indian music and culture. Samir teaches at several prestigious institutions. He has authored three books on Indian music; 'A Study of Tabla', 'Music of India' and Those Forty Days. Samir played a significant role in the musical revival in Afghanistan. He is the recipient of several awards such as the Sunshine Award, Jadu Bhatta Award and Acharya Varistha Award.