SONG EXCHANGE AT BARBES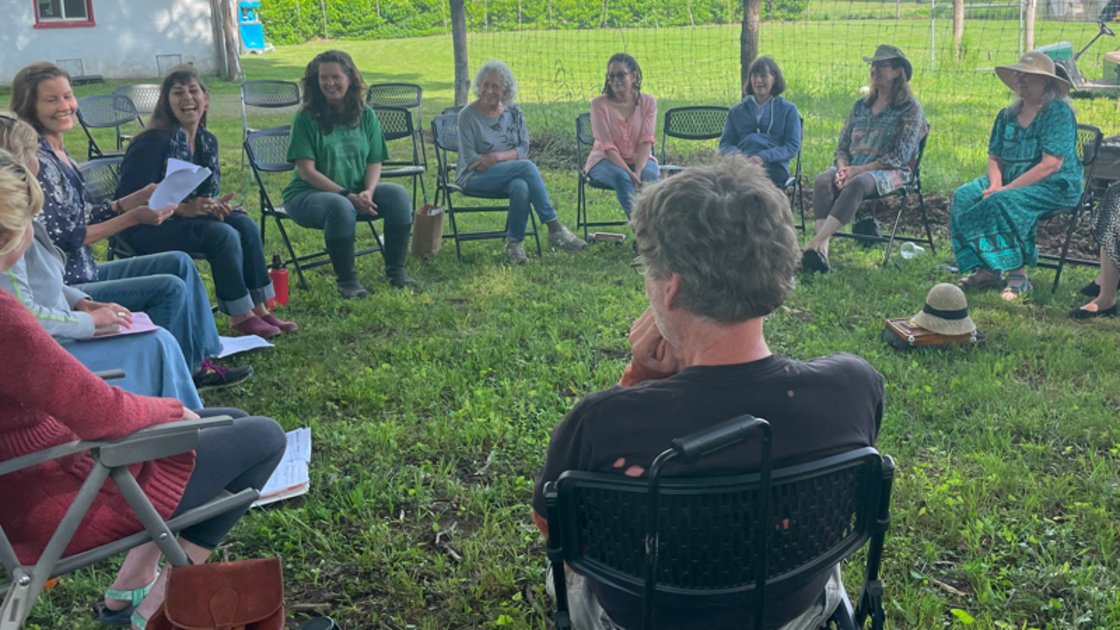 Sun, 23 January 2022
02:00PM - 05:00PM (EST)
Barbès
376 9th st
Brooklyn, NY 11215
Open Map
Join Katie Down, Rima Fand, and Tannis Kowalchuk for a community song exchange
4:00pm to 6:00pm
Please bring a song that you can teach to others. Rounds, simple harmonies, world music, folk, and a cappella tunes work well. Since this is an indoor event, we will limit this workshop to 20 and require all participants to be fully vaccinated and masked.

This workshop has a suggested donation of $10
but come regardless of payment.
KATIE DOWN
is a multi-instrumentalist, sound artist, educator, and music psychotherapist. An improviser and classically trained flutist, Katie also sings Sephardic songs with her group
Sofie Salonika
and lots of bawdy songs from the 30s and 40s with
The Ukuladies.
She is frequently seen performing on the steel cello, glass percussion, and other odd instruments with her ensemble,
NewBorn Trio,
and
has sung with the Bulgarian choir,
Yasna Voices
. Katie received Mid Atlantic and Jerome Foundation travel grants to study in Bulgaria with Kremena Stanchova and has had the fortune of learning songs along her travels to eastern Europe, the Balkans, and South Africa. Katie is an associate professor of music therapy at SUNY New Paltz and has a private practice now based in the Hudson Valley, NY.
www.soundwellcenter.com
RIMA FAND
is a Brooklyn-based composer, musician and educator. An innovator who is also strongly drawn to folk traditions, she creates on an edge where the traditional meets the experimental. Since 2018 she has been composing an object-theater/chamber opera entitled Precipice, currently in development with American Opera Project, and is the recipient of a 2020 Opera America Commissioning Grant for this production. Earlier projects include Farm Arts Collective's Shakespeare on the Farm (2019), NACL's Courage on Governors' Island in 2017, a workshop production of A Footnote In History, presented in the 2017 ICE FACTORY festival, and Don Cristóbal, Billy-Club Man, created in the HERE Artist's Residency Program and produced at the Abrons Arts Center. She was the recipient of an Exploring the Metropolis Composers' Residency. She was most recently seen in Dream on the Farm 2021 with Farm Arts Collective.
TANNIS KOWALCHUK.
is artistic director of Farm Arts Collective, flower farmer, and co-owner of
Willow Wisp Organic Farm
. Tannis has directed and performed in over 30 original theatre productions in the US and Canada. Current projects include the annual
Dream on the Farm
(director)
Stone Soup Cooking Class
(writer/performer),
Shakespeare on the
Farm (director/performer), and a new solo performance
DeCompositions.
Prior to starting Farm Arts Collective, she was a founding co-artistic director of
NACL Theatre
with whom she created
The Weather Project
and
Courage.
Awards: Women and the Arts and Media Collaboration Award 2019.
$10 suggested