STEPHANE WREMBEL: AN INTERACTIVE ONLINE TRIBUTE TO DJANGO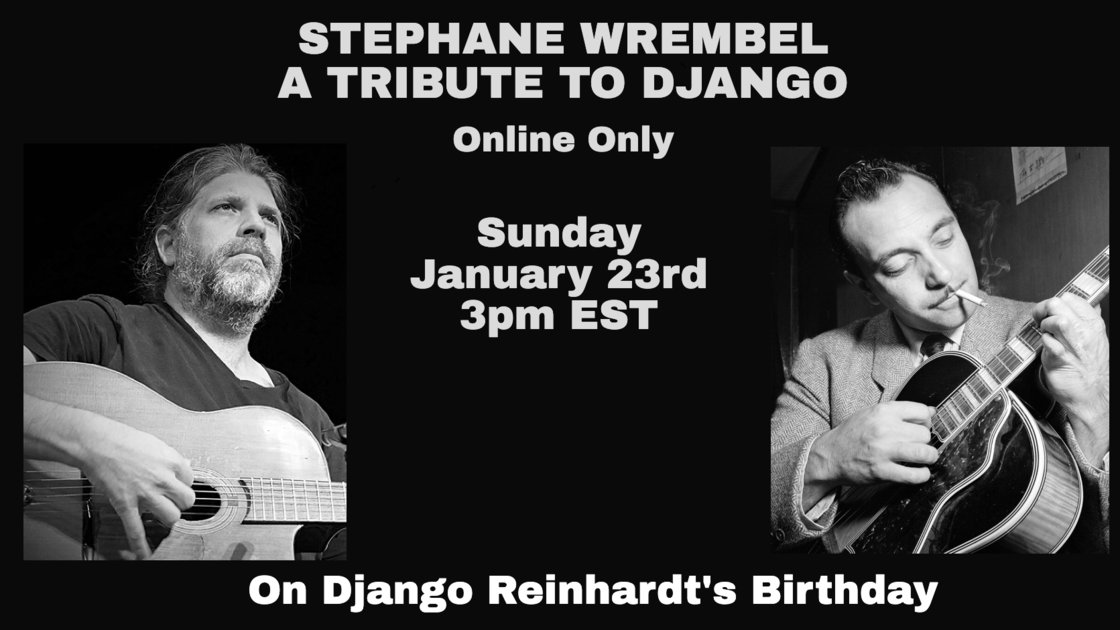 This event is streaming online
Streaming tickets unavailable at this time
Sun, 23 Jan 2022 (EST)
03:00PM - 04:20PM
Event past
Artist
Stephane Wrembel
To celebrate what would have been
Django Reinhardt's 112th birthday
, Stephane Wrembel presents a 75 minute
online only
tribute to Django - part talk, part solo concert and part off the cuff improvisation.
Hosted by
Fiona of The Bloom Effect
who will also be fielding questions -
link to be announced.
---------
This streaming only event will be followed by a an in-person only solo concert of
Django l'impressionniste at 7pm
and a full band concert
of
The Django Experiment at 9pm
---------
Stéphane Wrembel
is probably the foremost interpreter of Django Reinhardt's music in North America. Whether sticking to the French master's arrangements or taking the music into new territory, Wrembel has always treated Django like a serious composer rather the cliché paragon of swing and speed he has too often been portrayed as.
Stéphane penned the theme song to Woody Allen's "Midnight in Paris" and scored Allen's latest film, Rifkin's Festival. He has performed live for the 2012 Academy Awards, has headlined at Carnegie Hall, Town Hall and the the Lyon Opera House and has been called "a revelation" by Rolling Stone magazine.
His acclaimed album,
Django l'Impressionniste
, is a transcription of the master's solo improvisations, which Wrembel essentially treats as a book of classical preludes
Stephane Wrembel has played (almost) every Sunday at Barbès for the past 18 years.


Donate online now or in person that day