Summer Night Sahra, with Zahra and Marwa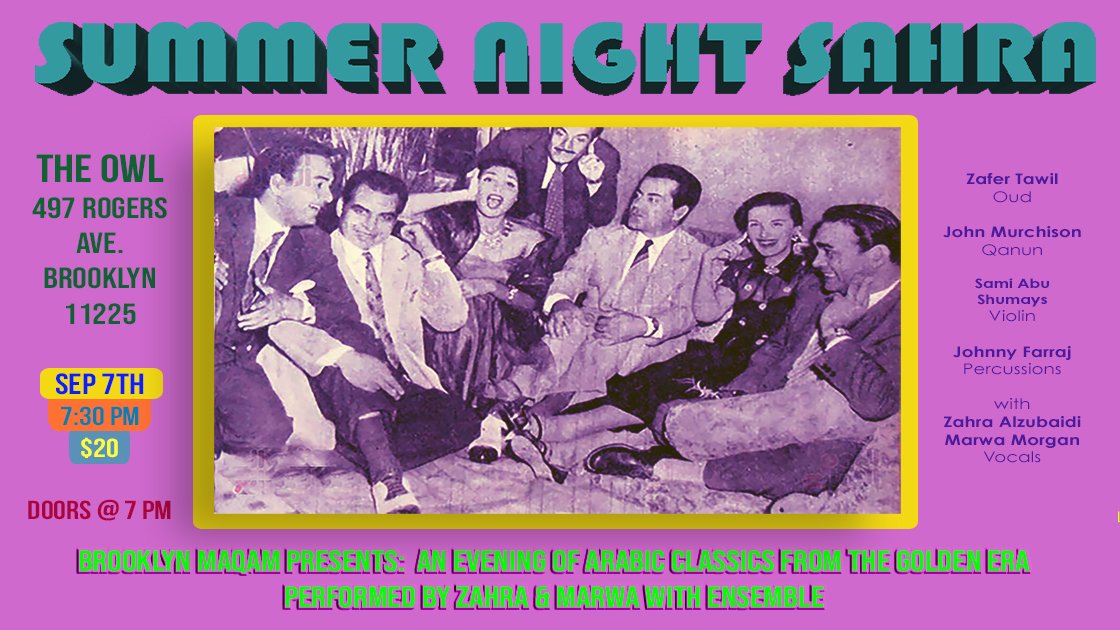 In-person tickets are SOLD OUT
Wed, 07 Sep 2022 (EDT)
07:00PM - 09:00PM
Event past
The Owl Music Parlor
497 Rogers Ave
Brooklyn, NY 11225
Open Map
Summer Night Sahra, Featuring Zahra AlZubaidi and Marwa Morgan
Wednesday September 7th, 2022
7:30pm (7pm doors)
Admission: $20 (Limited Available!)

An evening of classic Arabic music featuring songs by Umm Kulthum, Mohammad Fawzi, Farid El Atrache and others, performed by the duet Zahra and Marwa.


Zahra Alzubaidi is an Iraqi vocalist based in NYC who performs a variety of Arabic styles, and has appeared with several ensembles throughout the US.
Marwa Morgan is an Egyptian singer and journalist based in New York City. Grew up in Cairo, surrounded by classical Egyptian music. Since moving to U.S. 2015, music has become a way to connect her to home. She has performed with several ensembles in the U.S.
Zafir Tawil is an accomplished Palestinian musician and a virtuoso on 'oud, qanun, violin, and Arab percussion. He performs across the U.S. and in the Middle East with such musicians as Sting as well as celebrated world music artists.
Sami Abu Shumays is a violinist and vocalist performing traditional music from Egypt and Syria. He founded and directs the ensemble Zikrayat.
Johnny Farraj
is a Lebanese-born musician and software engineer of Palestinian descent. His main instrument is the riqq; he also plays the 'ud and sings. Johnny is the creator of
MaqamWorld.com
John Murchison is a Brooklyn-based bassist and multi-instrumentalist. He is known for his active role in several musical circles, performing primarily in pop and musical theater, jazz and avant-garde, and traditional music from the Middle East and Africa.
* Sahra سهرة : An evening party, jam or soirée.