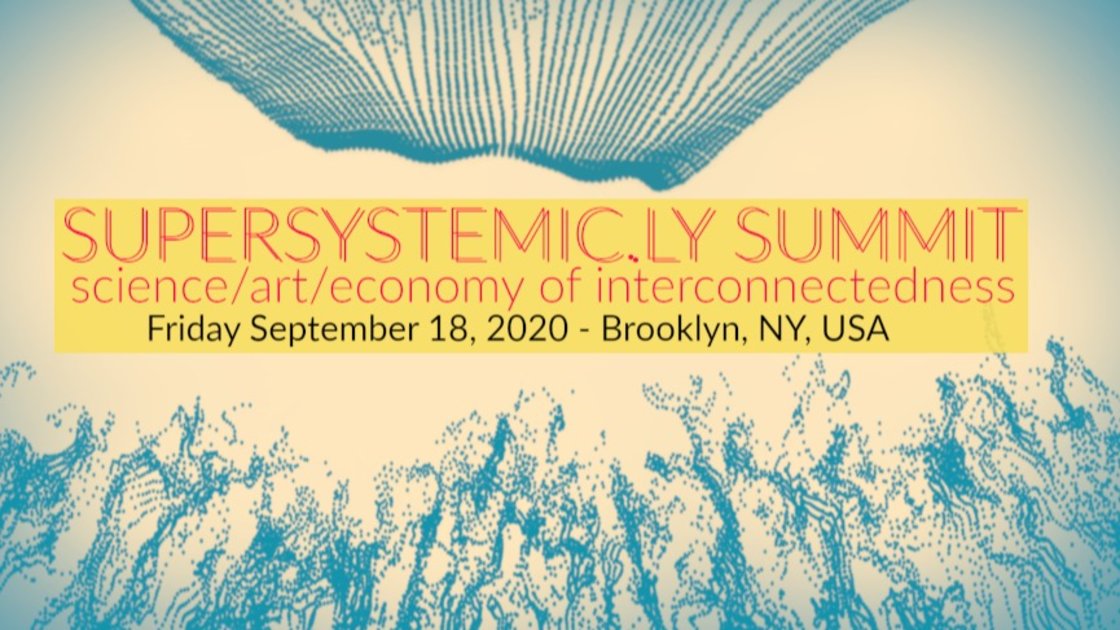 Day and Time
18 Sep, 2020, 11:00AM to
19 Sep, 2020, 1:00AM (EDT)
Description
You are invited to Supersystemic.ly Summit 2020 on Friday September 18, 2020 in Bushwick, Brooklyn, New York. A one-day event exploring the science, art and economy of interconnectedness. In addition to talks and experiences the day will be filled with opportunities to engage other human beings in meaningful ways. TOGETHER WE WILL:
EXPLORE...
...inspiring talks and presentations by thought leaders, entrepreneurs, scientists, and masters of these fields.
psychedelics
A.I.
adaptive learning
microbiome
agroforestry
blockchain
EXPAND...
...heart and mind through workshops, classes, art installations and live music performances.
digital art
yoga
music
tantra
movement
breath work
ENGAGE...
...within a breathtaking, raw, Bushwick space full of leading experts and the curious of mind to plot a future together.
researchers
artists
philosophers
activists
entrepreneurs
world-changers
investors
TALKS AND PRESENTATIONS:
DR. BEN GOERTZEL:
The future of human and artificial minds
DR. MONNICA T WILLIAMS:
Mdma and race-based trauma
DR. RICARD SOLE:
Evolution of complex systems, both natural and artificial
RIO HAHN:
The importance of "set" in altered states exploration
ABIODUN HENDERSON:
Community farming for formerly incarcerated youth.
MARK CHARLES
Us presidential candidate 2020: the problem with a worldview based on the doctrine of discovery.
JOHN D LIU:
ecosystem restoration camps - how to restore ecosystem function to reverse climate change and save human civilization.
BARBARA CARRELLAS:
Tantra in community: how the power of shared breath and erotic intention can inspire healing and change.
DR, ANTHONY BRANDT:
Idea diversity and creativity.
CLAUDIA FOX TREE:
Un-erasing first-nations ingenuity.
DR. GUL DENIZ SALALI:
Cultural evolution and social learning in hunter/gatherers: parallels to machine learning.
SHELBY HARTMAN and MADISON MARGOLIN:
Promise of psychedelics in mediating environmental justice and political conflict.
GREG KIESER:
The problem of implicit and hidden ideologies and what we can do about it.
KYLE BULLER AND JOE MOORE:
Psychedelics, breathwork, and expanding psychology
MARK SHEPHARD:
Restoration agriculture - restoring the earth and feeding humanity with the same system.
DAYNA MARTIN:
Radical unschooling.
WILLIAM DRESCHER:
Love and public health: looking at addiction differently
GREGORY LANDUA:
Blockchains and other open tools for ecological regeneration.
ERIK HOEL:
Biological basis of consciousness and nature of emergence.
BENNET A ZELNER PHD:
Psychedelic therapy in community systems
EXPERIENCES:
AISHA DEVI:
live electronic performance
AISHA DEVI + PUSSYKREW:
virtual reality experience
BARBARA CARELLAS:
how to have breath and energygasm
KYLE BULLER and JOE MOORE:
transpersonal breathwork
KYLE MARSHALL: Vinyasa Yoga
transpersonal breathwork
ENGAGEMENT:
MARKETPLACE:
tba
ELIXIRS:
tba
TEEN GENIUS OFFICE HOURS:
tba
OUTDOOR GROUP ACTIVITIES:
tba
PARTICIPATORY ART:
tba
fb: https://www.facebook.com/events/526068304713198/ insta: https://www.instagram.com/supersystemic.ly/ Corona Virus Update: https://www.supersystemic.ly/corona-virus
Day and Time
18 Sep, 2020, 11:00AM to
19 Sep, 2020, 1:00AM (EDT)
Producer

Dina Nur Satti
Organizer

Supersystemic.ly