Sur-e-Sarod
by
Chhandayan Programming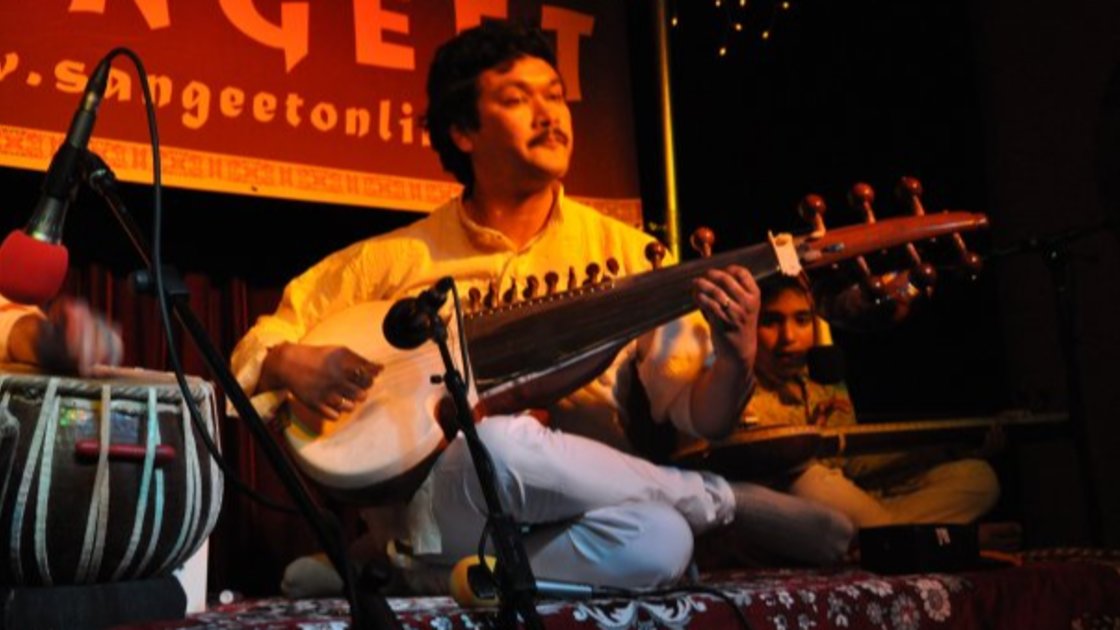 This is an in-person event that is also streaming online
Sat, 20 November 2021
07:30PM - 09:00PM (EST)
Event past
Chhandayan Center for Indian Music
4 West, 43rd Street, #618
New York, NY 10036
Open Map
Accompanist
Ethan Fox
Organizer
Chhandayan Programming
Anirban Dasgupta - Saord
Samir Chatterjee - Tabla

Anirban Dasguptais a worthy scion of an unique sarode school that owes so much to his father and guru, Pandit Buddhadev Dasgupta. This individual has proven yet again that the combination of academics and music can not only be successful, but can emerge as a refined artistic synthesis. Anirban is the younger son of Sarod maestro Pandit Buddhadev Dasgupta and has received all his training in music from his father and guru. Initiated early into this art by his father, Anirban is known today for his delicate mastery of the Sarod and great facility in its technique and authentic rababiya repertoire. Some of the principal hallmarks of his playing are perfect tunefulness, extremely consistent and balanced right hand strokes,razor-sharp taans, and the traditional Ameerkhani baaj.
Anirban's musical career gained recognition in 1987 with the award of the first prize, amongst all groups of stringed instruments , at the All India Radio Music Competition. For a period thereafter he was preoccupied with his academic studies. After successfully completing his Bachelor's and Master's degree in Electrical Engineering , and finding himself a berth in the professional field, he came back to his original musical love. He has participated and excelled in prestigious musical conferences throughout India, such as Aarambh (Bhopal), Sur Sagar Society (Bangalore), Vishnu Digambar Festival (New Delhi), Ninaad(Benaras), Sangeet Mahabharaty (Bombay), Tansen Festival (Calcutta), Salt lake Music Conference (Kolkata), Tansen Music Conference (Kolkata), Sopori academy of Music and Performing arts (New Delhi) and Sangeet Natak Academy (Goa).
Anirban has also enthralled audiences in the west, at venues such as Stanford University, Yale Universirty, Brown University and Ali Akbar College of Music in the US.He has also given a number of concerts in United Kingdom, Germany, Netherlands and Belgium. Anirban also has three commercially published CDs to his credit.
His unpretentiousness is very endearing to a serious listener who he charms slowly, but to a great extent by his musicality, and not aggressively A wonderful product of talented nature and delicate musical nurture, Anirban remains an extremely humble and self-effacing artist – a refreshing beacon in this sad modern world of aggressive marketing and self-trumpeteering.

Samir Chatterjee
Samir Chatterjee is a virtuoso Tabla player. He travels widely across the world throughout the year performing in numerous festivals as a soloist or with other outstanding musicians from Indian and western traditions. He performed at the Nobel Peace Prize Ceremony in Oslo, Norway in December 2007. He has also performed at the UN General Assembly several times. His compositions are widely acclaimed as well as his writings.

Samir can be heard on numerous recordings featuring as soloist, accompanying many of India's greatest musicians and in collaboration with western musicians of outstanding caliber. Samir lives in New Jersey and has been a catalyst in the fusion of Indian and Western music in the New York City metro area. He is the Founding President of Chhandayan, a not-for-profit organization promoting and preserving Indian music and culture. Samir teaches at several prestigious institutions. He has authored three books on Indian music; 'A Study of Tabla', 'Music of India' and Those Forty Days. Samir played a significant role in the musical revival in Afghanistan. He is the recipient of several awards such as the Sunshine Award, Jadu Bhatta Award and Acharya Varistha Award.