Surround Sound Bath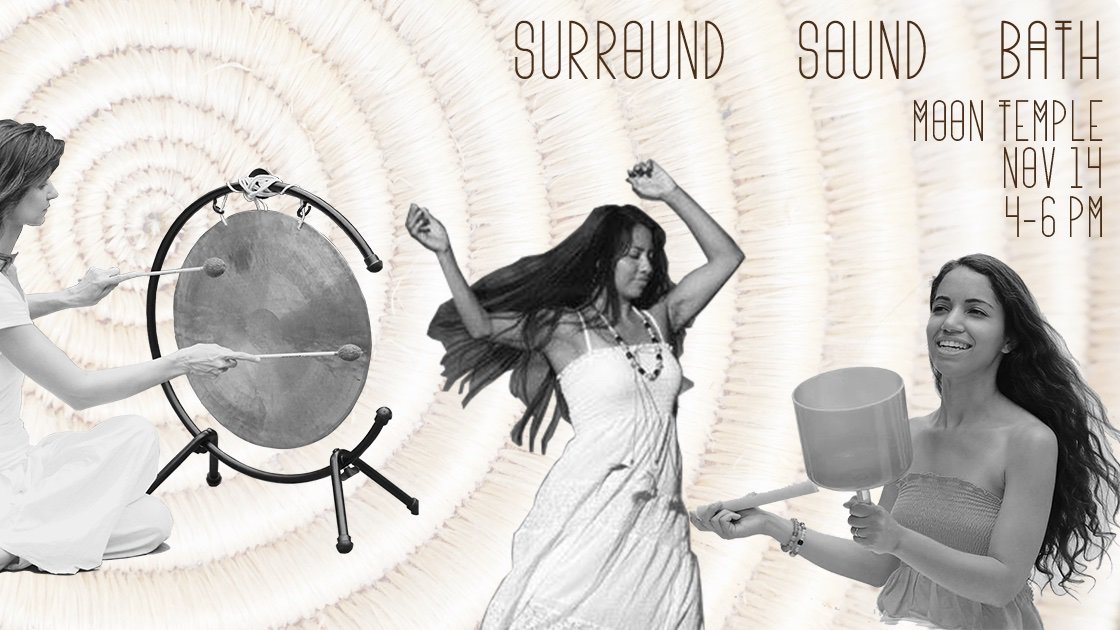 This is an in-person event that is also streaming online
Sun, 14 November 2021
04:00PM - 06:00PM (EST)
Event past
Moon Temple
221 NE 82nd St
Miami, FL 33138
Open Map
Organizer
Emily Peters
Be enveloped in sound at the Surround Sound Bath. First, we'll ease into the sound and make our bodies more available to release with a short breath work meditation. Once our energy channels are clear, open, and protected, we'll begin our collective immersion in vibration. Devi, Tara, and Emily will surround you with the uplifting sounds of two gongs, crystal and crystal alchemy singing bowls, chimes, shakers, Tibetan singing bowls, flute and crystal pyramids. We'll float together for a full hour of sound healing. Together we'll re-ground and integrate the healing with vocalization and gentle movement.


About the Guides:


Devi Manet


Devi Manet is on a mission to share the healing modalities that have worked for her through direct experience. What began as a simple interest in bettering the quality of her life, led to in-depth studies in plant based living food nutrition and detox, mystical world religions and practices, and expression through healing arts such as yoga and sound healing. Covering the whole body, mind, and spirit spectrum with great emphasis on preparing the body for the soul's evolution process has been the driving force in her work. Devi is a Kundalini Yoga instructor, certified sound healer, has a BA in eastern religious studies, and is a raw food chef and chocolatier. Currently she is focused on bringing mindfulness and yoga to children through holistic and nature based education.



Tara Duque


Tara Ananda is a massage therapist and intuitive energy healer, a sound healer and a yoga instructor. She is a skilled, passionate, and gentle guide for those who want to improve their mental, emotional, and physical well-being. Her enthusiasm for helping others find whole-body health and whole-being contentment suffuses her work as a multidimensional caregiver with a tangible joy.



Emily Sat Sukh


Emily Sat Sukh came into the world with a song in her heart. Her life is dedicated to the intricately related studies of sound, music, art, and yoga. Through these studies she continually reaches deep self-knowledge and grateful awe for the power of vibration. She spent most of her formative years in classic vocal techniques training and performance, studying with university professors of vocal music. She is in a constant state of experiential understanding of the trifecta that is the sound current: Sphota – transcendental sound, Nāda – supersonic sound, and Dhvani – sound that is heard by the human ear. Iyengar Yoga found her at 16, and she has devoted over 20 years of her life to daily practice and study of yogic arts. These daily practices brought her to a seven-year career as a massage therapist and intuitive energy healer, and evolved into a study of movement practice that bridges yoga, free movement, and energy channeling.

SAFE SPACE & FAMILY FRIENDLY
All people of all cultures, skin tones, genders/non-genders/sexual identity, and those who are differently abled are welcome.
Children are welcome, and parents are fully responsible for the care-taking of their children.