Gulal - Indian Classical Music & Dance Festival of Spring - a full 24 hours with 11 great artists!
Event Past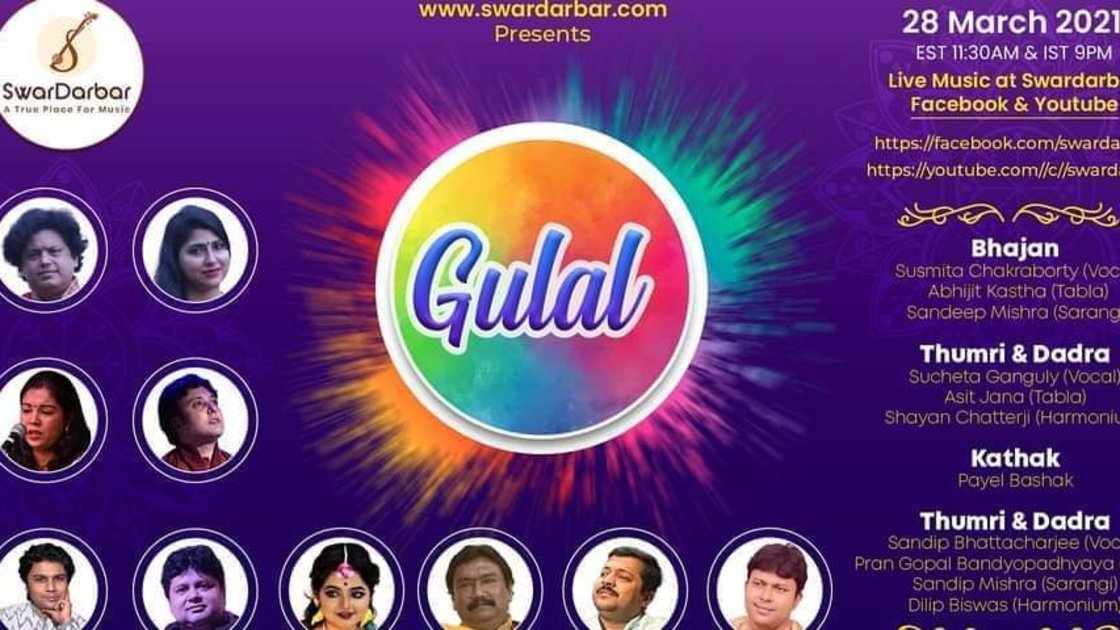 Day and Time
28 Mar, 2021, 2:00AM to
29 Mar, 2021, 2:00AM (EDT)
Description
Fill your hearts with the colors & joy of music, in celebration of spring!
Eleven exceptional artists in performance.
SwarDarbar is a cultural organization that prioritizes creating awareness of Indian Classical Arts throughout the world.
A great opportunity to fill hearts with the color of music. With new hope, we wish to see you all at the Digital Concert "GULAL on 28th march, 2021.
11 Amazing Artists in concert, including:
_________________________________
Sandip Bhattacharjee (Vocal)
Pran Gopal Bandyopadhay (Tabla)
Sandip Mishra (Sarangi)
Dilip Biswas (Harmonium)
Sucheta Ganguly (Vocal)
Asit Jana (Tabla)
Shayan Chatterjee (Harmonium)
Susmita Chakraborty (Bhajan)
Abhijit Kastha (Tabla)
Sandeep Mishra (Sarangi)
Payel Bashak (Kathak-Dance)
Email: swardarbar@gmail.com
Day and Time
28 Mar, 2021, 2:00AM to
29 Mar, 2021, 2:00AM (EDT)
Executive Producer
Swar Darbar
Artistic Director

Sandip Bhattacharjee
Susmita Chakraborty
Organizer

Swardarbar, Inc.