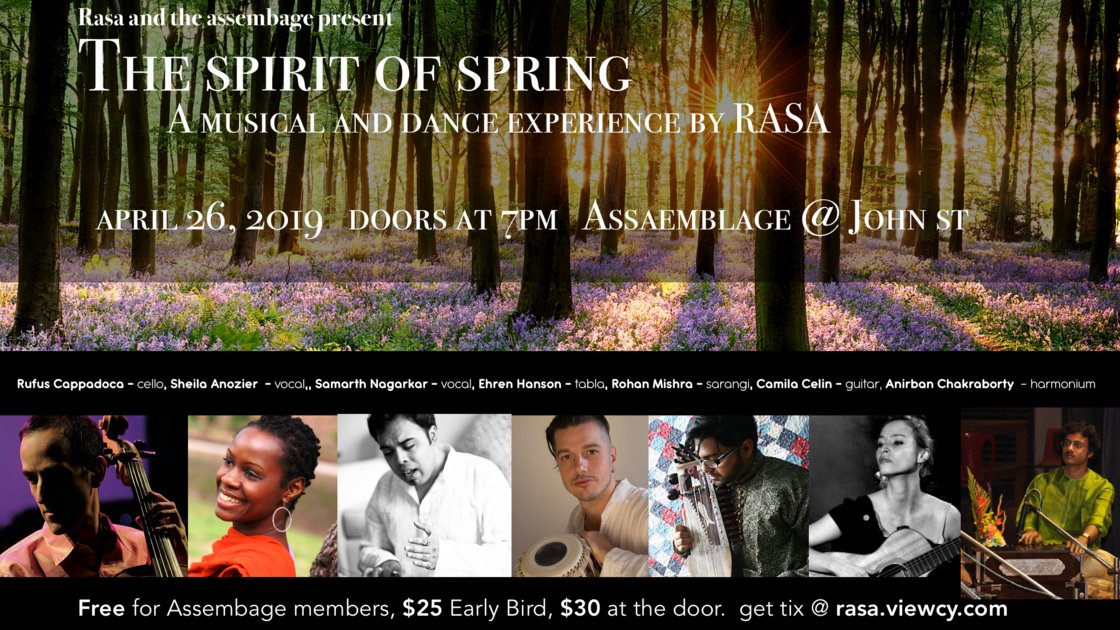 Day and Time
Fri, 26 April 2019
07:00PM - 11:00PM (EDT)
Description
The Spirit of Spring is Rasa's musical tribute to the flowers and the rain. Drawing from the traditions of North Indian music and Hatian dance, filled with spontaneous improvisation and bringing it all together here at the Assemblage.
Members of Assemblage can register for free here: https://events.theassemblage.com/vibeconcertsrasa
Part 1:
Tabla Solo by Ehren Hanson
- with Rohan Mishra accompanying on Sarangi
"Ehren Hanson's tabla solo performance is enthralling" - The Times of India. A journey into the rhythms of North India as taught to Ehren by his teacher Pandit Anindo Chatterjee and interpreted for you on this day. This performance will be an exposè of compositions, improvisations, and rhythic poetry evoking both the maestros of yesteryear and contemporary interpretations of tabla.
Part 2:
Rufus Cappadocia on cello performing with acclaimed dancer Sheila Anozier
Rufus Cappadocia is a force of nature on the cello. With his unique sound, dazzling virtuosity, and the spirit of an artist who draws from the whole world traditions and styles, his performances are mesmerizing. He will be performing with acclaimed dancer and performing artist Sheila Anazier. You will be surrendering your eyes and ears to this masterful duo.
Part 3:
Samarth Nagarkar - North Indian Classical Vocal performance
- accompanied by Anirban Chakraborty on harmonium and Ehren Hanson on tabla
Samarth Nagarker is one of the most impressive and knowledgable singers representing North Indian music to settle in the US. We are very fortunate to have him grace the stage with his incredible vocal tone and melodic story telling. As listeners will be invited to feast on the delicacy of his music. A virtuoso and a scholar alike - Samarth's performance is a portal to emotion. We will request him to sing a tribute to the spring, but ultimately he will compelled by the mood we all create by lending him our undivided attention.
The Finali:
All musicians mentioned above, plus brilliant guitarist and sarod player - Camila Celin
Rasa is an exploration of mood. With some many brilliant musicians on this program it would be a crime to not invite them all together to finish off the evening. The brain child of Camila herself, we'll open the musical and dance conversation to all the artist on the stage. We'll present a composition for you all to celebrate the evening and enjoy all together.
For more information on the artists: Click on their names below.
The doors open at 7 and the program begins at 8. Enjoy an elixir at Assemblage's elixir bar, meet new friends, and get to know the artists.
_____
Note to guests!
- If you are a photographer or someone who want to volunteer to help promote and be apart of this event, contact us on Instagram @rasa.experience
Day and Time
Fri, 26 April 2019
07:00PM - 11:00PM (EDT)
Collaborator

Camila Celin
Ehren Hanson
Samarth Nagarkar