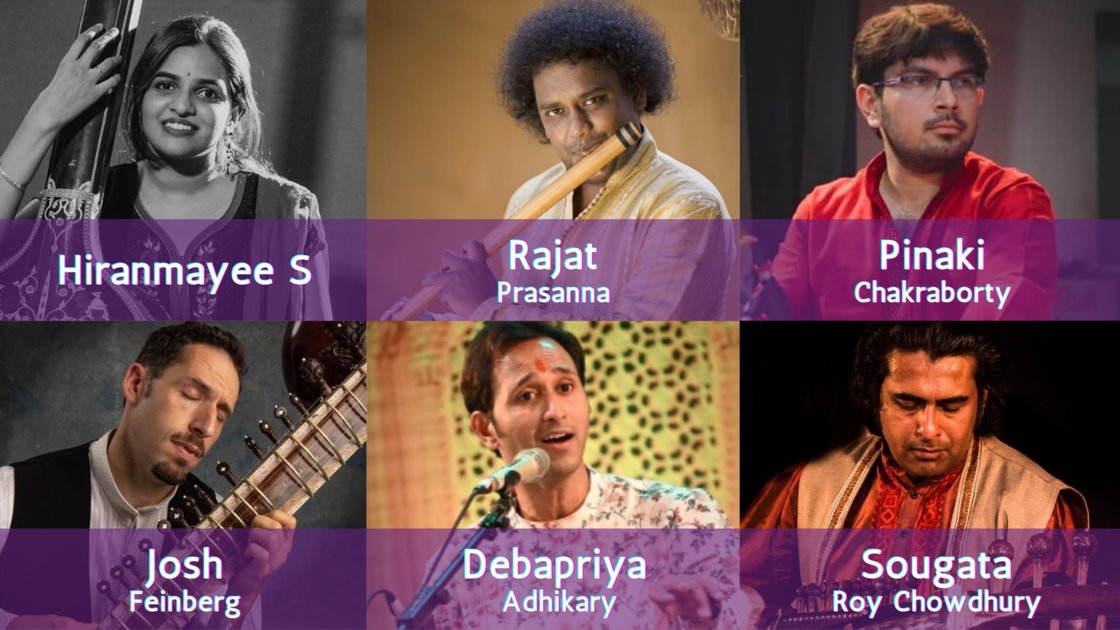 Day and Time
Thu, 15 July 2021
08:00PM - 09:00PM (EDT)
Description
Thursday Evening Ragas - Artist Curated Session 14

Streaming in two timezones on July 15th


8 pm (Indian standard time)
8 pm (Eastern standard time)
An evening of music, free and open to all, curated by the artists themselves, Viewcy's Thursday Evening Ragas is a place to enjoy, discover, and support amazing artists of the Hindustani music tradition.

This event is free, but when you attend, the artists are paid. This project is about supporting artists.

Share and invite your friends to support more. Buy a ticket to support more. Make a donation to support more.

❤️Viewcy


The Artists
Hiranmoyee S | Vocal
Rajat Prasanna | Bansuri
Pinaki Chakraborty | Tabla solo
Josh Feinberg | Sitar
Debapriya Adhikary | Vocal
Sougata Roy Chowdhury | Sarod
Accompanists
Sri Subrata Manna | Tabla
Sri Hiranmoy Mitra | Harmonium
Shridatta MG | Tabla
Mahavir Chanrawat | Tabla
Sri Subrata Bhattacharya | Harmonium
Day and Time
Thu, 15 July 2021
08:00PM - 09:00PM (EDT)
Sponsors


NYC based sitar school with classes and private lessons available for all levels. https://www.viewcy.com/o/kolkatasitar


The Sneh Arts platform presents South Asian culture including music, dance, film and theater on a global stage. Our live performances span from the classical and traditional to the contemporary and modern.


AFI organizes events including the popular Taste of India Food Festival and Bazaar every year, music and dance concerts, free workshops, and fundraising events to raise awareness for noteworthy causes.


Viewcy is a proud sponsor of this event. We are a platform for artists, by artists, and in support of artists. We are a virtual stage, a ticketing platform, and a group of people passionate about music. Thank you for being a part of this community experience. - with ❤️, Viewcy Studio.


Pandit Jasraj Inst is a premier institute is to foster the preservation, growth and teaching of Vocal Indian Classical Music.