THE SONGWRITERS ROUND - Tina Ross, KJ Denhert, Sam Robbins, and Halley Neal
by
Hurdy Gurdy Folk Music Club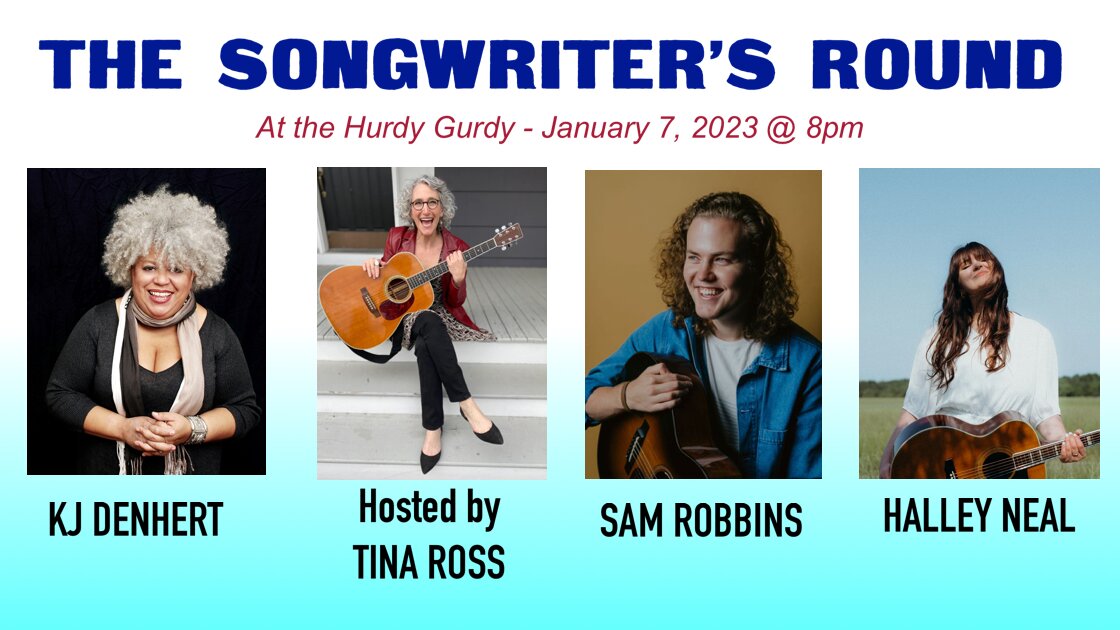 Sat, 07 Jan 2023 (EST)
08:00PM - 10:00PM
Hurdy Gurdy Folk Music Club at the Fair Lawn Community Center
10-10 20th St
Fair Lawn, NJ 07410
Open Map
The Songwriter's Round – Songcraft and Chat
An evening of music and musings
Join Singer Songwriter, Tina Ross, as she hosts a Songwriter Round with a twist. The songwriters play their original songs and then we will open up the floor, to our guests and audience, for questions and observations. We'll find out all kinds of things about the writer's process, inspiration and what lead to the birth of the songs we love.

Joining Tina Ross will be:
Kj Denhert
Sam Robbins
Halley Neal
ABOUT THE ARTISTS:

Tina Ross:
Tina Ross is an emerging NY Singer Songwriter making up for lost time. On her second act she is pursuing her very patient muse. Tina's songs blend her soaring voice, poetic lyrics and resonant music crafting an ethos of enchantment and authenticity. Her songs speak to wonder, humility, doubt and defiance. They are imbued with vulnerability and mastery alike. Having hurt her hands as a chiropractor, Tina found herself in search of a way to adjust her guitar playing to the limitations of this disability. She uses open tunings which has led to the distinctive, nuanced textures in her guitar playing. Christine Lavin says, "Tina – One of the greatest Singer Songwriters of the 21st Century!"
Tina has a weekly Sunday live show of her original music on Tina Ross Music on Facebook, she is the host of The Folk Project of New Jersey's monthly Open Stage as well as the host of their monthly online series," Inside the Song," where she interviews seasoned songwriters and explores their songwriting process. This comes from her innate curiosity to understand the vision behind an artist's work.
Tina has completed her Debut Album, "While I'm Here", which she co-produced with Mark Dann. She's been recognized by the UK Songwriting Contest and The International Blues and Roots Radio Contest as a finalist and the John Lennon Songwriting Contest as an Honorable Mention.
KJ Denhert
Internationally-acclaimed singer-songwriter KJ Denhert's career spans 40 years, 10 albums, with legions of devoted fans worldwide. She grew up in a time of fiery cultural upheaval and has experienced profound social growth in the world as she sees it. Her albums are personal and this, her 11th album, is her first in five years. "The songs on this album are a look at who and what made me who I am today. It is the right time for these particular stories for me."
KJ is a kinetic soul unbound by identity directives. With her acoustic guitar, she draws from a broad palette of urban musical heritage, and jazz and folk traditions. KJ is a gifted guitarist who can effortlessly inhabit and meld many musical worlds with reverence and authority. Her soulful and smoky vocal stylings are earthy and elegant. Her lyrics embody the romance and poetry of the American Songbook; her truths are written with empirical detail. As the storyteller who has lived these tales, KJ liberates her listeners with understatement.
KJ was born Karen Jeanne in Crown Heights, Brooklyn to Grenadian parents who migrated to New York, settling in the Bronx when she was 6. KJ has the distinction of being the first U.S. citizen born in her family. At age 10, she picked up her brother's discarded guitar and set out to learn the instrument through listening to records. Writing songs came instantly and she wrote her first one after a teacher died. "I was a pensive kid, and I started out playing the guitar by making up my own song" KJ explains.
Growing up, she cultivated a meticulously self-curated world of books, songs, and poetry. Her unique aesthetic blossomed along with her music chops and soon, she was actively playing gigs. Her inaugural professional job was as a lead guitarist, and sometime vocalist, playing rock and top-40 music throughout the U.S., Canada and Europe with a traveling show band for one year. The next six years she spent touring the world with Connecticut-based all-female band Fire. KJ affectionately calls the period "seven years in spandex."
These days there is a lot of joy in KJ's life. She's a self-made woman who epitomizes staying power in a fickle industry, and she has created a unique aesthetic that's broadly resonant. Pondering it all, she says: "I am humble about my career, but I can say I have enough because I have such complete freedom."
Sam Robbins
Sam Robbins is often described as an "old soul singer songwriter." A Nashville based musician whose music evokes classic 70's singer songwriters like James Taylor and Neil Young, Sam adds a modern, upbeat edge to the storyteller troubadour persona. An avid performer, he has gained recognition from extensive touring and as one of the six 2021 winners in the Kerrville Folk Festival New Folk competition, one of the largest and most prestigious songwriting competitions in the country.
In 2018, Sam was able to audition on NBC's The Voice for Adam Levine, Kelly Clarkson, Blake Shelton and Jennifer Hudson. He was the season's "Young James Taylor" and he was the first artist to ever perform a Jim Croce song on the show.
Sam considers himself a student of songwriting, constantly searching and learning about why songs have the impact they do. A 2019 graduate of Berklee College of Music's songwriting department, he has hosted many songwriting workshops and masterclasses, including at the Harvard Music Department and the Boys & Girls Club of Boston. In his performances and workshops, Sam explores the magic behind the craft of songwriting, and tries to help others express themselves through the unique and powerful medium of songwriting.
Sam released his second album, "Bigger Than in Between", to critical acclaim on August 5th, 2022.
Americana Highways writes: "He writes of subjects that others don't explore. Saying Amen has Robbins touching that special place Leonard Cohen went. This is brilliance." Fateau Records in the UK writes "One of the most promising new songwriters of his generation".
Halley Neal
Halley Neal is a folk-pop singer and songwriter based in Nashville, TN. Inspired by artists like Joni Mitchell and Shawn Colvin, Halley's sound combines inspirations of folk music from the 70's and late 90's.
Shortly after graduating from college, Halley moved to Nashville, TN where in her first few months, she was a chosen finalist for "Nashville Rising Song," a premiere songwriting competition. In Nashville, Halley also hosts house concerts in her backyard bringing together a community of independent musicians. In 2020, Halley became an official Guild Guitars artist, and performed a set of original music at the 2021 NAMM Show with Guild. She is also one of the first artists to participate in Guild's "Factory Sessions" YouTube series, where she performed an original set of songs live in the Guild Guitars factory in Oxnard California. Currently, Halley tours nationally to house concert and listening room venues, with 2022 tour dates soon to be announced.
Halley's debut self-titled record was released on June 4th, 2021. Halley's sound blends effortless layered vocals with Americana production, and is deeply rooted in an idea of reminiscence and a throwback to 70's and 90's folk. Halley released her second album, "Beautiful and Blue" on September 30th, 2022.