Unifier Roots Gathering
by
HeARTbeat Collective Inc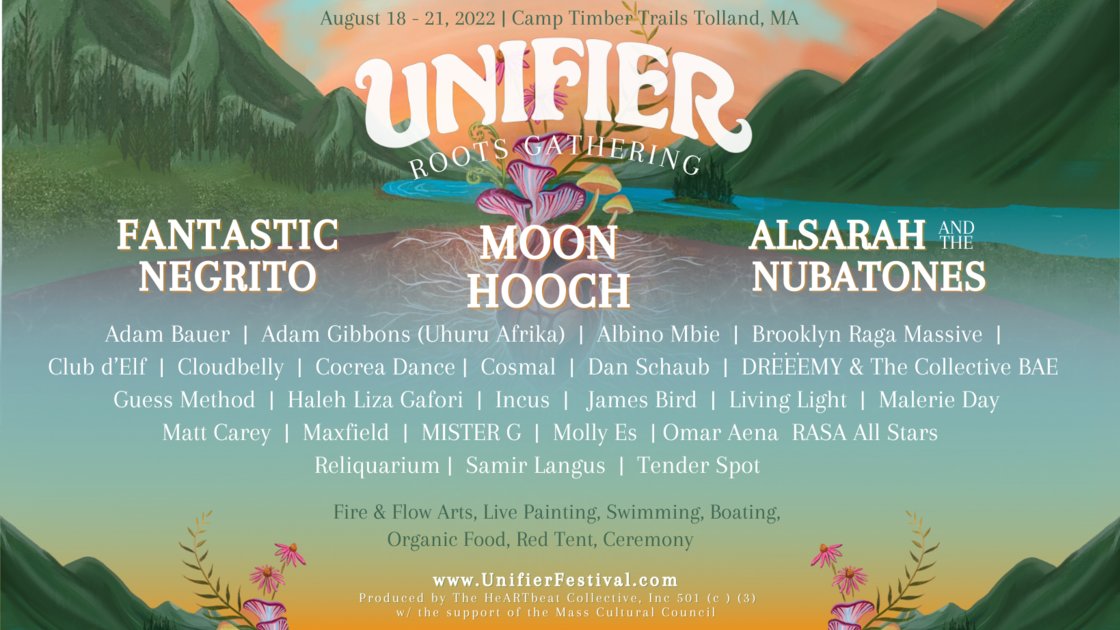 18 Aug, 2022, 2:00PM to
21 Aug, 2022, 10:00PM (EDT)
Event past
Camp Timber Trails
1266 E Otis Rd
Tolland, MA 01034
Open Map
Producer
Omar Aena
Staff
steven kaplan
Executive Producer
Jason Cohen
Unifier Festival is bringing together an amazing group of inspirational artists and educators for our 7th 4-day event this August 18th-21st, 2022 in beautiful Tolland, Massachusetts. Situated on 417 acres of forest, field and lake, Unifier's vision honors cultural traditions and cultural creation.

Unifier Festival, the Northeast's premier high vibe festival, is back!!! It is a music, dance, and healing and expressive arts festival. It is a live art show, a place for ceremony, permaculture, and circus arts, with organic food, a 16 acre lake, and a shared reverence for life and the land that holds us. It is a place to care for the land and to eat organic food, and to be inspired and inspire our kids and our elders.

⬥ This year we are excited to welcome to our stage:
Fantastic Negrito
Moon Hooch
AlSarah & The Nubatones
Adam Bauer
Adam Gibbons (Uhuru Afrika)
Albino Mbie
Brooklyn Raga Massive
Club d'Elf
Cloudbelly
Cocre'a Dance
Cosmal
Dan Schaub
DREEEMY & Collective BAE
Guess Method
Haleh Liza Gafori
Incus
James Bird Portal
Living Light
Loops For Pearl
Malerie Day
Matt Carey
Maxfield
MISTER G
Molly Es
Omar Aena
RASA All Stars
the Reliquarium
Samir Langus & Friends
Tender Spot


⬥ Pricing
Early Bird Weekend Pass: $275 (50 tickets)
2nd Tier (General Admission) Weekend Pass: $295
3rd Tier Weekend Pass: $325
Children Full Weekend Pass: Free (0-12 yrs)
Teen Full Weekend Pass: $100 (13-17yrs)
Day Passes (Fri/Sat/Sun): $111/$111/$90

⬥ Add-Ons
Rustic Cabin (no electricity-sleeps 1-4) $500
Rustic Cabin (w/ electricity-sleeps 1-4, 2 available) $550
RV Pass: $200
Glamping Tents 16' $575

50% of proceeds from Unifier Festival over multiple years will help provide for and sustain the community owned Land that holds us, Camp Timber Trails, which is currently co-owned by approx 75 individuals and organizations.


Just by attending this gathering, just by showing up and having an amazing time, you will be supporting a place where people come together to share creativity, culture, knowledge and wisdom through various mediums in the healing and expressive arts with a focus on a healthy relationship to the natural world.


"The power of humanity comes from people getting together and unifying. Choose what to unify around." Ac Tah- the Walking Shaman

It is our aim to leave the Land that holds us more beautiful than how we find it. And to offer these days together as a fertile ground for sparking new ideas and projects.