Women Create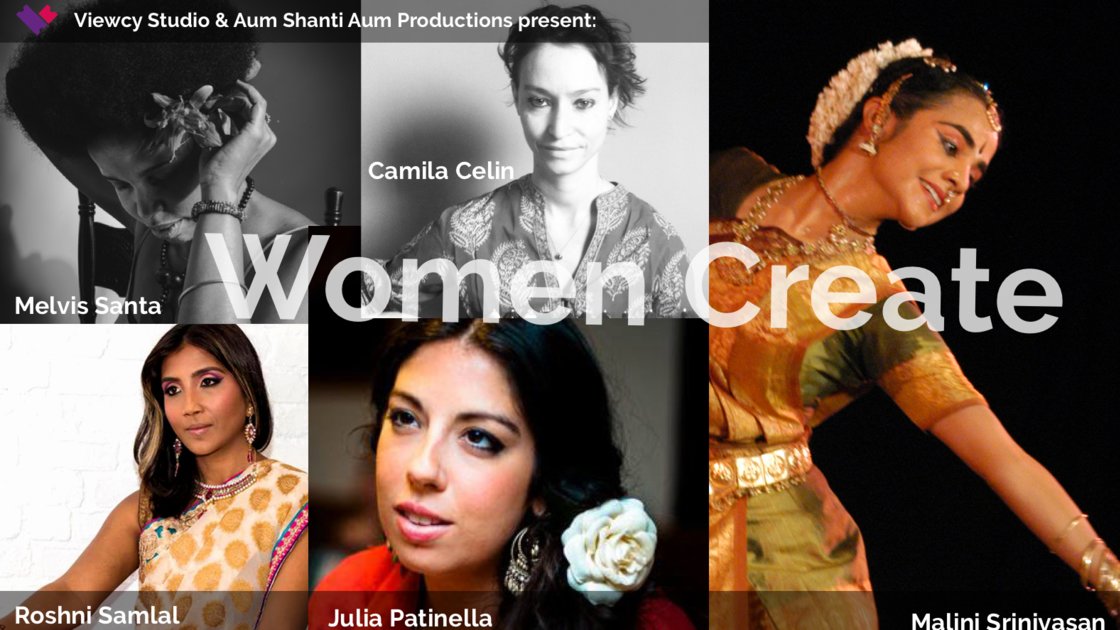 This is an in-person event

Wed, 09 October 2019

07:30PM - 10:00PM (EDT)

Event past

Scandinavia House

58 Park Ave

New York, New York 10016

Open Map

Artist Samyukta Ranganathan Camila Celin Julia Patinella Melvis Santa Roshni Samlal Malini Srinivasan Producer The Viewcy Team Ehren Hanson A celebration of the brilliant artists from our community, Viewcy studio is proud to present - Women Create. Featuring Cuban singer Melvis Santa, sarod player Camila Celin, flamenco singer Julia Patinela, and Bharatanatyam dancer Malini Srinivasan, these brilliant artists will take us on a journey through song, melody, and rhythm. This evening is co-presented by Aum Shanti Aum productions. Accompanying artists include Roshni Samlal on tabla, Samyukta Ranganathan on vocal, and Rafael Monteagudo on bata. This concert will be in 4 parts with each artist curating an experience for us to enjoy. Give them your ears, give them your attention! Take this journey with us. ________________________ Meet the artists: Melvis Santa Singer, composer, pianist, Afro Cuban dancer, actress, and educator Melvis Santa was born and raised in the heart of an eclectic neighborhood in Havana, being exposed to multi-cultural traditions early on. Since age 4 she participated every weekend in the art programs offered by Gran Teatro de La Habana, Teatro Bellas Artes, and El Musical, three legendary theaters located in her hometown. At 7 she started playing classical piano. Years later she graduated of Piano and Music Theory from the prestigious Amadeo Roldan Conservatory. Melvis made a splash on the Cuban musical scene at the age of 14 when she founded the collective vocal group Sexto Sentido, a project that jazz great Chucho Valdés deemed as "the best Cuban vocal quartet of the past 30 years" in 2007. The ensemble won the first prize of the Jo-Jazz (Cuban Youth Jazz competition) in 2001. In 2010 Melvis spread her wings and appeared as one of the lead vocalists of Interactivo, a seminal fusion band in Cuba. Julia Patinella Julia Patinella is a multilingual singer and songwriter currently residing in Brooklyn, NY. After years of immersion as a Flamenco singer in southern Spain, as well as a life-long dedication to the oral traditions of her ancestor's native Sicily, Julia has developed several original musical projects in Spanish, Italian, Sicilian and English, that draws from her roots, her experience as a first-generation American female, and urgent socio-political themes. In her performances, she brings forth an expansive repertoire steeped in history and folk traditions, and a rich, guttural voice that carries the raw emotions of protest, the longing for freedom, and the uncompromising commitment to sing every note with soul. Camila Celin Camila Celin began playing guitar at age nine. For several years, she has been doing intensive studies in the Indian sarod, in Kolkata with sarod player Sougata Roy Choudhury and in New York with sitar maestro Pandit Krishna Bhatt. In 2009 she was nominated for a Grammy for best world music album in collaboration with slide guitar maestro Debashish Bhattacharya. She has been an active performer in her native Colombia, the U.S. and India. Camila has composed music for several films, for theater as well as for commercials and lives between New York City and Kolkata, India. Malini Srinivasan Malini Srinivasan is a third-generation Bharatanatyam artist and the disciple of world-renowned artist Sri C.V. Chandrasekhar. She began studying Bharatanatyam at a young age with her mother and grandmother. She began learning the Kalakshetra style in 2000 with Smt. Savitri Jagganath Rao and performed her Arangetram (debut) under the guidance of Meena Raman. She lived in Chennai from 1999-2004 to pursue her study of dance and its allied art forms such as Nattuvangam, Carnatic vocal music, Kalaripayattu, Yoga, Sanskrit and Tamil. A critically-acclaimed soloist, Malini has presented solo Bharatanatyam to various audiences in the U.S., India and Europe. She has also performed with groups including the Padmini Chettur Group, Ragamala, Rajika Puri and Dancers, Thresh and Kala Nivedanam.