Marc Douglas Berardo and Louise Mosrie Coombe
by
Hurdy Gurdy Folk Music Club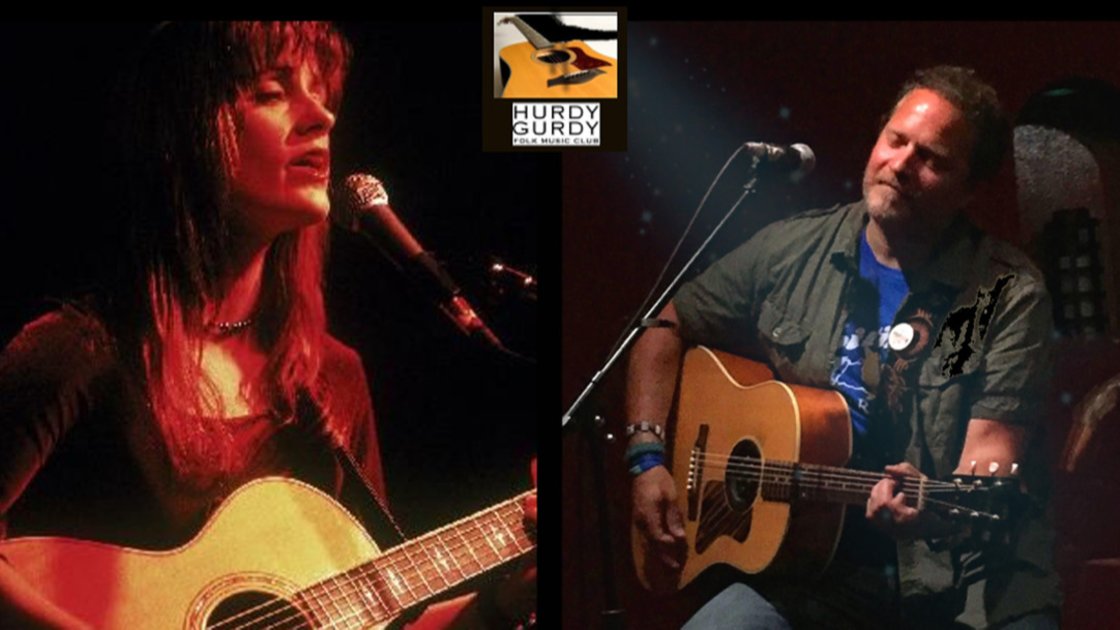 Sat, 04 Feb 2023 EST
08:00PM - 10:00PM (EST)
Hurdy Gurdy Folk Music Club at the Fair Lawn Community Center
10-10 20th St
Fair Lawn, NJ 07410
Open Map
Collaborator
Susie Markland
Organizer
Hurdy Gurdy Folk Music Club
A SPECIAL CO-BILL SHOW -
AN EVENING WITH MARC DOUGLAS BERARDO AND LOUISE MOSRIE

Singer-songwriter/performer and keen observer, Marc Douglas Berardo combines songs that mine the deep feelings and lesson gleamed from real life characters and situations along with an onstage presence that uses humor and deft storytelling to rally an audience and lead them into a deep and almost spiritual experience. It's an adventure that brings to mind James Taylor, Jimmy Buffett, Guy Clark or Steely Dan with a touch of Twain or Hunter S Thompson for good measure. It's a night of laughter and tears that sends an audience home with a dollop of hope.


Rhode Island based Marc Douglas Berardo's songs have been recognized at many prestigious national festivals and events such as the The South Florida Folk Festival and The Wildflower Art and Music Festival Song Contest where he won The Michael Terry People's Choice Award in 2014. He was a finalist in the legendary Kerrville New Folk Contest at the Kerrville Folk Festival. In early 2015, Berardo's interview and live performance featured on Sirius/ XM Satellite Radio's, The Village was voted one of the best of the year by listeners. No Depression Magazine called his last CD Whalebone: "sincere, fluid, charming and above all gripping." Berardo's 2016 interview and performance on Sirius/ XM's The Village was voted one of the best of the year by listeners. Berardo was nominated as Best Americana Vocalist by readers of Motif Magazine in early 2017.


Marc's current record project, "Temporary Things" is planned for release in 2022.

****

Louise Mosrie Coombe grew up in McEwen, TN on a cattle farm - riding horses and writing poetry. She began writing songs after college while working in TV/radio in Knoxville. She moved back to the Nashville area in 2004 and began co-writing with country, bluegrass and folk artists (Donna Ulisse, Mike Richardson) and writers. Louise had a major creative breakthrough in 2007 when she had a fortuitous co-writing session with famed Americana producer and writer, Ray Kennedy (Steve Earle, Lucinda Williams). They wrote the song, "Doubling Back", for a documentary film by IU professor, Ron Osgood, called "My Vietnam, Your Iraq" which was broadcast on PBS stations nationwide.


Louise started writing songs about the South – what she knew and where she grew up. In 2008, she began working on a new album eventually to be called "Home" because she'd come full circle in her "voice" as a writer. The album was a mix of bluegrass, country and folk and as she weaved in lush stories and songs about southern life, she was even introduced once as "…William Faulkner with a guitar". With those songs, she entered some song contests connected to festivals and ended up winning top awards at Kerrville Folk Festival, Wildflower! Festival, Telluride Bluegrass Festival and Falcon Ridge Folk Festival. "Home" debuted at #1 on the Folk DJ charts in January 2010 and went on to be one of the most played albums that year for that chart.


Buoyed by a couple thousand earnest fans, she began touring all over the Eastern seaboard, the South and Texas. Audience members would tell her that they enjoyed the stories between the songs as much as the songs and her strong expressive voice was described as "…like listening to Patty Griffin and Susan Tedeschi at the same time."

Advance ticket orders are encouraged, and you can pick up your ordered tickets at the show. Please come to the "Will Call" Table, where your name will be on the list. Tickets will not be mailed. Any tickets that are remaining will be sold at the box office on the night of the show for $23.00 each.