2021 Swardarbar Annual International Students' Concert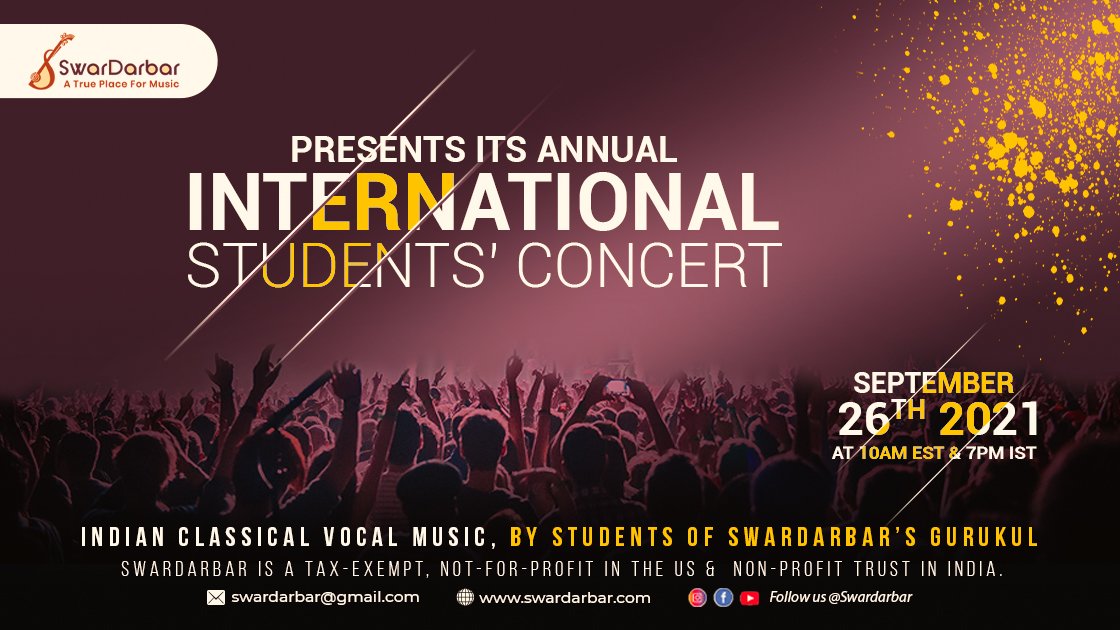 Tickets unavailable at this time
This event is streaming online
26 Sep, 2021, 10:00AM to
27 Sep, 2021, 10:00AM (EDT)
Event past
Organizer
Swardarbar Inc.
SwarDarbar team is very delighted to present to you all a 'Digital Students' Concert' today on September 26, 2021 on This Viewcy platform, a culturally vibrant venue with worldwide audiences. There is no entry fee, however voluntary
donations
are greatly appreciated.
SwarDarbar, Inc. was founded by Gurus Sandip Bhattacharjee and Susmita Chakraborty, and Marcia Miller. Together, they recognized the importance of preserving, advancing and flourishing these rare and precious artistic traditions.
SwarDarbar, Inc. isa tax exempt, non-profit organization in the USA, and a separate, registered trust in India. All contributions are tax exempt to the extent of the law.
Connecting from every corner of this World and bringing you some of the best performances of the Learners.
Today's performers:
Darsh Agarwal ( South Carolina)
Suhani Kumar ( New Jersey)
Anushka Khedlekar (Bridgewater, New Jersey)
Aanya Rastogi ( New York)
Anusha Majumder (San Francisco, California)
Anindita Chattopadhyay ( Ottawa ,Canada)
Ruhee Damani ( Toronto, Canada)
Saipayan Haldar (Odisha , India)
Sarthak Pal & Saptak pal (Siliguri, India)
Kinjal Chatterjee ( Calgary)
Rashida Damani (Toronto, Canada)
Esha Bawa , NYC
Gargi Dutta ( Malaysia)
Shukonna Shoily ( New York)
Suchandra Mandal (Dubai )
Sayan Kabiraj ( Kolkata , India)
Guru
Sandip Bhattacharjee
is an internationally acclaimed Hindustani Classical Vocalist and Guru. He is the founder of SwarDarbar. An eminent virtuoso of Kirana Gharana Guru Sandip Bhattacharjee is also a well-known composer. Recipient of several awards and recognition his performances are extremely popular across the World. He is nurturing the students of SwarDarbar and shaping their musical pathway with his expertise.
Guru
Susmita Chakraborty
is a semi-classical Indian vocalist. She is a trained vocalist trained under the prestigious Patiala and Banaras Gharana. She is also the founder of SwarDarbar and also training students from different countries under this banner.
It is an age-old tradition in India which has existed for centuries and has transformed over the years. The tradition reinstates a sense of belongingness towards one teacher . It also meant spending the entire duration of education at the abode of the Guru until the student attains perfection at the art or skill he is learning.
At SwarDarbar we focus on maintaining the tradition of Guru-Shishya Parampara. Even in difficult times, the students received Taalim and Life lessons from their Gurus and it is a co-creation always.