Alhambra / Michael Winograd & Pete Rushefsky Duo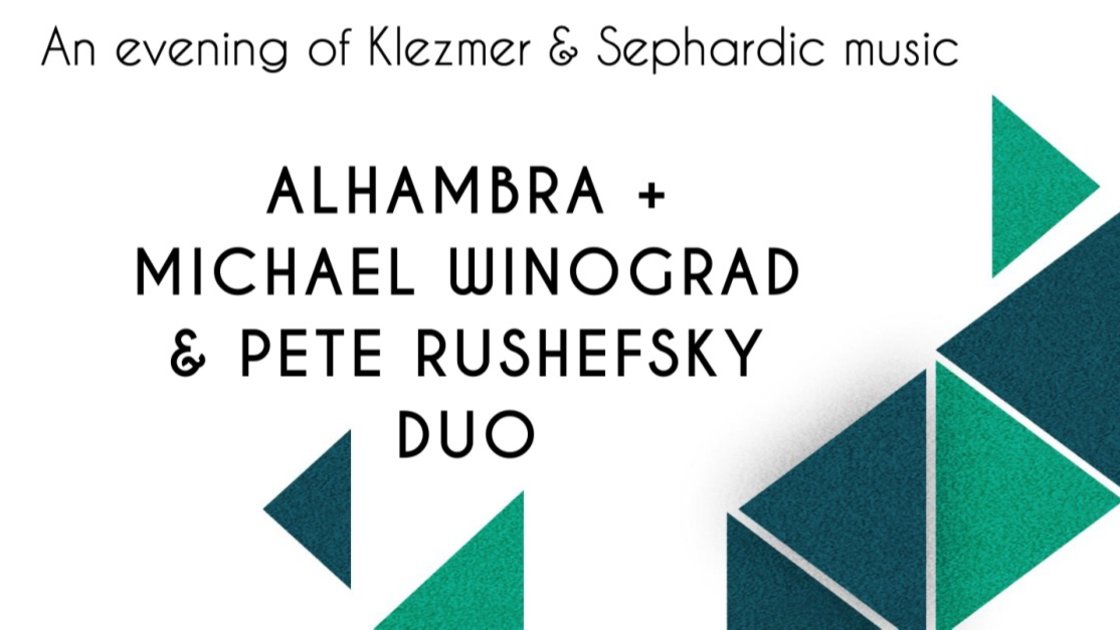 Thu, 16 Dec 2021 EST
08:00PM - 10:00PM (EST)
Event past
Jalopy Theatre
315 Columbia St
Brooklyn, NY 11231
Open Map
Organizer
Jalopy Theatre
Alhambra creates exciting arrangements of Judeo-Spanish wedding music, love songs, and instrumental dances on the oud, violin, shawm, dumbek (middle-eastern drum), riq, def and bendir. Alhambra was founded by Dr. Isabelle Ganz in 1981. Based in New York, the ensemble has toured Andalusia, the British Isles (including London's Purcell Room and Almeida Theatre), Quebec, Bogota, performed at the Quincentennial Celebration in Istanbul, The First International Festival of Jewish Art Music in Vilnius, Lithuania, in San Juan, Puerto Rico, and at colleges, community centers and folk festivals throughout the U.S. They have appeared in Merkin Hall, Weill Recital Hall, for the World Music Institute, and the Jewish Museum in New York, the Skirball Cultural Center in Los Angeles, the Ordway Theater in St. Paul, the Rothko Chapel in Houston, Smith College, Hunter College, and the Eastman School of Music among many other venues. The ensemble won first prize in the Jewish performing arts competition and was a finalist in the concert artists' guild competition, both held in New York.

Website: http://www.alhambragroup.com

Jenny Luna - vocals
Adam Good - oud
Marandi Hostetter - violin
Philip Mayer - percussion


Tonight's duo set features celebrated tsimblist Pete Rushefsky, along with Michael Winograd on piano and clarinet. Each of these musicians is a performer and composer of new Klezmer music, and on this evening they will be showcasing new works and traditional material as well. Along with his busy performing career, Rushefsky is also the director of the Center for Traditional Music and Dance and the founder of the Yiddish New York festival. Winograd served as artistic director of KlezKanada from 2016-2021, tours with his group the Honorable Mentshn, and most recently was music director for a new project of found music from the Yiddish Cabarets of Helsinki, along with singer Lorin Sklamberg.

Pete Rushefsky - tsimbl
Michael Winograd - piano, clarinet

NOTE: We will also accept other forms of proof of vaccination from other states including CDC Vaccination cards (with photo id), etc.
This ticket is a revocable license and may be taken up and admission refused upon refunding the purchase price appearing hereon and is grounds for seizure and cancellation without compensation. Holder of this ticket ("Holder") voluntarily assumes all risks and danger incidental to the event for which this ticket is issued whether occurring prior to, during, or after same, including, but not limited to, contracting, and/or spreading the COVID-19 virus, and agrees that the organization, venue, presenter, agents, participants, or players are not responsible or liable for any injuries, sickness, or death resulting from such causes. Holder acknowledges that the COVID-19 pandemic remains a threat to individual and public health, COVID-19 is a highly contagious disease transmitted through human contact and respiratory droplets (including through the air and via common surfaces) and it is possible that Holder may contract COVID-19 while at the event for which this ticket is issued. Holder agrees by use of this ticket not to transmit or aid in transmitting any description, account, picture, or reproduction of the event to which this ticket is issued. Breach of the foregoing will automatically terminate this license. Holder agrees that the license comprised by this ticket may be removed and Holder may be ejected from the event for which this ticket is issued in the event that Holder violates any law, ordinance, or venue regulation. Holder grants permission to the organization sponsoring the event for which this ticket is issued to utilize Holder's image or likeness in connection with any video or other transmission or reproduction of the event to which this ticket relates.