An evening of classical music with Sangita Lahiri and Eric Fraser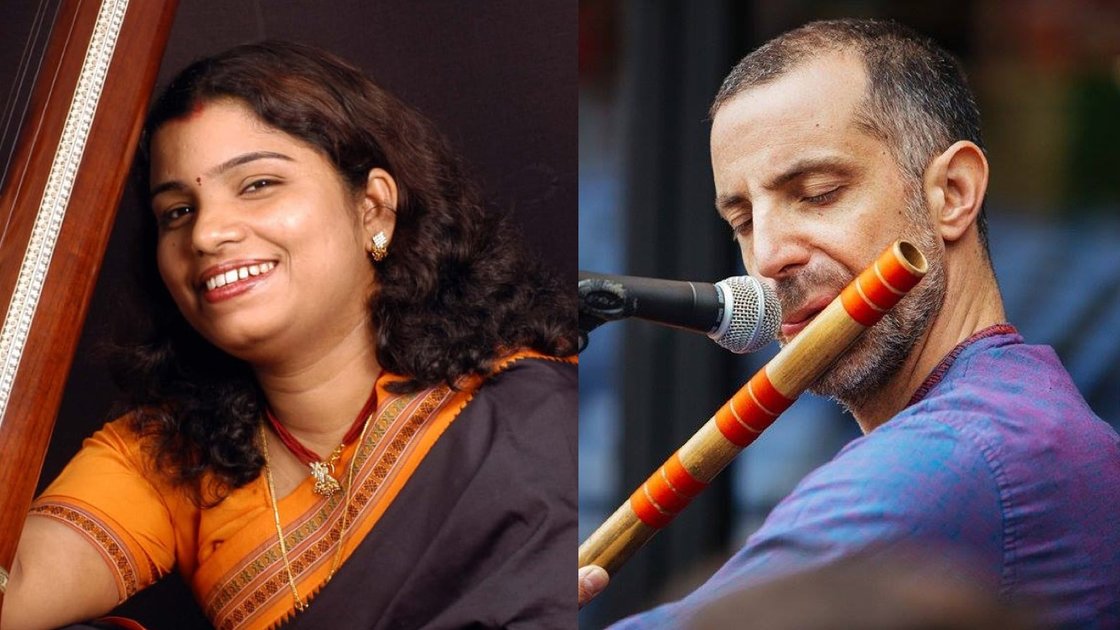 Fri, 15 May 2020 EDT

08:30PM - 10:00PM (EDT)

Event past Sponsors Kolkata Sitar School Advisor Damian Wieteska Organizer Camila Celin Jay Gandhi Abhik Mukherjee The Brooklyn Court Artist Eric Fraser Sponsor Kolkata Sitar School The Brooklyn Court presents an evening of classical Indian music in two parts with Sangita Lahiri of Mumbai, and Eric Fraser of Hudson, NY. We will enjoy this music event from 8:30pm onwards on Friday evening. Everyone is welcome to join. This event is free and open to all with all donations going to the artists.
About the artists
Sangita Lahiri ==================== Daughter of the visionary sitarist and Guru Sri Rabindranath Lahiri (disciple of Ustad Dabir Khan sahib, a direct descendant of Miyan Tansen), Sangeeta grew up in an environment imbued with the fragrance of Hindustani Classical Music. At the age of three, she was initiated into the intricacies of vocal music from her father. She then received advanced training under the late Pt. Chinmoy Lahiri and later, the esteemed exponent of the Rampur Saheswan Gharana, Ustad Ghulam Akbar Khan. Her singing abilities were also given an extra dimension through her tutelage under the traditional thumri exponent Smt. Brijbala Devi of Muzaffarpur. Her training under great maestros like Pt. Yashwantbua Joshi and Pt. Nayan Ghosh, have all been extremely fruitful in helping her to develop an advanced perspective of raag and taal. Last few years, she has been taking taleem with Ustad Aslam Khan and has grown significantly as a dynamic vocalist. She has performed recently at All India Radio Golden Jubilee Concert, Sangli & in many other esteemed venues and music festivals acrovss India, such as the Doverlane Music Conference (Kolkata), Nazrul Manch (Kolkata), the Gandhi Maidan Thumri Festival (Patna), Sur Sringar Samsad (Mumbai), Swar Sadhnotsav Sangeet Sammelan and the National Festival of Music & Dance (Kerala) and many others. She had her musical tour in USA with so many of her Indian classical & semiclassical performances. She performed in Bhabans Cultural Centre Mumbai and as well as in Saptak School of music Ahmedabad. Eric Fraser ================== Eric Fraser's vintage bansuri flute playing rings with authenticity, subtlety, and lilting tone. An exponent of a unique vocal style of North-Indian flute playing and Fulbright senior research scholar for Indian classical music, Fraser takes listeners on a journey to a timeless musical world. Eric Fraser has been learning intensively through annual trips to Kolkata, India from his guru Pandit Gopal Roy since 2003. Fraser has performed with renowned maestros of Indian music including Pandit Krishna Bhatt, Pandit Ramesh Mishra, Steve Gorn and Bollywood composer A.R Rahman at Carnegie Hall, including radio performances (NPR morning edition and WKCR New York). He has a diverse background playing for Indian classical dance, as well as in projects ranging from Jazz, World, India and more. A founding member of the Brooklyn Raga Massive, Eric's involvement in the musical community is far reaching. Aside from playing Indian classical flute, Eric is a multi-instrumentalist, composer, and music therapist (MA, MT-BC).