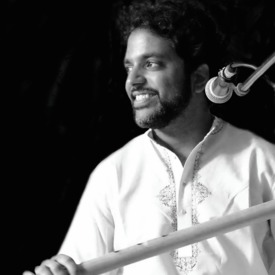 Jay Gandhi
@jay
A multifaceted artist, Jay is a senior disciple of the legendary Pandit ‪Hariprasad Chaurasia‬. In addition to having accompanied his Guru for multiple concert tours, he has established himself as a prominent solo performer of Hindustani classical flute.
 
His parallel explorations in American Jazz have afforded him the honor of performing with such greats as ‪Ravi Coltrane‬, ‪Reggie Workman‬, Jeff "Tain" Watts, as well as of sharing the stage with the legendary ‪Pharoah Sanders‬.
 
Based out of NYC, Jay maintains a busy schedule of touring, teaching and as a founding member of the Brooklyn Raga Massive, a prominent musicians collective.