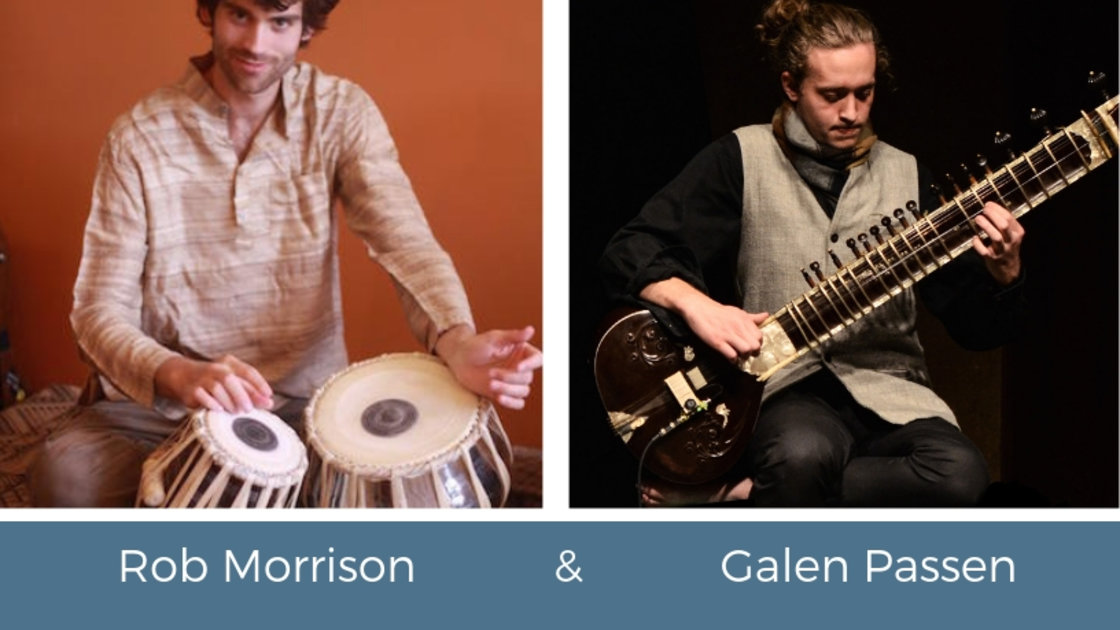 There is no schedule for this event.
Description
Local sitar player Galen Passen and tabla player, Rob Morrison will be presenting a selection of evening ragas. What is a raga you might ask? Ragas are the musical format of North Indian classical music or Hindustani classical music. Each raga is defined not entirely through the development of the musical structure but by its associated philosophical and emotional concepts. The musicians improvise together, unfolding these emotional archetypes, drawing from their traditional musical training, reflections on their own life experiences, and on the spot reactions to each other, the audience, and their mood. In short, Ragas are a meditative form of story telling. We hope that you will come to the performance curious of how your own imagination might interact and influence your own experience of this form of music. The program will feature one long piece (around 40 min) after 2 - 3 shorter pieces. We hope to see you there! Buy tickets online here for 15$ or pay 20$ at the door! Galen Passen has been studying North Indian classical music (Hindustani) for over a decade. From 2009 to 2017, he lived in New Delhi, India where he underwent intensive training in the traditional manner of private tutelage from a guru. He received his foundational training from Gopal Krishan Shah. Presently, he continues to learn under renowned sitarist, Abhik Mukherjee in New York City. Galen regularly performs hindustani music in NYC and the capital region. He also works as a collaborator and composer within a variety of formats. He has performed contemporary composition and dance in New Delhi and at the OllomArt Gala in Manhattan, NY. He will be participating in new work with the Pittsburgh Opera in the coming months. Robert Morrison has been playing percussion in a wide variety of musical settings for over two decades. He's had the privilege of studying with many great teachers, honing his skills on drum kit, tabla, cajon, udu and other percussion instruments. He plays on his own custom kit with the jazz trio JECCO and regularly performs Hindustani music in the capital region. Rob began training on tabla under Anand Gadre and went on to study with Devesh Chandra, who he has been learning from for the past eight years. He has toured and performed with Ashana, Steve Gorn, Amit Chakraborty, and the jazz rock band Dirty Paris. You can learn more about rob at his website: https://robmorrisondrums.com/about
There is no schedule for this event.