Boxcutter Presents: MANIC MONTHLY MISCHIEF! with Maria Camia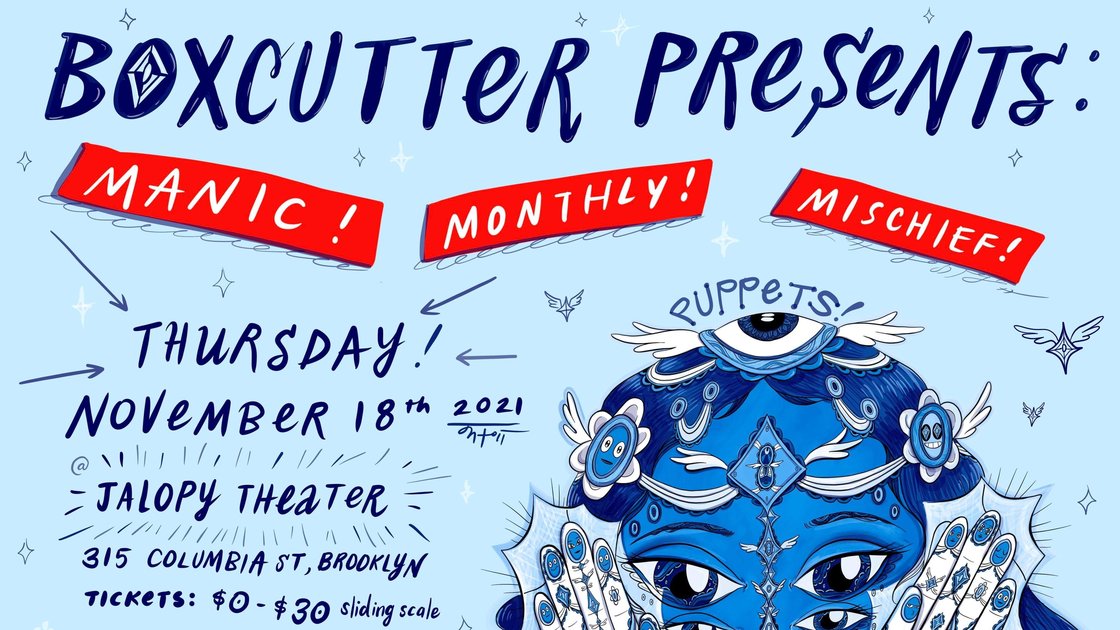 This is an in-person event
Thu, 18 November 2021
08:00PM - 10:00PM (EST)
Event past
Jalopy Theatre
315 Columbia St
Brooklyn, NY 11231
Open Map
Boxcutter is very excited to share the bill this month with Maria Camia, an exciting New York City-based puppeteer and 2020 Henson Workshop Grant recipient, and her company of performers and puppeteers.
From Maria:
"Join The Aricama Liberation Nation Cooperation Community's 20 minute puppet, song, and dance ceremony performance to prepare for the Full Moon the following day! They will perform their hit songs, Equalization Song, Responsibility, The Moon Opera, and Abundance. The Aricama Liberation Nation Cooperation Community Company is Mariel Sanchez, Sienna Aczon, Fara Faidzan, and Maria Camia."
This will also be the third fundraiser for Haiti we do this fall. We have raised over $1,000 so far, and hope to make it to $2,000 by the end of the year. All tickets are sliding scale, and 100% of all ticket sales go directly to Fonkoze, a Haitian-based recovery organization focused on the empowerment of women.
We hope you join us for a fantastic night of weirdo puppetry & fundraising for Haiti!
Maria Camia (MARICAMA) is a Filipino American Visual Theatre Artist who creates Spiritual Theater, Visual Art, and Fashion with the intention to globally inspire healing and play. She has performed original work for Dixon Place, La Mama, Concrete Temple Theater, Pan Asian Repertory Theatre, The Object Movement Residency, The Henson Company, The Puppet Slam Network, Coney Island USA, Great Small Works, and The International Puppet Fringe Festival. She received the Henson Workshop Grant in 2020.


Jalopy will be following all state and city distancing and capacity guidelines, along with providing UV powered air filtration and adequate ventilation. We will also be requiring all who attend to show us proof of the following...
Being fully vaccinated and it has been 14 days or longer since your final shot.
Attendees must follow all mask, distancing and hand washing guidelines when in attendance. If you are vaccinated in New York, we encourage you to use Excelsior Pass to prove your vaccination. Excelsior pass is an app for your phone that can hold your vaccination and testing data. Download Excelsior Pass in the apple store or on google play.
NOTE: We will also accept other forms of proof of vaccination from other states including CDC Vaccination cards (with photo id), etc.
This ticket is a revocable license and may be taken up and admission refused upon refunding the purchase price appearing hereon and is grounds for seizure and cancellation without compensation. Holder of this ticket ("Holder") voluntarily assumes all risks and danger incidental to the event for which this ticket is issued whether occurring prior to, during, or after same, including, but not limited to, contracting, and/or spreading the COVID-19 virus, and agrees that the organization, venue, presenter, agents, participants, or players are not responsible or liable for any injuries, sickness, or death resulting from such causes. Holder acknowledges that the COVID-19 pandemic remains a threat to individual and public health, COVID-19 is a highly contagious disease transmitted through human contact and respiratory droplets (including through the air and via common surfaces) and it is possible that Holder may contract COVID-19 while at the event for which this ticket is issued. Holder agrees by use of this ticket not to transmit or aid in transmitting any description, account, picture, or reproduction of the event to which this ticket is issued. Breach of the foregoing will automatically terminate this license. Holder agrees that the license comprised by this ticket may be removed and Holder may be ejected from the event for which this ticket is issued in the event that Holder violates any law, ordinance, or venue regulation. Holder grants permission to the organization sponsoring the event for which this ticket is issued to utilize Holder's image or likeness in connection with any video or other transmission or reproduction of the event to which this ticket relates.