BRM Weekly: Indrajit Roy-Chowdhury & Mir Naqibul Islam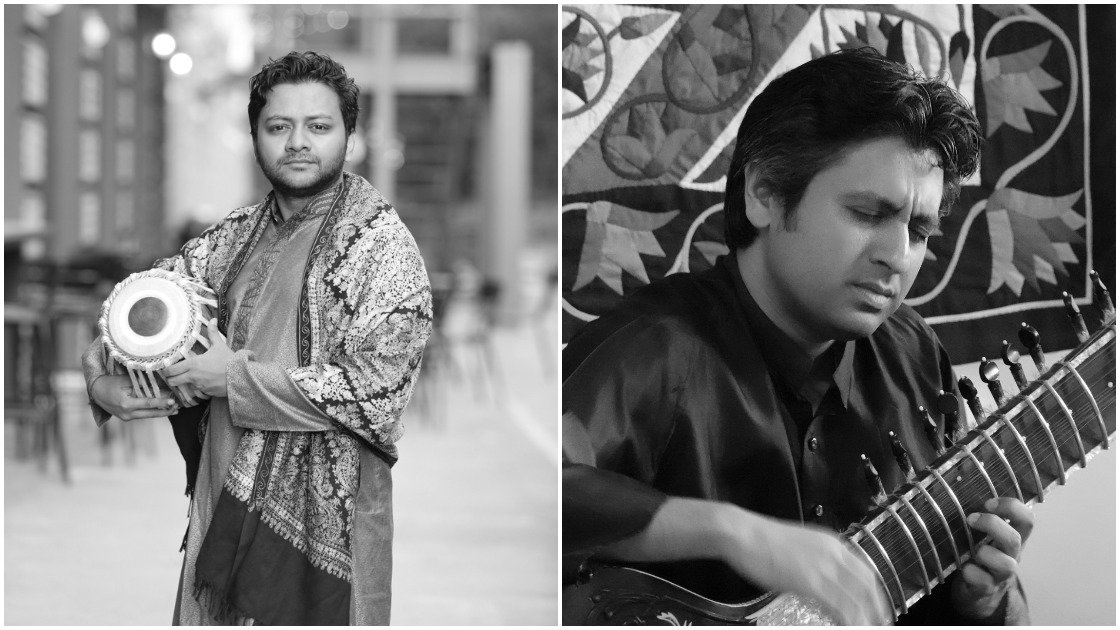 Thu, 05 September 2019

08:00PM - 11:55PM (EDT)

Event past Artist Mir Naqibul Islam Indro Roy-Chowdhury $10 Advance | $15 Door | 8pm Doors Open | 8:30pm Music | 10pm BRM Weekly Raga Jam Indrajit Roy-Chowdhury (sitar) and Mir Naqibul Islam (tabla) present Indian Classical Ragas accompanied by Harsh Shah (tanpura). This trio has played extensively in the New York area to an increasingly receptive and growing audience base. Performing in Brooklyn is a special event as it is the base for these artists, it's a show you do not want to miss! Indrajit Roy-Chowdhury is a disciple of Pandit Subroto Roy-Chowdhury of the Rampur Senia Gharana. Primarily trained in the Veen-Kar style of Sitar which draws upon techniques and idioms of the Veena, Indrajit has carved a niche for himself with his eclecticism and versatility. Indrajit strives for a fine balance between traditionalism and innovation and is renowned for his meditative alaap and brilliant tans. Based in New York, Indrajit maintains a busy tour schedule across the continents. As an international artist, Indrajit has performed in many distinguished venues, notably: Dover Lane Music Conference, Uttarpara Sangeet Sangha, Ramakrishna Mission Institute of Culture (Golpark), and Rajya Sangeet Academy (Rabindrasadan), Kolkata; Kennedy Center for the Performing Arts, Washington DC; The Lincoln Center, and The Hammerstein Theater, New York; Toronto National Convention Center; Berlin Indian Embassy; Concordia Arts, Poznan, Poland; Shared Values music festival, London; Setnor Auditorium, Syracuse University (SPIC-MACAY program); Chhayanaut Auditorium, Dhaka, etc. In addition to being a sought after stage performer, Indrajit is an ardent and dedicated teacher. He was a visiting faculty of the renowned Department of Indian Classical Music at the University of Pennsylvania and has conducted numerous student workshops in USA, UK, and India. He is a Sitar guru at Bharatiya Vidya Bhavan, USA in New York City. Indrajit heads the Kolkata Sitar School, founded by his Guru, Pandit Subroto Roy Chowdhury, whose legacy he carries on by training many students around the world. Samples of his work can be heard at his website:. www.indrositar.com Mir Naqibul Islam is a young classical artist of this generation. Naqibul is a regular performer in the classical music arena of Dhaka and New York both as a soloist and an accompanist. Mir started learning tabla from an early age of six at Chhayanaut. He is fortunate to have Shri Ashoke Paul as his guru who is a senior disciple of Padmabhushan Pandit Jnan Prakash Ghosh. Through the past fourteen years and counting, the guidance of Shri Ashoke Paul has enabled Mir to learn the technical and aesthetical aspects of Tabla playing. He has completed a six-year tabla course from Chhayanaut under Shri Madan Gopal Das. He was also lucky to have Pandit Gopal Mishra as his guru for two years. For last two years, he has taken talim from Padma Shree Talyogi Pandit Suresh Talwalkar at Bengal Parampara Sangeetalaya. At present, Mir is taking talim from Pandit Anindo Chatterjee. Mir is a graduate of IBA, University of Dhaka, currently completing his graduate studies in Data Science at Baruch College, The City University of New York. Within a short span of time, he has become an active member in the music scene of New York and New Jersey. He has performed for Brooklyn Raga Massive, Pandit Jasraj School of Music, Chhandayn Center for Indian Music, Sadarang Worldwide Music Center, Volunteer for Bangladesh, etc. Harsh Shah is pursuing a full-fledged career as a Construction Manager in NYC, but his passion and yearning for Instrumental Sitar and Indian Classical Vocal Music have pulled him to a diversified musical experience. He is in training for Sitar, past 5 years under the guidance of Shri Indrajit Roy-Choudhury, one of the most talented young exponents of Rampur Senia Gharana. Harsh has also been learning Hindustani Vocal under the guidance of Shri Hari Nott and Padmashree Pandita Tripti Mukherjee, Mewati Gharana. **Special announcement for Musicians!** BRM cordially invites you to join us in the ongoing effort to cultivate a home for intercultural musical dialogue. We are happy to offer FREE ENTRY TO MUSICIANS AFTER 10 PM WHO COME WITH THEIR INSTRUMENTS AND ARE READY TO PLAY! Please come out and engage with one of NYC's most vibrant and diverse communities of improvising musicians hailing from all over the music world!