Emergency Holistic Medicine Course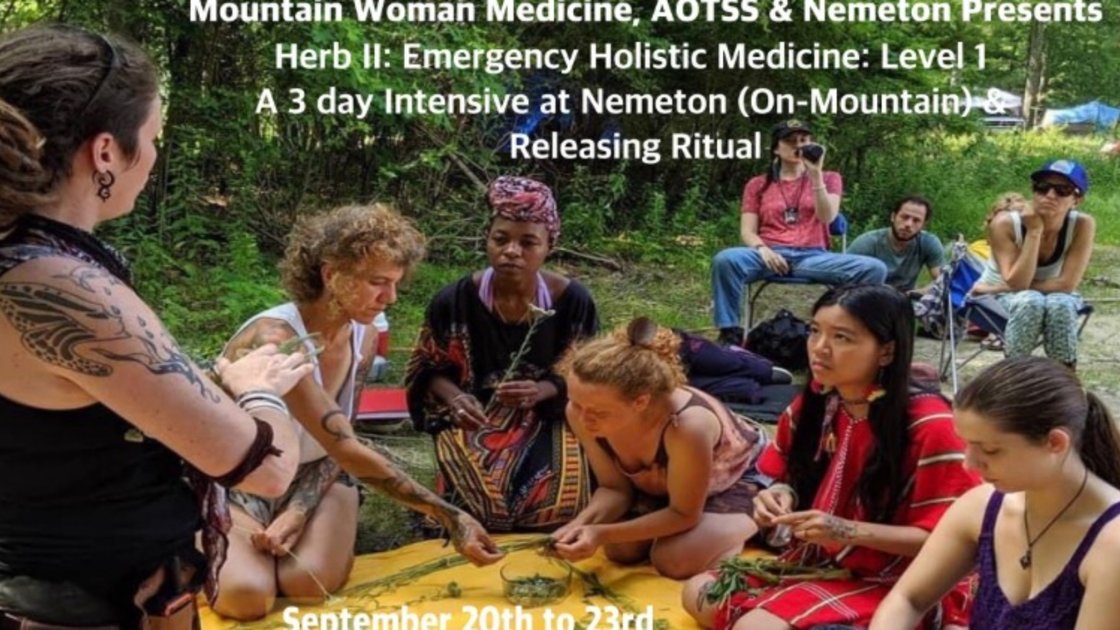 This is an in-person event
20 Sep, 2021, 12:00PM to
23 Sep, 2021, 6:00PM (EDT)
Event past
Organizer
Raine Ford
Host
Nemeton
Nemeton, Mountain Woman Medicine,
AOTSS & Nemeton Presents:


Emergency Holistic Medicine: Level 1
You are cordially invited to the Mountain Woman Medicine's 3 day Emergency Holistic Medicine Intensive.
Why:
EHM- To build a better relationship with nature. Begin your initiation into the world of plants, their medicines and their meanings. Further your skills as a Guardian, Herbalist, Healer, EMT or Street Medic.
We will discuss the Clinical Perspective of Holistic Wellness from an Emergency Perspective from within a Sacred Container. We'll talk about what things we might want to have in our Emergency Apothecary Kits, covering roughly 45 First Aid Plants and roughly 35 common Ailments. We'll discuss choosing the right plant for the issue, crafting & pairing formulas and other holistic supports). With a focus on Wounds, Injuries, Nervous System Support, (Anxiety, PTSD, Trauma) Respiratory, and GI Tract.

These are some of the topics covered in the notes:
Setting the Stage: Think like a Clinician, Language in the Apothecary, Apothecary Chart.
Skin - our largest organ….Wounds, bites, scratches, stings, punctures, bleeding, burns, rashes, scabies, lice, sunburns
Ears, Eyes, Teeth & Musculoskeletal. Sprains, strains, broken bones, tendons, ligament & myofascial; earache, eye irritations
Respiratory, brain/CNS: colds, flu, allergies, Shock / , asthma, coughs, sore throats,
Nervous System: anxiety / insomnia, depression, emotional crises
Misc, Scenarios: Fever / chills, Pain, Headaches, Lethargy / hangovers, Menstrual cramps, Tooth aches, Bacterial & Viral Infections.
GI, Urogenital: Upset stomach, nausea/vomiting, constipation, diarrhea. UTI's, Yeast Infections.
Exchange for the EHM Course: $300 (Additional exchange options are listed in the registration)
Where: At Nemeton (The Mountain) Endicott NY
When: September 21-23 (tue-thur) 2021


How: 3 day camping intensive, there will be additional info available on the event flow, the items to bring and how to prepare, once you register for the event and join the Discord for pre-event community discussion.
This will be a in-person class, with physical printed notes you will receive upon arrival, as well as a links to all notes in digital form, including audio recordings of past classes - in its full content. (From the 6 week (18 hr) course version of this Intensive)
We look forward to seeing you there!
Registration Link:
https://docs.google.com/forms/d/1BIHPuEGCneywY1HagqFFHx1YNI0dmNOB1L0EYvIYths/edit
Once you register, and join our Discord (link below), you will be added to a private Channel where there will be a place for discussions and questions prior to arrival. Once you fill out the Nemeton Visitors Form you will be sent directions to get to The Mountain & instructions on How To Land.
**There is also a Releasing Ritual happening the monday before this event.
See this link for more details
. If you are coming early for the Releasing Ritual, be sure to mention that in the Discord and we'll sort details then
Make your Exchange here:
Discord link:
Mountain Amenities
Fresh well water in igloos
Electric to charge small items (Most cell phones seem to work here)
Wifi in certain parts of The Mountain.
Rice & Dahl provided through the weekend.
Community kitchen, with small oven, stove top & electric for kettle for water.
Space in fridge for food items
Outhouse for #2 (pee in the woods)
Paths and private beautiful sacred spaces to decompress in.
Hammocks to rest in, in community and private spaces.
Items to consider bringing / Keeping track of while your here.
Tent / ground tarp, cot or bed roll, Blanket /sleeping bag, pillow
Warm clothes, rain gear, extra clothes in case you get wet! Cold night clothes.
A Towel!
Personal toiletry items and any medications / daily use things that you normally use.
Personal First Aid kit (with a mirror for tick checks)
Day bag or hip pouch / belt to carry personal items around. (like bug repellent, journal and pen, water bottle, a knife, flashlight, a warm layer, hankie, something to fiddle in your fingers, etc.
Notebook, pens, pencils, highlighters, voice recorder. (You will receive a packet of notesl)
Water vessel AND a hot drinks vessel, bowl and utensils.
Snack and morning beverages that you need.
As a Wildcrafting Herbalist, EMT & Firefighter Raine Ford started her journey over 20 years ago. She enjoys teaching relatively simple, efficient, effective ways to balance Wellness for when we are out of alignment. She is a blend of modern science and ancient ways. *80% of the time she teaches & uses locally harvested plants.