Global Handpan and Hang 21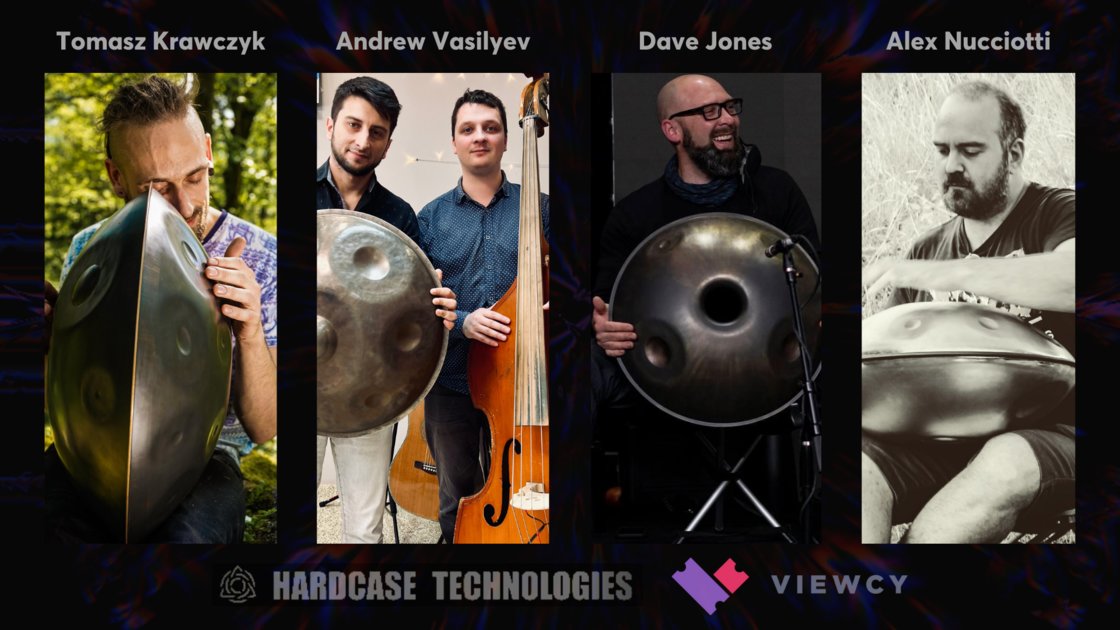 This event is streaming online
Tue, 26 Jul 2022, 08:00PM (JST)
Sponsors
Viewcy Studio
Hardcase technologies srl
Artists
Tomasz Krawczyk
Andrew Vasilyev
Dave Jones
Alex Nucciotti
Curator
Daniele Rebaudo
Organizer
Global Handpan and Hang
Global Handpan Hang
Artist-curated session 21

Streaming in 3 times zones on July 26th
8 pm JST (Japan)
8 pm CET (Europe)
8 pm EDT (New York)

An evening of music, free and open to all, curated by the artists themselves, Viewcy's Global Handpan Hang is a place to enjoy, discover, and support amazing Handpan artists.
Curated by
Daniele Rebaudo
this event is free, but when you attend, the artists are paid. This project is about supporting artists.
The artists:
Tomasz Krawczyk
Dave Jones
Alex Nucciotti
Andrew Vasilyev with Sergey Androsenko
Share and invite your friends to support more. Buy a ticket to support more. Make a donation to support more.
This Session is supported by the Universal Creator Income Fund. People like you contribute to this fund and are supporting these artists. To find out how to join this group of esteemed patrons,
go here.
View past events
❤️Viewcy
#1: Handpanarama
Artists: Tomasz Krawczyk
Hello guys, i'm Handparama, handpan player from Poland, it is only one session recorded specially for you on this beautiful Seed Handpan C# Pygmy 13 which i got for testing from my dear friend Petr Vejdelek befor it's going to it's owner. Enjoy the music <3.
#2: Second performance
Artists: Dave Jones
I hope you enjoy this 20 minute set. I recorded it in one uninterrupted take to give it as "live" of a feel as possible. On the first two songs, I'm playing a 2014 SpB FMinor pantam. The third and fourth pieces are played on a 2012 SpB Kurd 9. Pantams have been my medicine since I began playing in October 2018. I hope you find this performance soothing for your mind, body, and spirit.

Peace and love,

Dave
#3: Fourth performance
Artists: Alex Nucciotti
.
#4: Duo with Sergey Androsenko
Artists: Andrew Vasilyev
Andrew Vasilyev is Russian Handpan player and percussionist. He has been discovering the singing steel since 2013. Andrew organizes Handpan festivals and musical events in his region.
Sergey Androsenko - is a jazz musician. He plays on double bass, bass guitar, Spanish guitar and Balalaika.
We want to share with you few themes. The first one is cover of well known "Take 5". Probably, this is the first time somebody plays it with Handpan and Balalaika - traditional Russian instrument.
The second track is called "Between the two paths". This one is composed by Andrew and recently with made a version with double bass. Epic version ;)
In theme 3 we use bass guitar and two handpans. The longest one in our performance. In the middle we change the time signature into 7/16 and experiment with the harmonies.
And the last one is improvisation based on some traditional Russian songs. Balalaika and Handpan sing together again.