Agra Gharana: Tradition, Musical Philosophy, & Repertoire
by
Indian Classical Music Society of Vancouver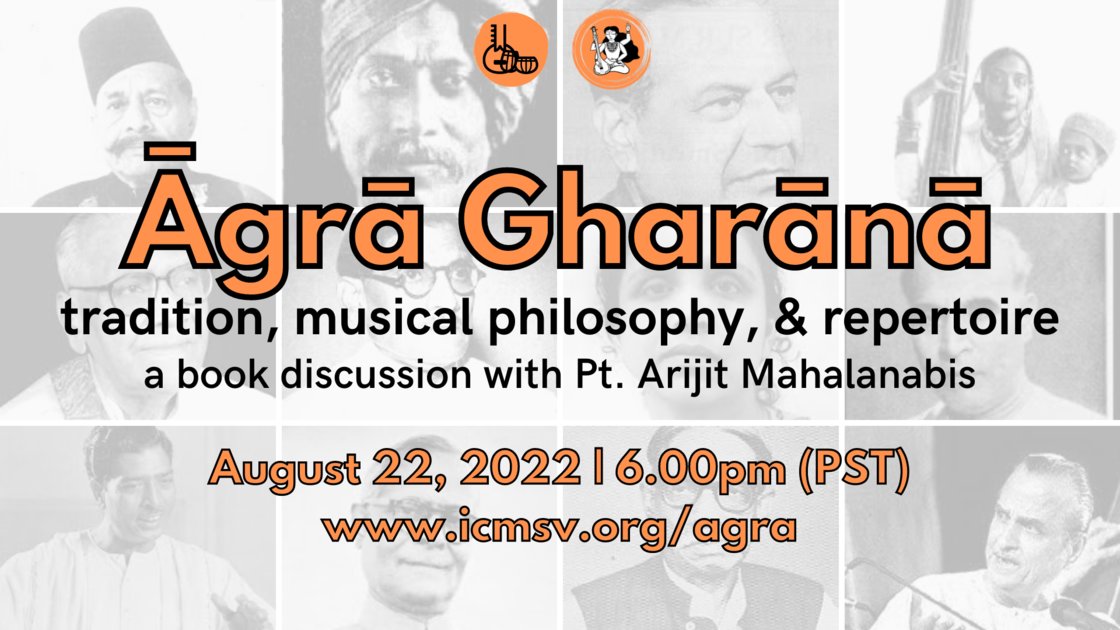 This event is streaming online
Streaming tickets unavailable at this time
Mon, 22 Aug 2022 (PDT)
06:00PM - 07:00PM
Event past
Artist
Arijit Mahalanabis
Organizer
Kalāvāṇī Institute
Event synopsis:
This program is centered around the contents of the book "Āgrā Gharānā: Tradition, Musical Philosophy, & Repertoire" written by Ramanlal Mehta, and translated by Arijit Mahalanabis. We will explore the history, repertoire, and stylistic nuances of the Agra Gharana in a moderated discussion with the book's translator, which will be followed by an open-floor Q&A session.
Book description:
Agra Gharana: Tradition, Musical Philosophy, and Repertoire, a translation of a work by Prof. R. C. Mehta, delves into the musical intricacies of one of Hindustani Music's most important schools, the Agra Gharana. The book provides a detailed essay on the characteristics of the musical style of the school, along with short histories of notable personalities of the school. This work also includes a significant collection of composition notations written by musicians of the Agra Gharana. This concise volume provides insight that is accessible to both serious students, and casual listeners of Hindustani music, and is a useful addition to the library of anyone with an interest in the classical music of India.

Please note: if you are a member of the Friends of ICMSV subscription program, please email us at info.icmsv@gmail.com to receive complimentary access.