Kyle Tigges and the Morning Morning Band with special guest: Niall Connolly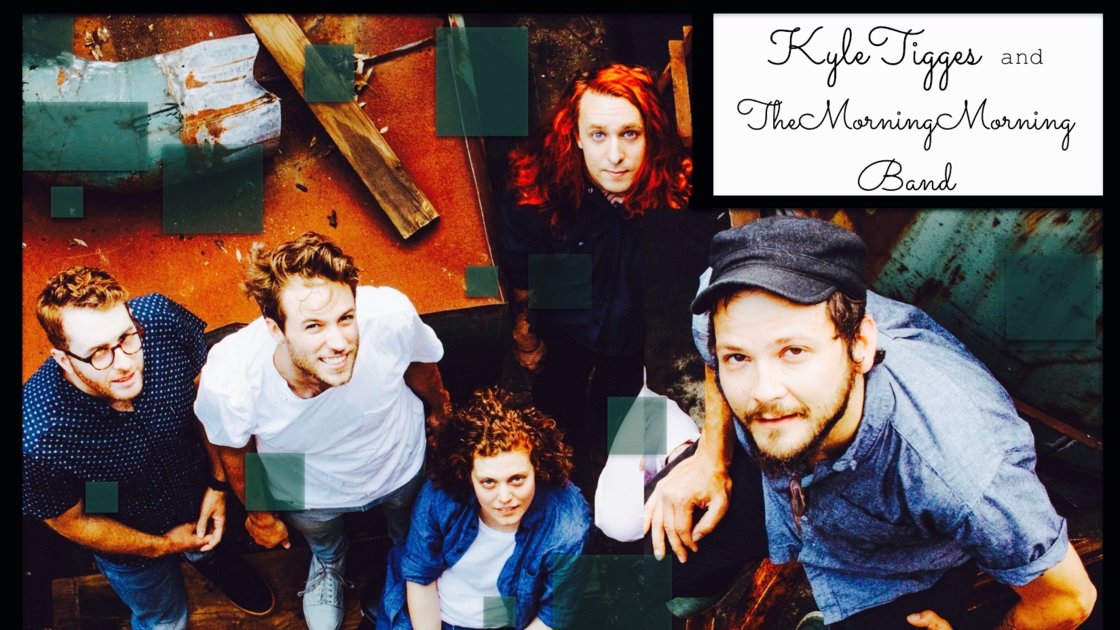 Fri, 19 Nov 2021 EST
07:30PM - 10:30PM (EST)
Event past
Jalopy Theatre and School Of Music
315 Columbia St
Brooklyn, NY 11231
Open Map
Organizer
Jalopy Theatre
Kyle Tigges and the Morning Morning Band
will be (re)releasing their record, "Morning. Morning.", that was first released at Jalopy in February of 2020. Consider it a "do-over", a "fresh start", a "reset", or even just a celebration of people coming back together after nearly two years of a stressful separation. (more info below)
www.kyletigges.com

Opening for the band will be the wonderful
Niall Connolly
. Niall is truly one of the most powerful singers and songsters in the NY folk music scene. His songs can feel like a warm embrace from a long lost friend, a punch in the gut that leaves you gasping for air, and everything in between. Come early and enjoy what is sure to be a memorable night of music, stories, and community.
www.niallconnolly.com

KYLE TIGGES:
Kyle Tigges is musical artist and activist born and raised in middle America who is currently residing in New York. You can find Kyle happily sharing a wide mix of upbeat and bittersweet tunes with folks of all ages in and around the NYC and Hudson Valley areas. He is primarily a singer and guitar player but he enjoys fumbling around on harmonica, banjo, drums, and fiddle.


Kyle Tigges has become a go-to musician for live music for many folks and frequents an eclectic mix of vibrant venues in his community. Keeping music local and bringing people together with music is one of the most powerful ways to boost environmental awareness and create the kind of change that is sustainable and regenerative as we work together towards a healthy, beautiful planet.


"Morning Morning"(originally released 2/20/20) is a collection of nine topical songs written and recorded by Kyle Tigges and a stellar new line up of musicians. The songs on this record have been carefully crafted with whimsical and driving grooves laid down by Alex Fontini (drums) and Eric Thachuk (bass). Koby Williamson (electric guitar) tastefully fills the sonic space with dynamic soundscapes of truly innovative guitar playing while Sophia Betz (acoustic guitar/keyboards) holds everything together with powerful rhythm and harmony. Kyle (vocals/electric guitar) finds himself in a more easeful state with the comfort of such an experienced, flexible, and creative band. As a result, he is able to focus his energy closer toward the core of the songs in hopes of a more genuine and earnest delivery of the music that he has been trying to harness for the last 20 years.

NIALL CONNOLLY:
1977. The year that punk was born. With only hours left to spare it also produced a baby boy in the suburbs of Cork, Ireland, born with his ears piqued to the murmurs and clatter around him.

As he grew the soundtrack changed. Nirvana on the Walkman. Leonard Cohen on his sister's stereo. The surge of bands and songwriters emerging from the 1990's Cork music scene. Later it became snippets of eavesdropped New York conversation. Tales of woe on the radio. The sights and sounds of tours across Europe.

All of it gets woven into a tapestry of words. Then melody. Harmonies added in the studio. Electricity, sincerity, and humor on the stage. At the core of every Niall Connolly song is the story, one that unfolds a layer with each listen.

Jalopy will be following all state and city distancing and capacity guidelines, along with providing UV powered air filtration and adequate ventilation. We will also be requiring all who attend to show us proof of the following...
Being fully vaccinated and it has been 14 days or longer since your final shot.
Attendees must follow all mask, distancing and hand washing guidelines when in attendance. If you are vaccinated in New York, we encourage you to use Excelsior Pass to prove your vaccination. Excelsior pass is an app for your phone that can hold your vaccination and testing data. Download Excelsior Pass in the apple store or on google play.
NOTE: We will also accept other forms of proof of vaccination from other states including CDC Vaccination cards (with photo id), etc.
This ticket is a revocable license and may be taken up and admission refused upon refunding the purchase price appearing hereon and is grounds for seizure and cancellation without compensation. Holder of this ticket ("Holder") voluntarily assumes all risks and danger incidental to the event for which this ticket is issued whether occurring prior to, during, or after same, including, but not limited to, contracting, and/or spreading the COVID-19 virus, and agrees that the organization, venue, presenter, agents, participants, or players are not responsible or liable for any injuries, sickness, or death resulting from such causes. Holder acknowledges that the COVID-19 pandemic remains a threat to individual and public health, COVID-19 is a highly contagious disease transmitted through human contact and respiratory droplets (including through the air and via common surfaces) and it is possible that Holder may contract COVID-19 while at the event for which this ticket is issued. Holder agrees by use of this ticket not to transmit or aid in transmitting any description, account, picture, or reproduction of the event to which this ticket is issued. Breach of the foregoing will automatically terminate this license. Holder agrees that the license comprised by this ticket may be removed and Holder may be ejected from the event for which this ticket is issued in the event that Holder violates any law, ordinance, or venue regulation. Holder grants permission to the organization sponsoring the event for which this ticket is issued to utilize Holder's image or likeness in connection with any video or other transmission or reproduction of the event to which this ticket relates.