Smt. Ruchira Panda - online broadcast concert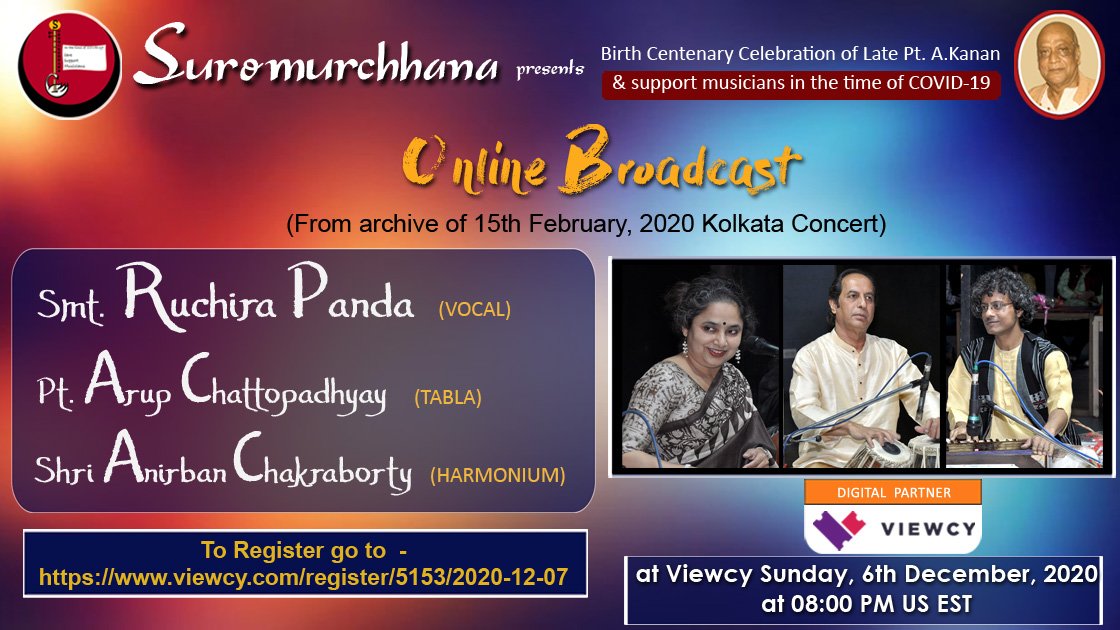 This is an in-person event
Sun, 06 December 2020
08:00PM - 09:30PM (EST)
Event past
Organizer
Suromurchhana
A live concert presented by Smt. Ruchira Panda with Pt. Arup Chattopadhyay on tabla and Shri Anirban Chakraborty on harmonium. It was held in Kolkata Uttam Manch on February 15, 2020 to commemorate the birth centenary celebration of Late Pt. A. Kanan, organized by Suromurchhana. The concert will be preceded by an interview with Smt. Ruchira Panda and Shri. Sanjoy Banerjee, founder of Suromurchhana.

Smt. Ruchira Panda is the current torch-bearer of the Kotali Gharana, a lineage of classical vocal masters originally hailing from Kotalipara in pre-partition Bengal. She was mentored by her guru, Pandit Manas Chakraborty, the son of legendary vocalist Sangeetacharya Tarapada Chakraborty, She is a solo vocalist and composer who performs across all the major Indian Classical festivals in India, USA, CANADA and Europe. Her signature voice has an unusually deep timbre and high-octane power that also has flexibility to render superfast melodic patterns and intricate emotive glides across microtones.

Pt. Arup Chattopadhyay is recognized as one of the most outstanding and sought after Tabla artists of this generation. He has established himself as a top-notch accompanist as well as a formidable soloist. His performances are admired for their exceptional tonal quality, clarity and deep compositional repertoire, all presented with an innate sense of rhythm and melody. Arup ji began learning Tabla at age six from his father, the eminent Tabla player, Pt. Pankaj Chattopadhyay and then came under the tutelage of the world-renowned Tabla maestro Pt. Shankar Ghosh and is one of his premier disciples. Arup ji has accompanied many of the leading musicians of India such as Pt. Ravi Shankar, Ustad Rais Khan, Ustad Aashish Khan, Pt. Ajay Chakarbarti, Lakhsmi Shankar, Pt. Rajan and Sajan Mishra, Ustad Rashid Khan, the late V.G. Jog among others.

Shri. Anirban Chakrabarty hails from a family of Musicians. His father, Amal Chakrabarty is a dedicated vocalist. From his very childhood Anirban was initiated to Hindustani Classical Music by his father. Although he is a good vocalist, his keen interest in playing Harmonium have driven him under the tutelage of Pandit Manas Chakraborty, the doyen of Kotali Gharana to master himself in the gayaki of Kotali style. The guidance of the Master Musician has already shaped him in well organized Harmonium player, and hoping him to be a musician of high repute in future.