THE ANDY STATMAN - JAY GANDHI CONNECTION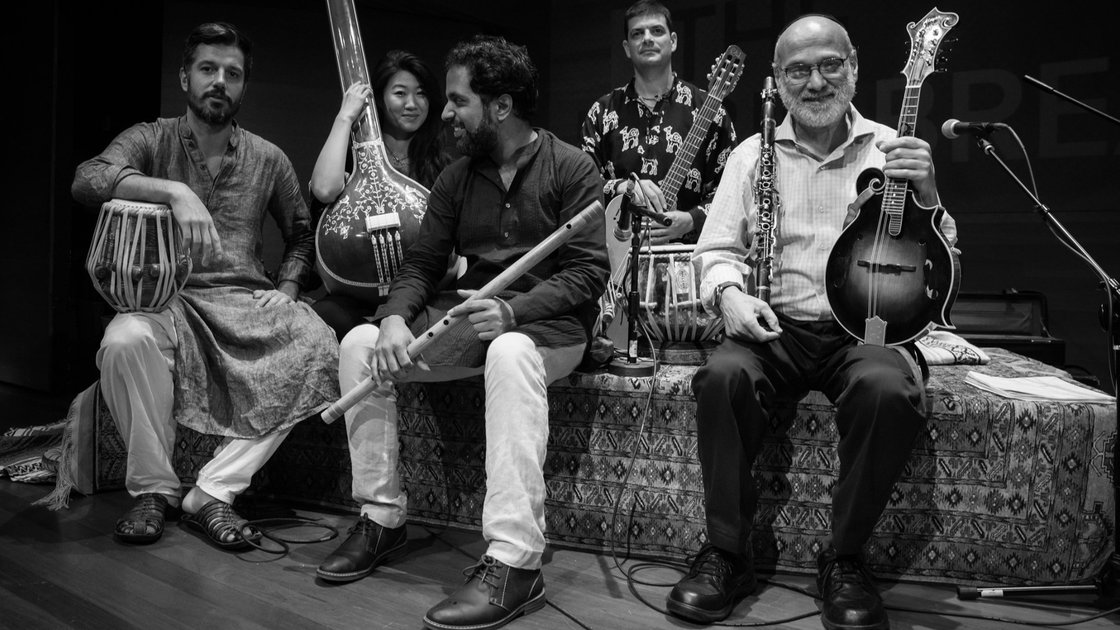 Tickets unavailable at this time
This is an in-person event that is also streaming online
Sun, 17 Oct 2021 EDT
07:00PM - 09:00PM (EDT)
Event past
Jalopy Theatre
315 Columbia Street
Brooklyn, NY 11231
Open Map
Artist
David Ellenbogen
Expect a fascinating, novel dialogue among soulful strains of music—Indian classical, Jewish, and American roots music—when Andy Statman joins forces with Jay Gandhi, Ehren Hanson and David Ellenbogen. A major figure in the revival of interest in klezmer music, and a virtuoso on mandolin and clarinet, Statman brings his "American-roots music and personal, prayerful Hasidic music, by way of avant-garde jazz." Over a legendary career, Statman has worked with everyone from Bob Dylan, Jerry Garcia, and Bela Fleck to Izhak Perleman and klezmer legend Dave Tarras.

In this unique and amazing collaboration, Andy expands his musical explorations, tapping into the rich traditions of improvisation and spiritual yearning that animate Indian classical musical as well as his own creations.

Jay Gandhi is a senior disciple of the prominent bansuri maestro Hariprasad Chaurasia. Working alongside jazz legends like Reggie Workman and Jeff "Tain" Watts, Jay brings new languages to the bamboo flute and continues to captivate audiences in India, Europe, Africa, and the Middle East.

David Ellenbogen has studied and performed music in over a dozen countries including India, Mali, Cuba and Brazil. He has expanded the audience for world music through his radio broadcasts on WKCR, his podcast, NYC Radio Live, and ambitious live productions like the Ragas Live Festival, which recently featured 90 artists in 15 cities including, Terry Riley, Zakir Hussain and Toumani Diabate.

Ehren Hanson has accompanied great musicians including Pandit Debi Prasad Chatterjee, Pandit Subrata Roy Chaudhuri and Steve Gorn. A disciple of Pandit Anindo Chatterjee, Ehren Hanson has been a dynamic force on the international tabla circuit. These two will present pieces in the traditional Indian Classical Music format. Come out and experience what these premier musicians of Indian Classical Music have to offer. Ehren has been playing tabla for over 17 years.He is an active performer as both a soloist and an accompanist. His recent review in the "Times of India," Kolkata called his solo performance "enthralling."

Jalopy will be following all state and city distancing and capacity guidelines, along with providing UV powered air filtration and adequate ventilation. We will also be requiring all who attend to show us proof of being fully vaccinated and it has been 14 days or longer since your final shot.
Attendees must follow all mask, distancing and hand washing guidelines when in attendance. If you are vaccinated in New York, we encourage you to use Excelsior Pass to prove your vaccination. Excelsior pass is an app for your phone that can hold your vaccination and testing data. Download Excelsior Pass in the apple store or on google play.
NOTE: We will also accept other forms of proof of vaccination from other states including CDC Vaccination cards (with photo id), etc

Photo by Adrian Tillman.