The Court: featuring Saili Oak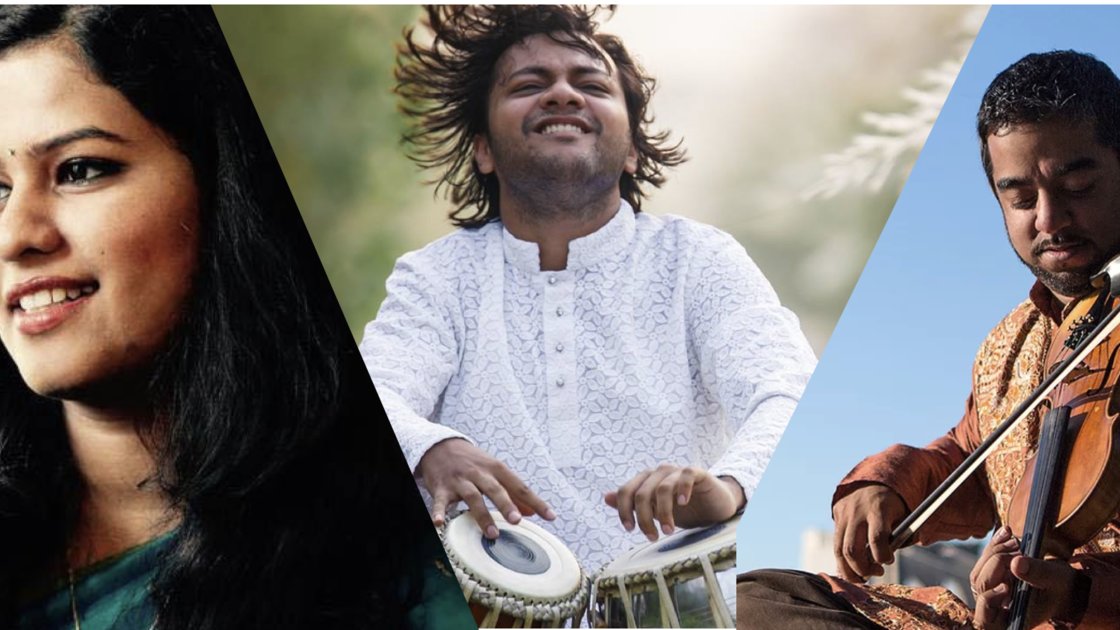 05 Jun, 2018, 7:30PM to
06 Jun, 2018, 1:30AM (EDT) Event past

The Court @ 470 Ocean

470 Ocean Ave. apt LF6

Brooklyn, New York 11226

Open Map

Collaborator Arun Ramamurthy Mir Naqibul Islam The court is an immersive experience centered around live classical Indian music in the most intimate of settings. Curated to facilitate a deep experience for everyone present, the artists draw their inspiration from the meditative silence of the audiences attention. Following the music, we'll celebrate over food and conversation. BYOB and share a glass of wine with your new friends after the music is completed. This Performance with feature: Saili Oak - Vocal Mir Naqibul Islam - Tabla Arun Ramamurthy - Violin About Saili Oak: A finalist on the popular reality TV series Zee Marathi SaReGaMaPa, Saili is a senior disciple of Dr. Ashwini Bhide Deshpande, a leading vocalist of the Jaipur-Atrauli gharana. She has established her own identity with enriched talent in classical as well as semi-classical music. Saili has been learning music since a tender age of 3 years and has given performances at music festivals all over India and abroad. Some of her memorable performances include the Summer Sounds festival at the Hollywood bowl, Vedic Heritage in New York, Beyond Borders concert at the University of Maine to name a few. Her performances have been appreciated for her meticulous architecture of 'khayal', her systematic and well-crafted raga exploration and laudable command over the 'laya'.Saili has several albums and singles to her credit including the two tracks she recently recorded for Trevor Hall's album 'Kala'. Saili has performed with the Albany Symphony, NY and presented and performed at the World Music Symposium in New Jersey. She is the first Hindustani singer to have ever performed with a Symphony orchestra. About Mir Naqibul Islam: Mir Naqibul Islam is a young classical artist of this generation. Mir is a regular performer in the classical music arena of Dhaka and New York both as a soloist and an accompanist. Though trained in purely traditional style, he is open to any genre of music and love to incorporate those flavors in his playing. He is fortunate to have Shri Ashoke Paul as his guru who is a disciple of Padmabhushan Pandit Jnan Prakash ghosh. Through the past seventeen years and counting, guidance of Shri Ashoke Paul has enabled Mir to learn the technical and aesthetical aspects of Tabla playing. Mir has also learnt from Janab Syed Hafizur Rahman, Shri Madan Gopal Das,Pandit Gopal Mishra and Pandit Suresh Talwalkar. At present, Mir is taking talim from Pandit Anindo Chatterjee. About Arun Ramamurthy: Arun Ramamurthy is a versatile violinist, composer and educator based in NYC. A disciple of the celebrated Carnatic violinist brothers, Dr. Mysore Manjunath & Sri Mysore Nagaraj, Arun has become one of the country's leading Indian Classical and crossover musicians. Growing up in New Jersey, he trained in both Indian and Western classical styles.