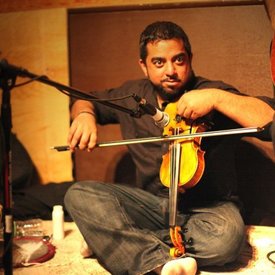 Arun Ramamurthy
@arunramamurthy
About:
Arun Ramamurthy is a versatile violinist, composer and educator based in NYC. A disciple of the celebrated Carnatic violinist brothers, Dr. Mysore Manjunath & Sri Mysore Nagaraj, Arun has become one of the country's leading Indian Classical and crossover musicians. He has carved a niche for himself as a multifaceted artist, performing internationally in both traditional Carnatic and Hindustani settings as well as cross genre creative projects. Arun has been fortunate to perform with artists such as Dr. Balamurali Krishna, Sudha Ragunathan, Anindo Chatterjee, T.N. Seshagopoloan, Mashkoor Ali Khan, Marc Cary, Awa Sangho among others.
He leads the Arun Ramamurthy Trio, an ensemble that brings a fresh approach to age-old South Indian classical repertoire and raga inspired originals. Praised by All About Jazz as "a beautiful, exotic, ear-opening listening experience" his trio's debut album "Jazz Carnatica" was picked by NPR's New Sounds as a Top New Release.
Arun is a co-founder and Vice President of Brooklyn Raga Massive. He created the concert series Carnatic Sundays at Cornelia Street Café, an iconic jazz venue in New York's West Village. As an educator, Arun teaches students ranging from beginners to professional musicians in Indian music performance, technique and theory. He has taught workshops on Indian classical music at music schools, universities, conservatories and summer music programs.