Wool and Folk Festival: Celebrating Fiber, Fabrics and Folk Music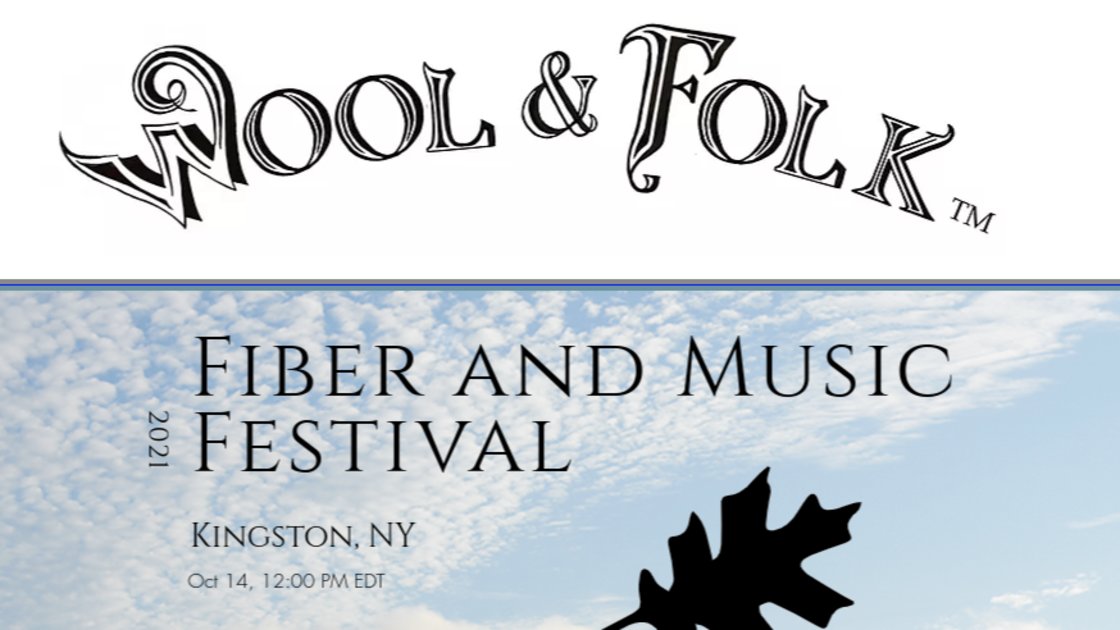 Thu, 14 Oct 2021 EDT
12:00PM - 07:00PM (EDT)
Event past
Hutton Brickyards
200 North Street
Kingston, NY 12401
Open Map
Organizer
Jalopy Theatre
TICKETS AVAILABLE HERE
The First Annual Wool & Folk Festival brings together top yarn and fiber dealers and doers to share their wares, celebrate all things handmade, and commune in beautiful Kingston, NY to the sounds of some wonderful folk bands - all outdoors and Covid-safe.
Wool & Folk grew out of Catherine Clark and Felicia Eve's vision for a different kind of fiber festival. Catherine and Felicia know that music is key to a feel-good event and more than anything, they wanted to create a safe, fun event for people to join together after such a long hiatus from fiber friends. Catherine reached out to her friend Lynette Wiley, executive director of Jalopy Theatre, to help with the musical production side of the event. Lynette and Catherine put their heads together and came up with a wonderful musical lineup! When Catherine and Felicia saw Hutton Brickyards, right on the Hudson River, they knew they had found the perfect spot. They are hoping for this hybrid music/fiber festival will be one to remember for years to come.
The day will feature over 26 fiber vendors, 5 farmers, 6 bands, and 6 special "Meet the Maker" discussion with fiber makers and fiber stores from across the country.

Musicians include Frankie Sunswept and the Sunwrays, La Nueva Canción, Morgan O'Kane, The Woes, The Flying Sulsers and Phil Roebuck.

12 pm: Doors Open!
Music begins with Frankie Sunswept and The Sunwrays
1 pm: The Flying Sulsers
Farmhouse Food Truck opens for Lunch (menu follows)
1:40 pm: Meet the Maker with Felicia Eve: Featuring Aimee Gille and Dami Hunter.
2 pm: Miriam Elhajli's La Nueva Cancion
2:30 pm: Embroidered Knits Demo at Tatter (Booth 4) with Carolyn Bloom
2:40 pm: Meet the Maker with Felicia Eve: Featuring Mary Jane Mucklestone and Gudrun Johnston!
3 pm: Music Intermission: Meet the Maker with Felicia Eve: Featuring Andrea Mowry and Brandi Cheyenne Harper!
3:40 pm: Pompom Magazine Sample Show with Meghan Fernandes
4 pm: Morgan O'Kane + Phillip Roebuck
4:30 pm: Embroidered Knits Demo at Tatter (Booth 4) with Carolyn Bloom
4:40 pm: Pompom Magazine Sample Show with Meghan Fernandes
5-7 pm: The Woes!


Catherine Clark has been the owner of Brooklyn General Store (brooklyngeneral.com) in Brooklyn, NY for almost 20 years. She is also a Midwife and practices in her Brooklyn neighborhood. At Brooklyn General, Catherine blends her love of community with her love of all things handmade. She is also a part time knitwear designer focusing on garments that are inspired by the natural world and how it reflects the human experience. Felicia Eve has been a yarn shop owner for 5 years. She is also a Podiatrist, the owner of String Thing Studio (
https://www.stringthingstudio.com/
), Host of Fridays with Felicia with VKL and a Fundraising Consultant.
"I just wanted to have a party, gather makers together and dance! Yes, we want to sell yarn and help promote other small businesses like ours, but the real purpose of Wool & Folk is to join makers and music lovers together for a really fun day in a really beautiful spot."-Catherine Clark
Frankie Sunswept and the Sunwrays is an R&B band featuring artists and musicians living in Queens, NY. The Sunwrays recently collaborated with Ali Dineen on new songs. Heavily influenced by American music (Folk, Blues, Rock & Roll and early Country), Frankie's original songs involve equal parts hope, desperation, humor, sarcasm, anger, & love.
https://frankiesunswept.bandcamp.com/
The Flying Sulsers: Providing energetic, diverse and infectious entertainment, the Flying Sulsers provide a tasty tempting treat for young and old alike. They delight audiences with a raucous mix of diverse material including tin pan alley, the great American songbook, Hank Williams and the Beatles. With all that great music also comes the showmanship of a powerhouse, tour de force entertainer, Doghouse Bassist/Singer Brian Sulser. He is joined by the ever lovely Aimee Sulser on vocals. Also featuring the amusing stylings of guitar phenom Marty Flipman. Bring your dancing shoes, plenty of smiles and leave your worries behind.
https://www.briansulser.com/flying-sulsers/
Morgan O'Kane plays banjo like no other. Originally hailing from Virginia, O'Kane resides in Brooklyn when he is not on tour. The music is "to bluegrass and old-timey what punk was to rock in the seventies," Ian Spafford, Stirrings.org.
https://www.morganokanemusic.com/
Phil Roebuck - In 2000, Virginia-based musician Phil Roebuck started experimenting in the New York subways with a banjo in his hands and a drum rig on his back, which consists of a bass drum, a tambourine and levers to operate both with straps that go down to his feet. "On stage, he is a rollicking storm of punk rock, folk, rock, blues and bluegrass," says Jay Westcott of the Washington Post.
https://philliproebuck.bandcamp.com/album/one-man-band

Miriam Elhajli's La Nueva Canción: Miriam Elhajli is a Venezuelan-Moroccan-American composer and vocalist whose work is influenced by the folkloric traditions of the Americas, avant-garde jazz and improvised music.
The Woes band, based out of New
York City, formed in 2002 by frontman Osei Essed and his long-time collaborator Cicero Jones. Their sound is a mix of blues, country and folk, topped off with Essed's gruff voice, often compared to that of Tom Waits.
"Stark, soulful, genius," music.for-robots.com
https://web.archive.org/web/20060522003130/http://www.thewoes.com/
In order to keep everyone as safe as possible, at this time, we require proof of vaccination for attendance. (Either your vaccine card or your Excelsior pass if you are from NY). We also ask that when you are not eating or drinking you wear a mask. Hutton Brick Yards is an outdoor venue and there will be plenty of room for social distancing as well.
It is important to us to follow local and national recommendations for health and safety.
As guidelines are rapidly changing, we will continue to update our protocols as we get closer to the event.
Thank you for helping us keep our event safe!