BlessFest ~ A Global Online Event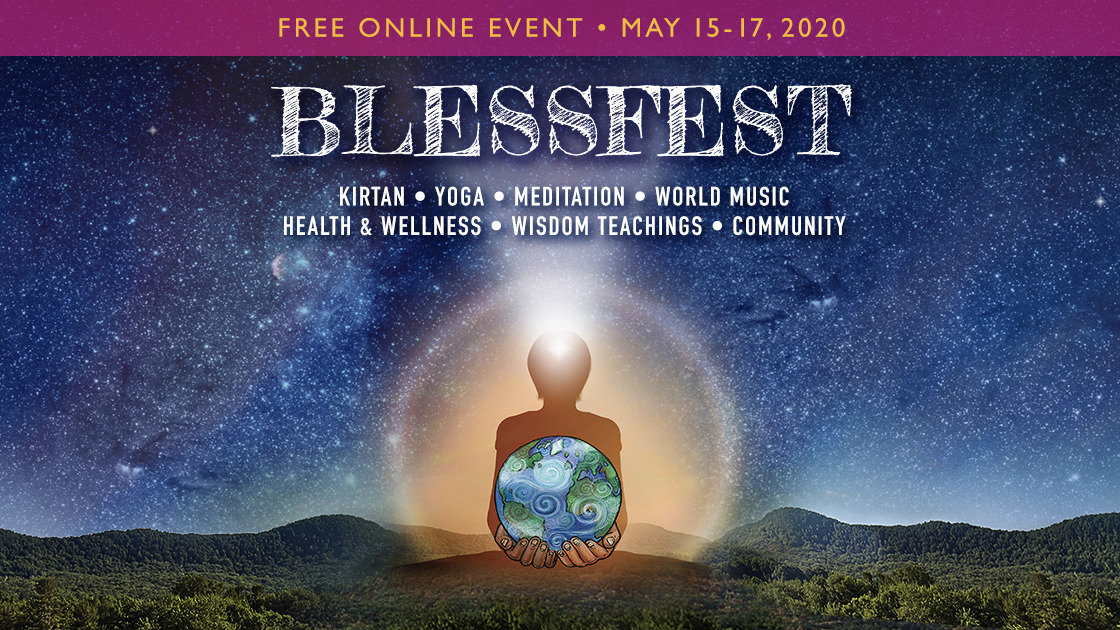 15 May, 2020, 4:00PM to
17 May, 2020, 9:00PM (EDT) Event past Sponsors Prosperity Coaching by Hugo Hanson CPA Designer Gloria Owens Executive Producer john de Kadt Tricia Capello Collaborator david dekadt Producer Dina Nur Satti Adam Maalouf Ehren Hanson Sponsor Prosperity Coaching by Hugo Hanson CPA Organizer BlessFest BlessFest~ Global Online Festival ================================= To register, simply click "View Stream" - Daily Schedule Below BlessFest was originally planned to gather in person this July in Amherst, MA, but in efforts to keep everyone safe the decision has been made to forego the physical gathering. As in life, BlessFest has been given the chance to adapt and evolve during a great time of change. With our community, we have risen together to continue this magical celebration of the heart, one another and the earth. BlessFest now expands its wings to a Free Online Global Event, May 15th-17th, 2020 in support of Lucy's Love Bus Emergency COVID-19 relief efforts raising money for struggling families with children who have serious preexisting illnesses and are especially in need during this COVID Pandemic. We encourage viewers to support this donation based effort in any way you can.  This free, donation based, online space will serve the evolution of human consciousness through offerings from many of the world's most inspirational voices including: wisdom teachings, world music, chanting, yoga, health and wellness and more. There is infinite power when we connect through these sacred arts to the inherent joy and peace that exists within and extend it to the world beyond.  We are grateful to all of the artists for generously donating their offerings to this effort! Please join us as we support each other during these challenging times for a transformative revolution of the heart and inspiration toward a new earth.
DAILY SCHEDULE
FRIDAY May 15 Starts 4pm EST 4:00 pm Shawn Stevens Mohican Fire Keeper - Native American Prophecies & The History of the Mohican 5:00 pm Ajeet Kaur Sacred Traditions Music 6:00 pm Nina Rao Kirtan - Hanuman Chalisa 6:30 pm Jonathan Foust Dharma Talk - Cultivating Steadiness in Turbulent Times 7:30 pm Carrie Grossman Kirtan 7:55 pm Beecher Grogan Lucy's Love Bus Founder 8:10 pm Yaima Cascadian Folktronic 8:30 pm Visvambhar Sheth Kirtan 9:00 pm Dave Stringer Kirtan SATURDAY MAY 16 Starts 10AM & 4PM EST 10:00 am Shiva Rea Solar Prana Vinyasa – Soulful Movement Meditation for All 11:00 am Toni Bergins Journey Dance MIDDAY BREAK 4:00 pm Dr. Mark Hyman Health & Wellness Talk Regeneration: The Secret to Human and Planetary Health 5:30 pm Tim & Paul Frantzich Folk & Gospel Music 6:00 pm Juliet Rabia Sufi & Persian Music 6:30 pm Shiva Rea Breathe for All Soma Prana Flow - Lunar Arts in Soulful Times 7:10 pm John de Kadt An Ancient Wisdom Story for Our Time, w/ Live Drumming 7:45 pm Jorge Luis Delgado Peruvian Shaman - Inca Wisdom for An Extraordinary New Life 8:25 pm Beecher Grogan Lucy's Love Bus Founder 8:35 pm Shantala Kirtan 9:00 pm Gaura Vani Kirtan SUNDAY May 17 Starts 4pm EST 4:00 pm Jafar Alexander Yogic Perspective to Understanding & Alleviating Trauma 5:00 pm Shankara South Indian Carnatic Percussion & Music 5:30 pm Brenda McMorrow Kirtan 6:00 pm Jillian Pranksy Restorative Yoga & The Blessing of Our Breath 6:40 pm Katie O'Connell Prayer Songs 7:00 pm Dr. Claudia Welch Ancient Ayurvedic Wisdom & Remedies for Surviving Epidemics 7:25 pm Beecher Grogan Lucy's Love Bus Founder 7:45 pm Steve Gorn North Indian Bansuri Flute 8:00 pm SriKala Sacred Fusion Rhythms 8:30pm Jai Uttal Kirtan
THANK YOU to All of our Presenters and Artists
- Jai Uttal - Shiva Rea - Mark Hyman - Jonathan Foust - Shantala - Yaima - Ajeet Kaur - Dave Stringer - Nina Rao - Toni Bergins - Jafar Alexander - Carrie Grossman - SriKala - Shawn Stevens - Jillian Pransky - Juliet Rabia - Steve Gorn - Dr. Claudia Welch - Beecher Grogan - Visvambhar - Gaura Vani - Katie O'Connell - Jorge Luis Delgado - Brenda McMorrow - Brothers Frantzich - Harikrishnan S - Subash Chandran - Ganesh Kumar - Katie O'Connell - John de Kadt - and more....