Nava Kalakar Series- Samyukta Ranganathan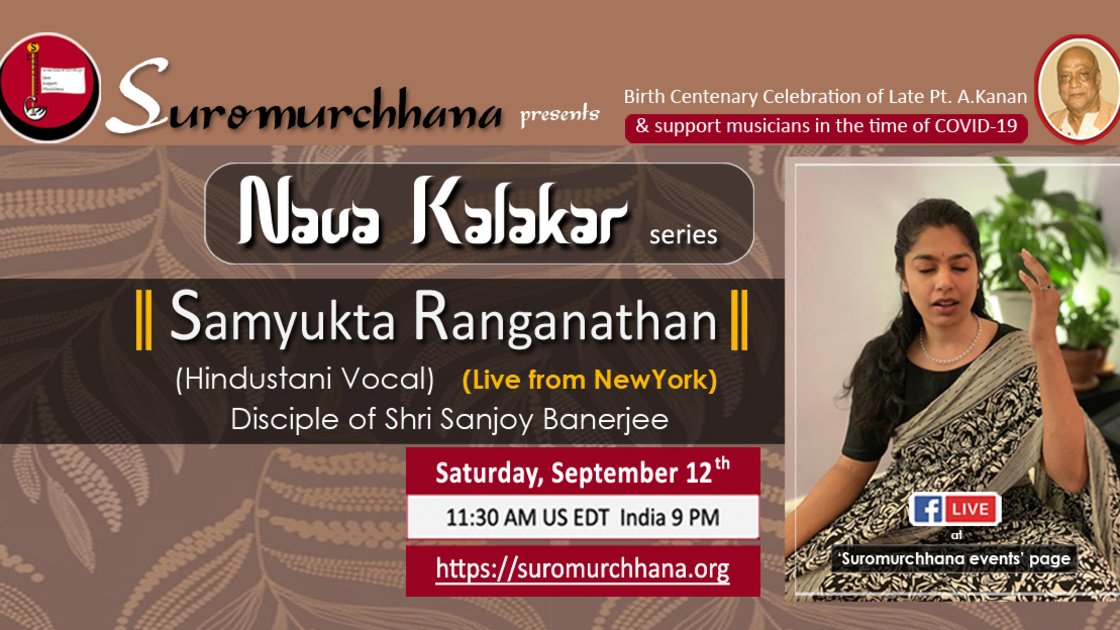 This is an in-person event

Sat, 12 September 2020

11:30AM - 01:00PM (EDT)

Event past Organizer Suromurchhana Artistic Director Sanjoy Banerjee ABOUT NAVA KALAKAR SERIES All participants of Nava Kalakar are students of Suromurchhana who we believe to be the future performers of Indian classical music. We will be honored to have your blessings, love and best wishes for their musical journey ahead. The event is free and will be streamed on facebook live on Suromurchhana Event Page. About the Artist Samyukta, a professional Carnatic vocalist, has already earned appreciation for her Hindustani Khayal singing from music connoisseurs and wherever she has performed. We believe her to be one of the future performers of Indian music. She is an award winning singer of South Indian classical vocal music. She began her training under Sangita Kalacharya Bombay S. Ramachandran at age 8 and had begun singing in the South Indian music circuit by age 13. Just a few years later began solo performances at several historic venues across the region. Since then, her experience as a classical Indian singer has been bolstered by an active performance career that included many cities in South Africa and the United States. She received The Brinda Repertory Centenary award in 2015 for her work in Carnatic Music. She is also teaches Carnatic music. She is now learning Hindustani classical vocal music under Pt. Sanjoy Banerjee of the Kirana Gharana. ​Currently, Samyukta is collaborating with the best musicians from around the world on her solo album "The Wandering Poet"(https://soundcloud.com/srnathan). The project arranges 12th century Sanskrit poetry (Ashtapadis) in several genres including Latin, jazz, electronica, hip-hop and pop.