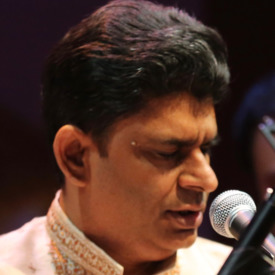 Sanjoy Banerjee
@sanjoybanerjee
Vocalist Sanjoy Banerjee is a distinguished exponent of the Kirana Gharana. He was a scholar at ITC Sangeet Research Academy under the guidance of the late A. Kanan and Sangeet Bidushi Malabika Kanan, who considered him to be the successor to their musical heritage.
He has received many awards and honors including the Surmani award from Sur Sringar Samsad, Mumbai, National Scholarship and Junior Fellowship from the Government of India.
Sanjoy Banerjee's performances have impressed connoisseurs of Indian classical music with his ideas of vistaar (elaboration of notes), following the paths of Merukhand (improvisational style involving permutation of a fixed set of notes) and melodic development with meditative approach.
Regarded as one of the finest educated musician, Sanjoy Banerjee has successfully produced students who have already established themselves as future performers of classical music. He currently teaches at his own institution, Kolkata Suromurchhana in Kolkata, and is also a faculty at Chhandayan Center in USA.