Nava Kalakar Series - Andrew Shantz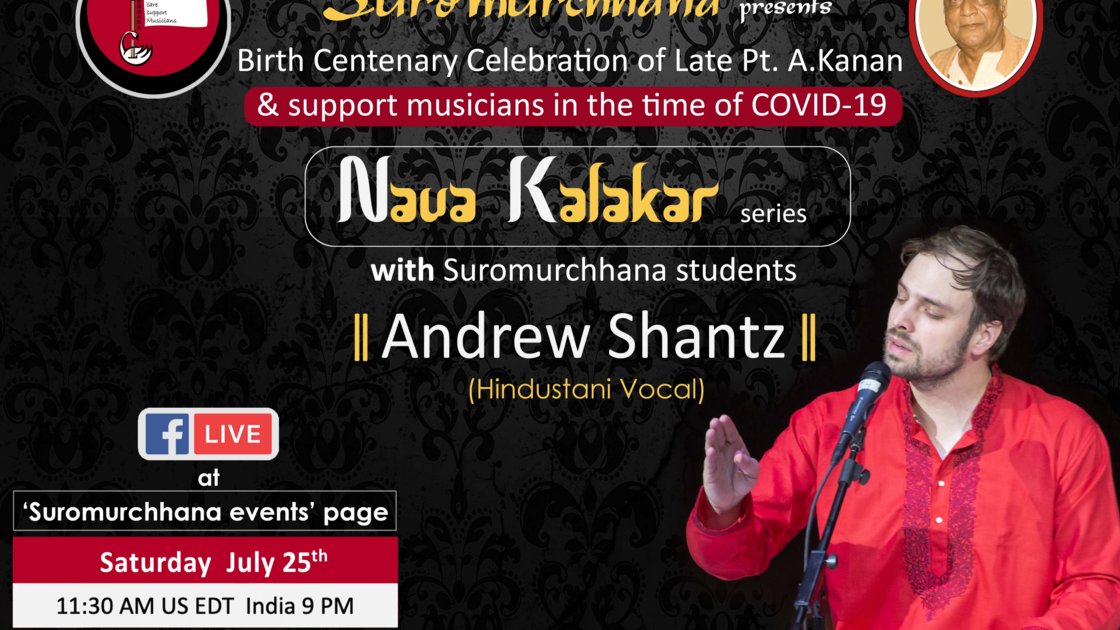 Sat, 25 Jul 2020 EDT

11:30AM - 12:30PM (EDT)

Event past Artistic Director Sanjoy Banerjee Organizer Suromurchhana Suromurchhana US presents Nava Kalakar Series - introducing upcoming musicians, who are students of Suromurchhana US, starting with Shri. Andrew Shantz from New Jersey. Saturday, July 25th @ 9 PM India time, 11:30AM US EDT on Facebook LIVE on Suromurchhana Events page. Andrew is a Professional jazz pianist and has been pursuing Indian classical vocal music from Pt. Sanjoy Banerjee. After earning a bachelor's degree in jazz piano from the renowned William Paterson University jazz program, Andrew Shantz became immersed in the world of Hindustani classical music when he traveled to Kolkata, India in 2008. He was initiated into Hindustani vocal music there, by Smt. Madhumita Saha. Currently, Andrew studies pure classical khayal under Sanjoy Banerjee and light-classical styles under his Guruma, Madhumita-ji. He also receives special guidance and training from tabla maestro Pt. Samar Saha. Andrew has made three trips to India for vocal studies and has continued to learn rigorously from Pt. Sanjoy Banerjee in the US. He is the recipient of several scholarships - including the New Jersey State Council on the Arts Folk Arts Apprenticeship - and other honors such as first place in the adult vocal category of the 2017 Marathi Vishwa classical music competition. He is also a member of Brooklyn Raga Massive since its inception. Andrew teaches Hindustani vocal in Denville, Jersey City, and Somerset, NJ. ABOUT NAVA KALAKAR SERIES All participants of Nava Kalakar are students of Suromurchhana who we believe to be the future performers of Indian classical music. We will be honored to have your blessings, love and best wishes for their musical journey ahead.