Session 2 - Annual Music Festival 2021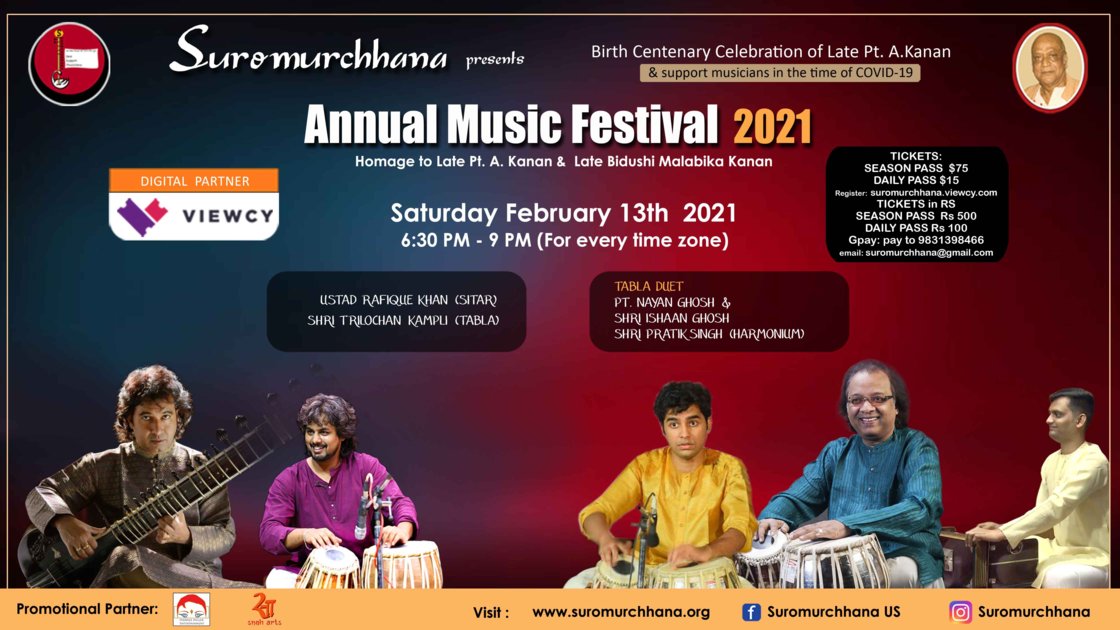 13 Feb, 2021, 6:30PM to
14 Feb, 2021, 11:30AM (IST)
Event past
Artistic Director
Sanjoy Banerjee
Organizer
Suromurchhana
Suromurchhana US presents: Annual Music Festival 2021
Session 2 - February 13th
6:30 PM to 9:30 PM IST
6:30 PM to 9:30 PM CET
6:30 PM to 9:30 PM EST
6:30 PM to 9:30 PM PST time zones

Suromurchhana's upcoming Annual Music Festival 2021 honors our Gurus Late Pt. A Kanan and Late Vidushi Malabika Kanan. It is also a culmination of the birth centenary celebration of Late Pt. A Kanan.

Part I - Sitar
Ustad Rafique Khan belongs to the sixth generation of musicians from the Dharwad Gharana. He started playing the sitar at an early age, tutored by his father, the late Ustad Abdul Karim Khan, and elder brothers Ustad Usman Khan and Ustad Bale Khan. He was also trained in Gayaki Ang by his uncle Ustad Dastagir Khan. His self-discipline and devotion to music is evident in the fact that he has mastered the Gamak Taans, which is considered to be the one of the most difficult techniques on the sitar. He is recipient of the prestigious Sur Mani Award from Sur Singar Samsad, Mumbai. Rafique-ji has performed at prestigious music festivals and collaborated with musicians all over the world including Europe, the Middle East and South East Asia. Currently he serves as the President of the music organization Sangeet Bharati Foundation and also has an Academy of Hindustani Music at Mangalore.

Shri. Trilochan Kampli
trained initially under Shri Bhaskar Hegde and Sri Mohan Hegde of Purab baj and later under Madiwalaiah Sali of the Banaras gharana. His journey continued with the legendary guru Basavaraj Bendigiri of the Farukhabad gharana. At present he continues his taalim with Pt Anand Badamikar, also of the Farukhabad gharana. Trilochan combines the fiery statement of the Farukhabad gharana with delicate, clear fingering from the Banaras and Purab gharanas. He is also part of "Soular Flare" a first of its kind fusion ensemble, blending jazz/pop with rigorous tabla compositions and ragas on the sitar. Trilochan has accompanied renowned artists and is among the small handful of artists who accompanies Kathak dancers and takes their performances to a higher level.
https://youtu.be/YPE-x3EeE5Y
interview with Ustad Rafique Khan and Shri Trilochan Kampli
Part II - Tabla Duet
Pt. Nayan Ghosh
is an artist with a unique musical dimension. He is acclaimed worldwide for being the only maestro with a superlative command on two diverse instruments – the tabla and the Sitar. He received intensive and extensive training in tabla, sitar and vocal from his illustrious father, the renowned tabla maestro and guru, Padmabhushan Pt. Nikhil Ghosh. He also received invaluable guidance from his father's Guru, the 'Mt. Everest of Tabla' Ustad Ahmed Jan Thirakwa. Pt. Nayan Ghosh is respected among musicians and loved by discerning listeners alike for his innate artistry and emotive musical depth in his performances. Over the last four decades, Nayan-ji has travelled extensively presenting Sitar and Tabla concerts both in India and around the world at various international venues and is the recipient of numerous prestigious awards including Sangeet Natak Akademi award. Presently, he heads Sangit Mahabharati, one of India's premier music education and research institutions that was established by his father in 1955.
Shri Ishaan Ghosh,
an exceptionally gifted child prodigy, gave his first tabla solo recital when he was barely two and half years old. Subsequently, his inherent talent, perseverance and sincere dedication have carried him to unprecedented heights of success and fame as one of the most promising tabla players of his generation. Materializing the imagination and vision of his father and guru Pt. Nayan Ghosh, Ishaan is committed to uphold the gravity of the art form professed by his family. He has carved a niche for himself in both solo tabla playing and accompaniment. From a very early age Ishaan has been regularly traveling and performing across the world.
https://youtu.be/dFzzBlFCxJY
interview with Pt. Nayan Ghosh and Shri Ishaan Ghosh