Session 4 - Annual Music Festival 2021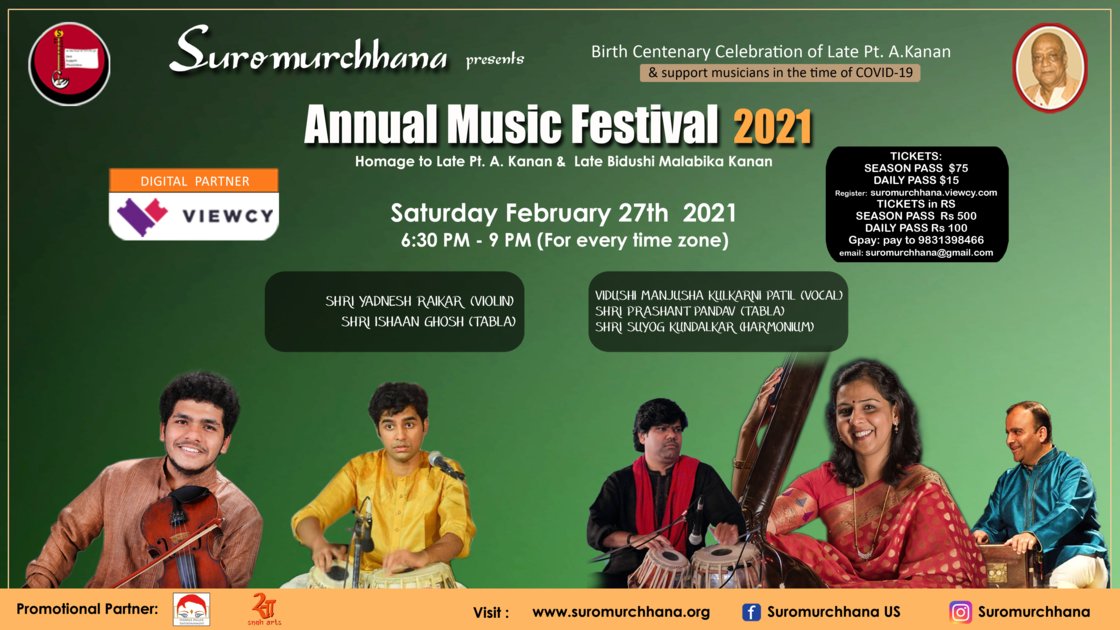 27 Feb, 2021, 6:30PM to
28 Feb, 2021, 11:30AM (IST)
Event past
Artistic Director
Sanjoy Banerjee
Organizer
Suromurchhana
Suromurchhana US presents: Annual Music Festival 2021
Session 4 - February 27th
6:30 PM to 9:30 PM IST
6:30 PM to 9:30 PM CET
6:30 PM to 9:30 PM EST
6:30 PM to 9:30 PM PST time zones

Suromurchhana's upcoming Annual Music Festival 2021 honors our Gurus Late Pt. A Kanan and Late Vidushi Malabika Kanan. It is also a culmination of the birth centenary celebration of Late Pt. A Kanan.
Part I - Violin
Shri. Yadnesh Raikar is a young fame in the field of Indian Classical Music who started training Violin at a tender age of 2 and gave his first performance at the age of 4. Son and disciple of renowned Violinist Swar-pradnya Pt. Milind Raikar, he is also lucky to have guidance from none other than Gana-saraswati Kishori Amonkar. He has learnt Vocal from Anand Pednekar and Late Pt. Vasantrao Kadnekar. In addition to his father, he is currently learning from Pt. Arun Kashalkar and Violin Legend Vidwan Dr. L. Subramaniam. He started his performance at an early age at prestigious venues in India and abroad and has been awarded the Uttung Puraskar, Pt. V.D Paluskar award and prestigious Bharat Ratna Dr. MS Subhalaxami Fellowship Award and many more.
Shri Ishaan Ghosh
an exceptionally gifted child prodigy, gave his first Tabla solo recital when he was barely two and half years old. Subsequently, his inherent talent, perseverance and sincere dedication have carried him to unprecedented heights of success and fame as one of the most promising tabla players of his generation. Materializing the imagination and vision of his father Pt. Nayan Ghosh, Ishaan is committed to uphold the gravity of the art form professed by his family. His sensitive accompaniment has won him critical acclaim from both musicians and connoisseurs. He has performed with landmark figures in the Indian classical music field including his father Pt. Nayan Ghosh, violin legend Dr. N Rajam, among several other prominent artistes.
https://youtu.be/7dkUh9N9NbE
interview with Shri. Yadnesh Raikar.
Part II - Vocal
Vidushi Manjusha Kulkarni-Patil
has been trained in the gurukul tradition with Late Sangeet Acharya Pt. D.V. Kanebua in Agra and Gwalior gharana. She received further guidance from Dr. Vikas Kashalkar and is currently honing her advanced skills under Padmashree Pt. Ulhas Kashalkar. Purity in exposition of raga, complex pattern of taan rendered with speed and quality and proficiency in semi classical forms of music like Thumari, Dadara and Abhang constitute her delightful performances. Manjusha-ji has performed nationally and internationally and has won prestigious awards like Ustad Bismillah Khan from Sangeet Natak Academy, Pt. Kumar Gandharva Rashriya Puraskar, Pt. Basavraj Rajguru Yuva Puraskar. In 2007, she established a Gurukul for training of Hindustani Classical Music in Sangli, a town where she was born and had started her initial training, under the umbrella of Sangeet acharya D.V. Kanebua Pratishthan.
Shri. Prashant Pandav's tabla training began under Pandurang Mukhade. He now studies under Pt. Yogesh Samsi, a disciple of renowned tabla maestro Ustad Alla Rakha. Prashant. He has received a scholarship from the Government of India. Prashant was initiated into the kirtan form of religious music from Maharashtra. He continues to pursue this form and provides accompaniment to vocal music and Marathi theatre music and plays other percussion instruments too.
Shri. Suyog Kundalkar
is an established harmonium player of the younger generation. He has achieved a distinct identity of his own at a very young age. He started training in Harmonium at an early age from Smt. Ranjana Godse. Thereafter, he has been a devoted student of the renowned harmonium soloist, accompanist and musicologist Dr. Arawind Thatte. Also, a keen student of classical vocal music, Suyog has trained under Shri. Shreeram Devasthali, Shri. Suhas Datar and Smt. Lalita Khadilkar. Suyog has ably accompanied great stalwarts at prestigious music conferences in India and abroad and considers himself extremely fortunate to have been associated with Ganasaraswati Kishori Amonkar and Dr. Prabha Atre whom he has been accompanying regularly.
https://youtu.be/rD4AyagBe1M
interview with Vidushi Manjusha Kulkarni-Patil.