BRM Weekly: Xander Naylor / Tripp Dudley / Nicholas Jozwiak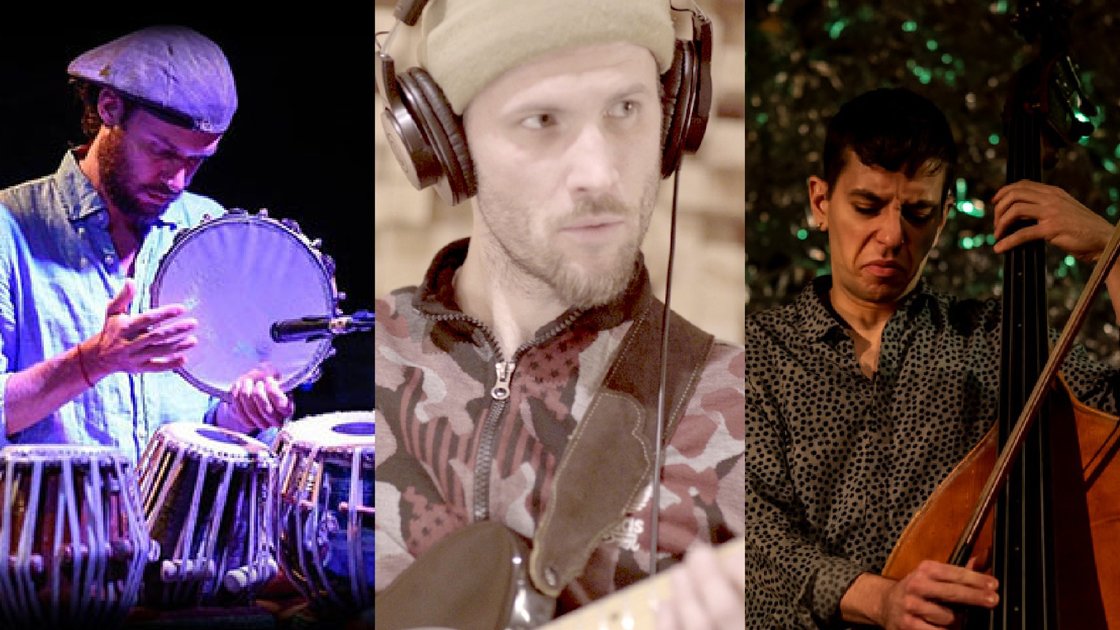 This is an in-person event

Thu, 14 November 2019

08:00PM - 11:55PM (EST)

Event past Organizer Jacob Ellis $10 Advance | $15 Door | 8pm Doors Open | 8:30pm Music | 10pm BRM Weekly Raga Jam A coming-together of accomplished instrumentalists from a wide breadth of traditions tied together through a common love of improvisation, this will be an evening of music exploring the intersections of Hindustani music, jazz, and beyond. Xander Naylor - guitar Tripp Dudley - percussion Nicholas Jozwiak - bass Xander Naylor is a guitarist, improviser, and composer living in New York City, who gathers the vocabularies and core energetic forces of avant-jazz, post-rock, and Indian classical music into a singular new sound, described by The Critical Masses as "a language all his own." In 2008 he began an ongoing relationship with tabla maestro Samir Chatterjee, his mentor in the study of North Indian Hindustani classical music, while continuing to explore new sonic and gestural worlds in collaboration with indie rock bands, underground performance artists, dancers and video artists, as well as a host of experimental free improvisers. Naylor has toured throughout the U.S., Canada, Europe and India, as a solo artist, collaborator, and with his own ensembles, Xander Naylor Sound Machine, and the trio Caution Caution Caution. In 2017, Naylor released Transmission, a collision of progressive rock and chamber jazz with voice and strings, about overcoming personal barriers within the self, which Here Comes The Flood called, "a treasure trove of musical ideas that will require many listens." The New Year will bring an extended tour of India in support of Transmission. Tripp Dudley is an accomplished tabla player, drummer and percussionist with performance experience in many diverse musical traditions. His deep groove and virtuosity across multiple instruments have paved the way for his many journeys around the world with many different artists. He has performed with: Pandit Samir Chatterjee, Dan Weiss, Beth Nielsen Chapman, Jamshied Sharifi, Maartin Allcock, Pete Zorn, John Ragusa, Adam Rudolph, Rogério Boccato, Hamid Drake, Tim Keiper, Matt Kilmer, Philip Mayer, Simrit, Jai Jagdeesh, Salieu Suso, Mirabai Ceiba, Bolé, Salif Bamakora and many others. Tripp's strength with uncommon rhythmic cycles and polyrhythmic concepts led him to find the tabla, a drum from the North Indian classical tradition. He has been a dedicated student of tabla for over 15 years, and was initiated as a formal disciple by Pandit Samir Chatterjee, continuing a teacher-student lineage that dates back almost 300 years. Tripp has taught many workshops and private lessons, and played thousands of concerts in more than 25 different countries. He is a graduate of Berklee College of Music, and endorses Saluda cymbals. Nicholas Jozwiak is a multi-instrumentalist residing in Queens, NY. He is a member of Aaron Burnett and the Big Machine, Peter Evans' Being & Becoming, Gabriel Marin's Social Assassins, Sarah Bernstein's VEER Quartet and the Sistine Criminals. **Special announcement for Musicians!** BRM cordially invites you to join us in the ongoing effort to cultivate a home for intercultural musical dialogue. We are happy to offer FREE ENTRY TO MUSICIANS AFTER 10 PM WHO COME WITH THEIR INSTRUMENTS AND ARE READY TO PLAY! Please come out and engage with one of NYC's most vibrant and diverse communities of improvising musicians hailing from all over the music world!