Forestdance
by
HeARTbeat Collective Inc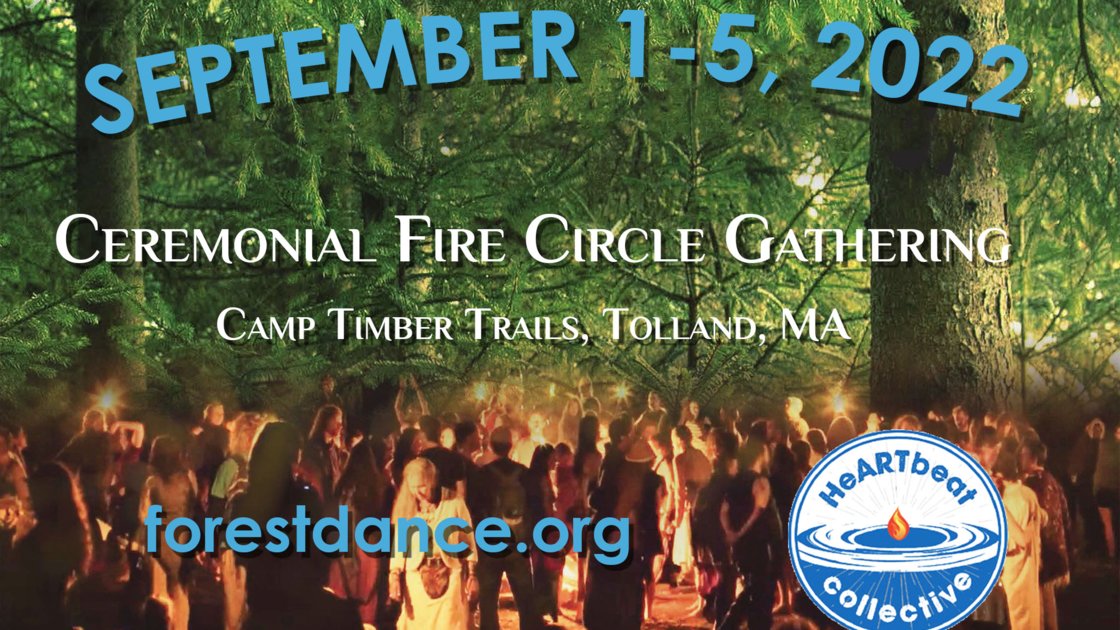 01 Sep, 2022, 2:00PM to
05 Sep, 2022, 4:00PM (EDT)
Event past
Camp Timber Trails
1266 E Otis Rd
Tolland, MA 01034
Open Map
You are invited to join us as we share in an experimental and magical deep dive and profound celebration of music, dance, our lives, and of our connection to sacred land, at our 38th Forestdance Fire Circle Ceremonial Gathering.
Forestdance is a ceremonial gathering, a rite of passage, where we circle and dance around a fire, exploring creativity and being in service for three full nights from midnight until dawn.
Our facilitators, teachers and everyone present, will help guide the circle on a journey helping us to access and reclaim our own core, our inspiration, and our connection to nature.
This beautiful gathering has shaped a community. It has reignited passions for so many talented people, reclaiming inspiration, and has shown an alternative way to co-exist that many of us have stopped dreaming about long ago.
This history of this gathering shares lineage with various spiritual fire circle traditions, and has become a culturally significant offering that respects those that have come before us, diversity, free will, identity, subtlety, awareness around appropriation, and an appreciation for dialogue. We are queer friendly and kid friendly. The food we offer is organic and much is locally sourced.
This gathering is a celebration of all that we are and all that we can be. Due to the deep nature of this event, to cultivate a powerful space, we ask all attending to be present on Thursday evening.
Price includes two meals/day plus snacks, and dinner on the night Thursday and brunch on Monday (Labor Day). After some rest, attendees must be off site on Monday.
The fee we ask for does not go for the ceremony itself, but to cover the costs of the rental, food, and supplies for putting on the gathering.
This gathering is hosted by the HeARTbeat Collective, a 501c3 organization.
Culture Creation, Service, Ecstatic Experience, Musical Trance space, with heated and dynamic drumming and chanting. We become fully alive again in this space, wherever your are along your journey, it's big medicine.
We look forward to dancing around the fire with you soon!