[POSTPONED] Hip Hop in the Holler :: DJ Abilities, Anna Diorio, Chachillie & Local MCs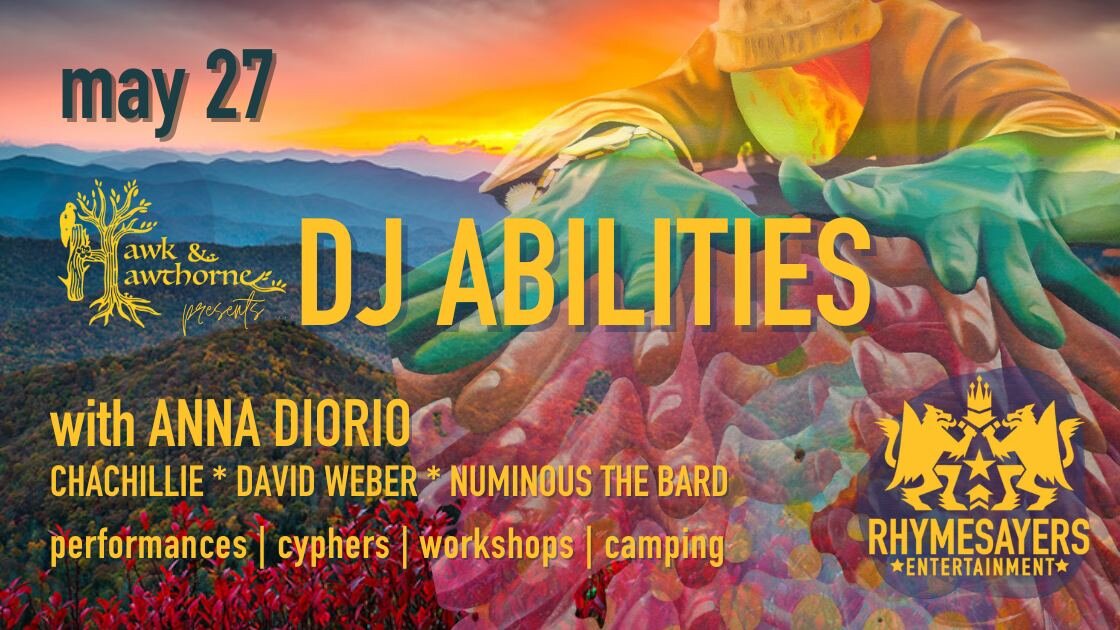 27 May, 2023, 1:00PM to
28 May, 2023, 1:00PM (EDT)
Event past
Hawk & Hawthorne
133 N FORK RD
BARNARDSVILLE, NC 28709
Open Map
** This show has been postponed until further notice. Refunds have been issued -- if you do not receive yours, please email hawkandhawthorne@gmail.com.
You are invited to join us for a full day 'n' night celebration of Hip Hop in the Holler here at the Hawk & Hawthorne.
We are proud to host artists from both sides of the turntable: modern legend DJ Abilities from Rhymesayers & performances by Anna Diorio, Chachillie, David Weber & Numinous the Bard.
Headliners will be staying on the land with us Saturday night, so beyond seeing them perform there will be opportunities to drop in, spit bars & chop it up with them and other people who love hip hop. All artists will be teaching workshops & telling stories about their artistic journeys Saturday afternoon.
Note: Workshops & Camping Only Included with Day 'n' Night Pass Add On & for
VIP Season Tickets
holders.


The Day 'n' Night Pass is encouraged for this show to get the most out of the container.
If you've never experienced the Hawk & Hawthorne before, it's a uniquely beautiful 50 acre community-powered venue full of permaculture gardens, springs and forest trails. Check out the short video below for a glimpse into the magick.
We do our best to keep shows affordable & are debuting a sliding scale "Proud to Pay" model with this show. Please give what what you are able to support our independent venue in putting on events like this. If you are unable to attend the show or workshops due to lack of funds, please email us at hawkandhawthorne@gmail.com -- We offer some discounted tickets for BIPOC & historically disadvantaged groups.
== Schedule ==

Saturday, May 27th
**NOTE -- Daytime Programming & Workshops Only Available to Day 'n' Night Pass Holders

1 PM :: Doors Open for Day Pass Holders

2 PM :: Freestyle Workshop & Cypher w/ Numinous the Bard & Anna Diorio

4 PM :: Turntable Talk, Q & A + Storytelling w/ DJ Abilities

5:30PM :: Doors Open for Show

6PM :: Local MC Showcase + Performance w/ Numinous the Bard
A few spaces exist for an open mic spotlight. Please RSVP the MC @ m.numinous@gmail.com if you have something special to share. Poems must already be memorized.


7PM :: David Weber

7:30 Anna Diorio

8:15PM :: Chachillie


9:15PM :: DJ Abilities


11PM :: Fireside Poetry & Cypher Vibes


1AM :: Close & Departure for anyone not Camping

Sunday, May 28th (for those camping)

9AM :: Coffee & Breakfast Available at Bar (Not Included in Ticket)

10:30AM :: Permaculture Land Tour with the Land Steward

12:30PM :: Closing Circle

1 PM Depart


== ARTIST BIOS ==

DJ Abilities

DJ Abilities had first met Micheal "Eyedea" Larsen in the mid-90's, and the two soon began a working relationship that would eventually play a prominent role in the burgeoning Indie-Rap movement of the time. Together, the pair developed a near symbiotic creative union that produced three albums—First Born; E&A; and By The Throat—a catalog animated by the burning fusion of Eyedea's introspective and technically adept rhymes with Abilities' precise scratches and versatile production. Tragically, his partner Eyedea passed away in 2010 leaving Abilities to soldier on by himself, but the influence of their partnership continues to shape DJ Abilities' music to this day.


His latest project, Phonograph Phoenix, finds the DJ/Producer returning to the forefront and embracing an entirely new approach to making music. A departure from previous work that was primarily sample-based, Phonograph Phoenix finds Abilities opting to build the album's compositions from the ground up, creating his own sound through Ableton Live and enveloping synths, with razor sharp cuts and select vocal chops providing a voice where his fallen partner may have once stood.


Abilities' new production techniques breathe an awakening essence into Phonograph Phoenix, whether that's in the deep, cavernous bass and funky drum loops of "Worldwide", the gorgeous atmospheric synths he conjures on "Waves", or the sinister head-nodding groove of "The Badman" with its vulnerable-but-not-self-pitying vocal samples. Throughout its creation, Abilities sought to remain as truthful as possible, ensuring that each song held qualifying meaning and that the album on a whole made a definitive statement. The process inspired Abilities to dig deep and pull up some heavy, heartfelt beats and, speaking with his hands as all great turntablists do, he used this space to address grief, loss, and his own personal shortcomings, all while making room for hope and optimism.

Anna Diorio

Anna Diorio (fka Happy Accident) is an emcee, singer, songwriter, pianist and transformational educator. Hailing from a long lineage of Jazz musicians, Anna began playing piano at 5 years old, singing jazz standards at 11 and writing poetry as a teenager. This quickly evolved into writing rhymes and freestyle emceeing as a natural extension of her love for wordplay and vocal improvisation. With a wide range of influences from Billie Holiday and Ms. Lauryn Hill to Regina Spektor, KRS-One and Rage Against The Machine, her music dances the lines between jazz, hip hop, R&B, neosoul, indie pop and singer-songwriter. No matter the genre, Anna's music stays true to the underlying themes of authenticity, vulnerability, transformation, freedom, faith, joy, forgiveness, and unconditional love.

Numinous the Bard

Bardic Rapper. Life-long writer raised on hip hop with a flair for the mythopoetic. Steward + MC of The Hawk & Hawthorne. Learn more at numinousbard.com




== ABOUT HAWK & HAWTHORNE ==


The Hawk & Hawthorne is a community-powered permaculture farm & venue nestled just north of Asheville, NC.


Set in a freshly renovated heritage tobacco barn amidst an expansive valley full of fruit trees, homestead gardens, spring fed ponds & majestic views. The Hawk has been an organic gathering point for the Asheville & Barnardsville community for over 30 years, hosting hundreds of weddings, workshops & intimate live performances.


The community here is emerging in response to the challenges of our times -- drawing strength from folk traditions and each other to create containers for the emergent human renaissance to celebrate & grow. Through cooperation, music, crafting & regenerative agriculture practices, we are rediscovering our sense of belonging; to the land & each other.


--> We are a non-alcoholic venue. Homemade Elixirs & Buchi will be available at the bar. (Cash preferred; venmo/cards OK.)


--> Please leave dogs at home.

Arrival Instructions & Venue Policies will be sent in the email with your ticket confirmation. Please read them carefully.