Hippocampe Fou: Au Revoir Brooklyn & Apéro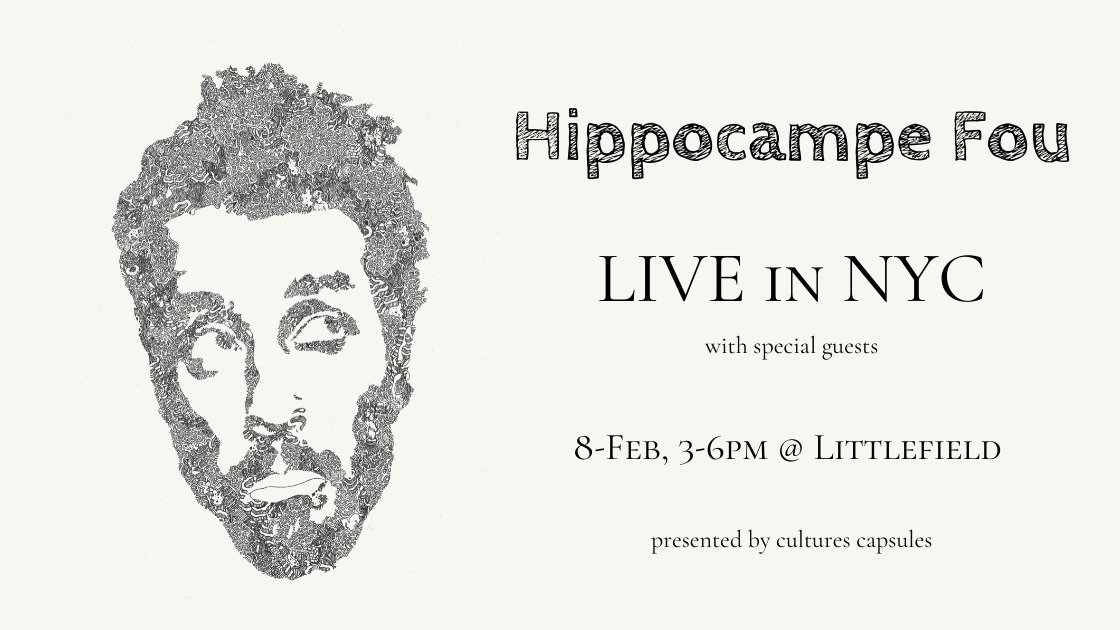 In-person tickets are SOLD OUT This is an in-person event

Sat, 08 February 2020

03:00PM - 06:00PM (EST)

Event past

Littlefield

635 Sackett St

Brooklyn, New York 11217

Open Map

Organizer Cultures Capsules Cultures Capsules is extremely proud to present Hippocampe Fou in a special apéro concert at Littlefield in Brooklyn, where we will dive into his music using a variety of interactive fun, (in both English & French!), as well as get a taste of the French apéro. Join us the afternoon of Saturday, February 8th for some French Hip Hop + French snacks + fun activities to take us inside his music and lyrics. WARNING: You don't need to speak French for this!  We'll bet you a Euro you will fall in love with his fast flow, varied rhythms and super fun videos! See for yourself on his YouTube channel (or Spotify or Apple music). Links below! ;-) DETAILS: Saturday, 8-Feb @ Littlefield, 3-6pm 3pm: Pre-performance fun!  Dive into the music of Hippocampe Fou via several interactive activities fit for young and old alike (and both French/English).  And of course, the apéro snacks & goûter will be available shortly before the performance. 4pm: Performance!  Hippocampe Fou live, with special guests. HIPPOCAMPE FOU Hippocampe Fou is a French rapper who is highly recognized for his fluid, ultra-fast flow which oscillates between spoken word and rap, as well as his ability to rap over any type of rhythm and bpm. With his Trilogy of three albums built around the water cycle, a musical in the works ("L'Odyssée d'Hippo"), numerous collaborations, and hundreds of gigs under his belt, he is a tireless artist. After living between NY and Paris for almost 3 years, he is moving back to France soon and looks forward to taking us on a musical journey apéro-style before he leaves, Please join us as he performs new and old tunes, invites a few special guests to join him, and offers us some fun ways to interact with his music before the show. CULTURES CAPSULES At Cultures Capsules, we weave food, music and stories into one fun experience. For this event we take our inspiration from the very French tradition of apéro, which HIPPO references in his song "Le Mal du Pays (Homesick)." - J'veux m'balader, la nuit dans Paris (~I want to be hanging out, evenings in Paris.) - Du bon fromage avec mes amis (~Enjoying good cheese with my friends) ----- * Apéro: the lovely french tradition of a wine/light cocktail and small bites in the late afternoon. Snacks included in ticket price. * Un goûter is the kiddo version, just an afternoon snack, often sweet. ----- https://www.youtube.com/user/HippocampeFou https://culturescapsules.com/Hippo-NYC https://www.littlefieldnyc.com/ ----- Kids 5 and under free but need to RSVP for a count. Please email culturescapsules@gmail.com for this code, and for any questions. À bientôt & see you soon!