Life Like Water :: Album Release Show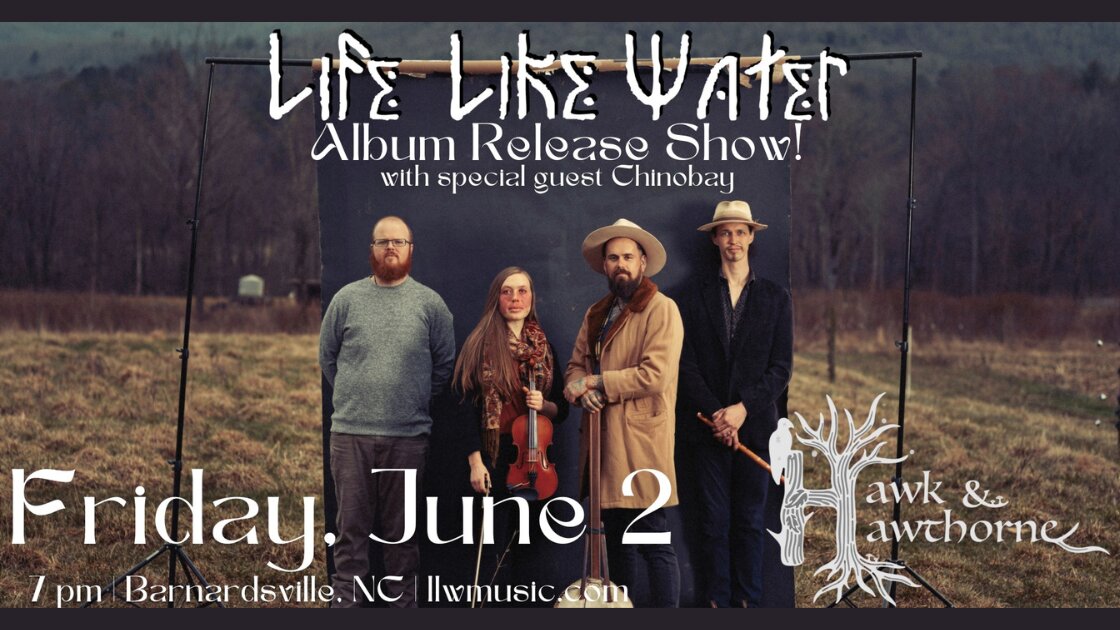 Fri, 02 Jun 2023 (EDT)
07:00PM - 11:00PM
Hawk & Hawthorne
133 N FORK RD
BARNARDSVILLE, NC 28709
Open Map
You are invited to join us for an evening of beautiful music and community connection at the Hawk & Hawthorne.

This is the album release party for Life Like Water's newest project "When Storms Roll In." As a special bonus, Chinobay will be opening. (Artist Bio's below.)

If you've never experienced the Hawk & Hawthorne before, it's a uniquely beautiful 50 acre community-powered venue full of springs and forest trails. Check out the short video below for a glimpse into the magick.

To get the most of all the Hawk has to offer, a limited number of camping passes are available so you can stay the night of the show. Please plan to bring your own camping gear. Two bell tents with queen air mattress and bedding are also available, first come first served. Please email us at hawkandhawthorne@gmail.com if interested.

If you're interested in camping, please make sure to select that option on the ticket page.

If you are unable to attend due to lack of funds, please email us at the address above. We offer some discounted tickets for BIPOC & economically disadvantaged groups.


== Schedule ==


6PM :: Doors open


7:00PM :: Chinobay


8:00PM :: Life Like Water

10:00PM :: Fireside Vibes


11:PM :: Close & Depart for All Guests Not Camping
== ARTIST BIOS ==

Life Like Water

Life Like Water is the creation of multi-instrumentalist and singer/songwriter, David Matters. It was initially started as a way for him to process his turbulent past and navigate an uncertain future, but it has since evolved into a communal effort to celebrate the human experience. To learn more, visit: www.llwmusic.com

Chinobay

Chinobay, is a world-class musician and educator from Uganda & is a new resident of the Asheville area.


Since his youth, he has captivated audiences across the globe with world-roots rhythms and melodies that emanate from the diversity of the many traditional instruments he customized to develop his unique sound. As an accomplished educator, Chinobay's musical presentations and stories provide a unique insight into how we connect as humans across cultural and national lines. To learn more, visit: www.chinobay.com.



== ABOUT HAWK & HAWTHORNE ==


The Hawk & Hawthorne is a practicing permaculture community & venue nestled just north of Asheville, NC.


Set in a freshly renovated heritage tobacco barn amidst an expansive valley full of fruit trees, homestead gardens, spring fed ponds & majestic views. The Hawk has been an organic gathering point for the Asheville & Barnardsville community for over 30 years, hosting hundreds of weddings, workshops & intimate live performances.


The community here is emerging in response to the challenges of our times -- drawing strength from folk traditions and each other to create containers for the emergent human renaissance to celebrate & grow. Through cooperation, music, crafting & regenerative agriculture practices, we are rediscovering our sense of belonging; to the land & each other.


=== CAMPING AT THE HAWK ===

Camping at the Hawk included access to drinking springs, forest trails as well as bathrooms, power, a hot shower, wifi and a sweet covered living room space in the barn to hang out.

Arrival Instructions and Venue Policies will be sent in the email with your ticket confirmation. Please read them carefully.