Violin recital by Arun Ramamurthy & Sitar duet: Rohan and Deepshankar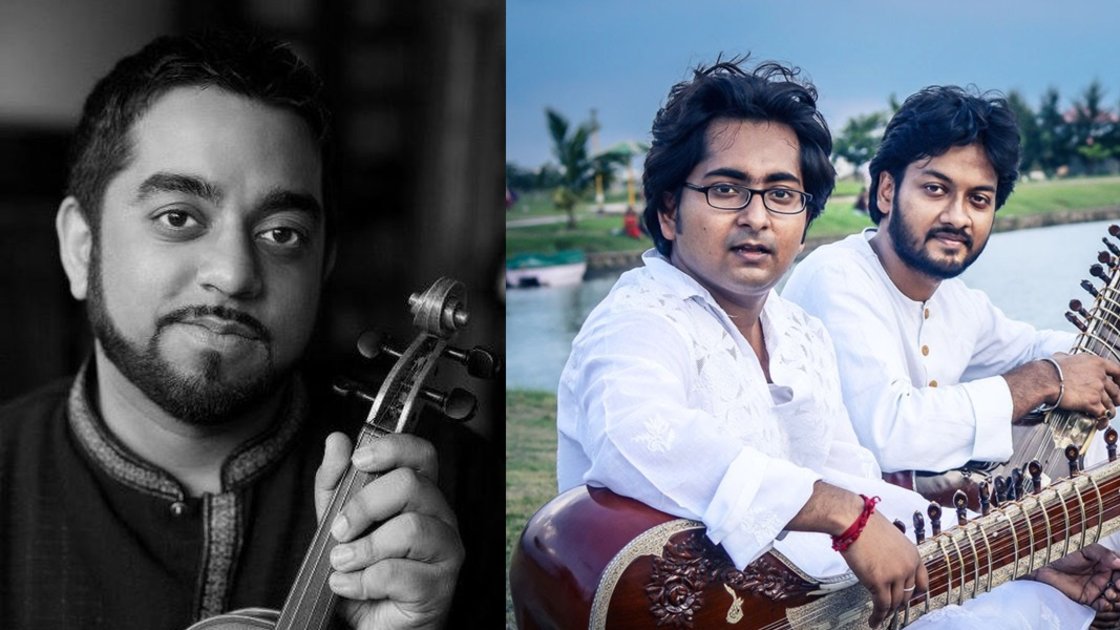 This is an in-person event

Fri, 29 May 2020

08:30PM - 10:00PM (EDT)

Event past Artist Deepsankar Bhattacharjee Rohan Dasgupta Arun Ramamurthy Organizer The Brooklyn Court Jay Gandhi Abhik Mukherjee Camila Celin Ehren Hanson The Brooklyn Court presents an evening of classical Indian music in two parts with violin maestro Arun Ramamurthy of Brooklyn NY, followed by Rohan and Deepshankar of Kolkata India performing sitar duet. We will enjoy this music event from 8:30pm onwards on Friday evening. Everyone is welcome to join. This event is free and open to all with all donations going to the artists. About the artists ++++++++++++++++++ Arun Ramamurthy is a versatile violinist, educator and organizer based in Brooklyn, NY. His music is rooted in his lifelong training of South Indian Carnatic music and influenced by his various musical interests growing up in New Jersey. Arun is a disciple of the celebrated violinist brothers, Dr. Mysore Manjunath & Sri Mysore Nagaraj, the distinguished violinist Sri. Ananthakrishnan as well as many early years with western classical violinist Jim Mate. He has carved a niche for himself as a multifaceted artist, performing internationally in both traditional Carnatic and Hindustani settings as well as bridging genres with his own innovative projects. Arun has been fortunate to perform with esteemed artists such as Dr. Balamurali Krishna, Smt. Sudha Ragunathan, Pt. Anindo Chatterjee, Sri T.N. Seshagopalan, Pt. Krishna Bhatt, Pt. Ramesh Misra, Marc Cary, Amir ElSaffar, Awa Sangho, Adam Rudolph, Kaoru Watanabe, Falu Shah, Roman Diaz, Mike Block, Parul Shah, Jason Samuels Smith and many more. Rohan Dasgupta ++++++++++++++++++ Rohan has imbibed music since childhood since he was born in a musical family, later at the age of 9 he was took to learning Sitar in a traditional way 'Guru Shishya parampara*' where the student lives with the guru and learns the art form as well as the way of life. He has learnt the intricate and rare 'Jafferkhani' style of Sitar playing, (A meticulous and complex style of Sitar playing created by legendary Sitar exponent Ustad Abdul Halim Jaffer Khan) belonging to Indore Gharana of north Indian music. Years of rigorous practise and learning has shaped his individual style of Sitar playing, credited for the clarity of complex technics played over a Kharaj Pancham Sitar (including the 4th base string) complimented with the intricate dynamics of the melody, his Raga recitals achieve a higher foundation and creates a sonorous musical experience. As a world musician Rohan is constantly growing with his several international collaborations, with an open mind, his work reflects the use of Sitar in both traditional and contemporary forms of music as an attempt to uphold Sitar as a world instrument there by reaching the instrument beyond its traditional boundaries, and widening its scope and possibilities, for which he has been constantly researching, experimenting and creating. Deepshankar Bhattachariya +++++++++++++++++++++++++++++++ Deepsankar, a young sitarist born in the year 1986, is the fourth generation sitarist of an enlightened musical family. He embarked on his musical journey at a tender age under the tutelage of his father, Pandit Hara Shankar Bhattacharya.He also trained under the watchful guidance of his dadaguru, Padmabhusahan Ustad Abdul Halim Jaffer Khan Saheb . He is the torch bearer of the JAFFERKHANI BAAJ, a unique style of sitar playing invented and perfected by Ustad Abdul Halim Jaffer Khan saheb. Deepsankar is an " A-GRADE " sitarist from ALL INDIA RADIO. He has performed at various places in India and abroad. His performances in New York and in various cities of Austria, Italy, Belgium, Croatia, Luxembourg, CzechRepublic, Netherlands, France, Germany, Slovenia, Greece, Spain,Sweden have been highly appreciated by the cognoscenti and the commoners alike. Deepsankar has been awarded by several Gold medals and titles from various organizations all over in the world.