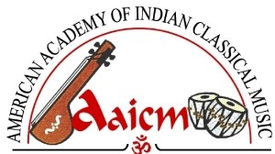 The American Academy of Indian Classical Music (AAICM)
@aaicm
The American Academy of Indian Classical Music (AAICM) is a registered 501(c)3 not-for-profit organization with the mission to promote the study and appreciation of Indian Classical Music in America. Its main objective is to provide an unsurpassed level of instruction in Indian Classical Music under the traditional Indian "Guru-Shishya" tradition. Other objectives include presenting concerts and seminars to help music lovers develop a greater understanding of the beauty and sublime nature of this ancient art form.
AAICM's great strength owes to the fact that its regular instructors (gurus) are some of the most accomplished musicians from India, providing the most authentic form of education into this glorious tradition of music. The Academy focuses on vocal music currently under the able guidance of Ustad Mashkoor Ali Khan, a long time Guru at the ITC Sangeet Research Academy in Kolkata, and his senior disciple Sri Sandip Bhattacharjee, who provide instruction at all levels - for beginners as well as for advanced students with the privilege of one-on-one instruction from these masters. AAICM also regularly hosts concert performances by its gurus in the traditional, intimate environment of genuine chamber music, which is getting rarer in the auditorium culture of today. It also provides its students the opportunity to perform at recitals as well as in the concerts.
This profile is the owner of this organization and can't be deleted. Here are some other things you can do:
1. Hide this profile from view. To do this this, click 'edit' next to the profile name and check "Hidden from public view"
2. Delete this organization and all its data. To this go to settings and click on 'delete this organization'