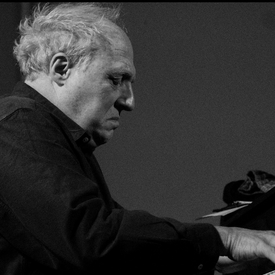 Anthony Coleman @ Barbès
@anthonycolemanba
ANTHONY COLEMAN RESIDENCY @ BARBES EVERY SATURDAY IN FEBRUARY - 6PM
Feb. 4: solo piano
Feb. 11: duo with Brian Chase (drums)
Feb. 18: duo w/Jon - Erik Kellso (trumpet)
Feb. 25: duo w/ Gabby Fluke - Mogul (violin)
Anthony Coleman has been one of the key figures of New York music for nearly four decades. His work bridges the gap between Composition and Improvisation, Uptown and Downtown, and spans a wide range of genres and practices including Free Improvisation, Jazz, Jewish music (of various types), and Contemporary Chamber Music.

Coleman immersed himself in New York City's forward-thinking circle of genre- confounding composers and improvisers that would come to be known as the Downtown Scene. The first two records Coleman played on, Glenn Branca's Lesson No. 1 and John Zorn's Archery, are classics of a then-emerging avant - garde.

Balancing a powerful sense of structural logic and expressionistic color, Coleman has had a prolific career as a composer. His works have been commissioned by the Concert Artist Guild, the Ruhrtriennale, the Festival Banlieues Blues, and the Bang on a Can All-Stars, among others. He has received grants from the New York Foundation for the Arts, New York State Council on the Arts, Meet the Composer, etc.

He has presented his own work at the Sarajevo Jazz Festival (Bosnia), North Sea Jazz Festival (Holland), Saalfelden Festival (Austria), and the Krakow and Vienna Jewish Culture Festivals. He has also toured and recorded with John Zorn, Elliott Sharp, Marc Ribot, Shelley Hirsch, Roy Nathanson, and many others.
Coleman has recorded 20 CDs under his own name and has played on more than 150. His most recent recordings include You (New World) and The End of Summer (Tzadik), and …im Gebirg (ROS4), all of which are recordings of his Chamber Music, and three solo piano albums. His Damaged by Sunlight (2010) was issued on DVD by the French label La Huit.
Anthony Coleman will be at barbès every Saturday in December
Feb. 4: solo piano
Feb. 11: duo with Brian Chase (drums)
Feb. 18: duo w/Jon - Erik Kellso (trumpet)
Feb. 25: duo w/ Gabby Fluke - Mogul (violin)