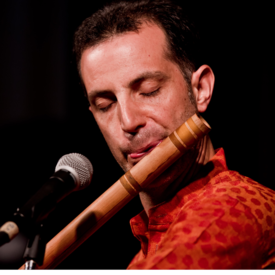 Gayaki Bansuri
@bansuri
MUSICIAN/TEACHING/MUSIC THERAPY
Eric Fraser, having deeply studied North-Indian classical flute from the late Pandit Gopal Roy, is one of the few exponents of the original "gayaki-ang" or vocal style of bansuri flute. Eric's bansuri playing rings with authenticity and pure Indian tone, carrying a distinct and masterful sound imbibing a pure Gharana (Lineage).
Eric Fraser is also a multi-instrumentalist, educator, composer, and songwriter. Eric's orientation to Indian classical music serves as an inspiration for melody, and a creative tool for improvisation in original styles that incorporate voice, guitar, keyboard, electronics and looping.
Eric is also a Licensed Creative Arts Therapist (LCAT) and brings his extensive musical skills to therapeutic work with children and adults. He is also a co-founder of the groundbreaking artist collective, Brooklyn Raga Massive, which has been dubbed the "Leaders of the Raga Rennaisance" by the New York Times.