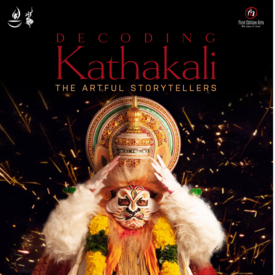 Decoding Kathakali
@decodingkathakali
Decoding Kathakali is a set of films comprising performances, background, and information on aspects of the exquisite dance-drama form from Kerala. The films are interspersed with conversations with practitioners, performers and scholars designed to both shed light on the form and offer an experience of its magical artistry. Although Kathakali translates literally to a "story play", it has been compared to opera, miracle play, pantomime, and even ballet. With its elaborate costumes, intricate and detailed makeup, stagecraft, and fabulous stories of mythical heroes and Gods swathed in the extant performing art forms of different parts of the beautiful state of Kerala, Kathakali has evolved over the last five centuries by assimilating elements of these forms while fashioning its own composite and unique character.
Tune in to watch all the films here!
Decoding Kathakali is jointly organized by the Society for Indian Music and Arts, Nritya, and First Edition Arts, with the support of the Indian Classical Music Society of Vancouver and the Indian Fine Arts Academy of San Diego. It is funded by the University Park Allocation Committee at Penn State University.
Purchasing a ticket once from any of the event pages will give you access to all event pages including livestreamed performances and short films. Do not select the option to send your ticket to a friend, as you will then lose access.
Submit your questions for our live Q&A at: https://forms.gle/g4UR4VjaQfQrzWBg7