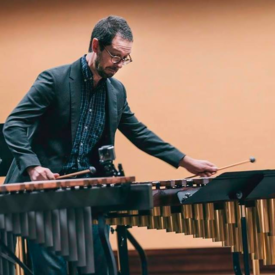 Jonathan Singer residency
@jonathansingerresi
JONATHAN SINGER
In Residence Every Saturday in June at 6pm.
The acclaimed percussionist and virtuoso xylophonist is a true scholar of early 20th century xylophone music. Known for, the Xylopholks, his merry group of furry animals, he has also been featured with the Detroit Symphony and Grammy-winning Nighthawks and has appeared in Boardwalk Empire, Royal Pains, and David Grubin's Downtown Express.
Jonathan will be bringing various projects, from large ensembles to smaller groups, featuring different guests all throughout the month, showcasing the instrument sometimes forgotten versatility, from novelty music to jazz improvisation.
$20 suggested
Pay online now or later in person