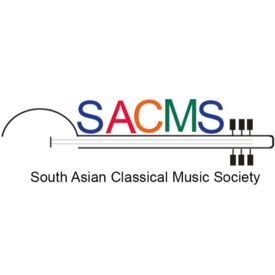 S Asian Classical Music Society of Chicago
@sasianclassicalmu
Presenting the best in classical and light classical music of S Asia and promoting study and performance of the music.
The Mission of SACMS is to create awareness and deeper understanding of the ancient classical musical traditions of India through performances and teaching, while intimately connecting the Chicagoland community in the culture-transcending purpose of these fine art forms.
year-round Goals: (1) present exceptional artistes from Chicagoland and India Summer and Fall
(2) connect with area music schools to encourage top notch student talent and community involvement annually during Spring
(3) organize concerts in intimate spaces for educational and cultural dissemination during Winter..
Organization History
South Asian Classical Music Society of Chicago (SACMS) was founded in 2012 by a small group of individuals who had a common interest in promoting the traditional forms of this music and its rich legacy. During the 1970s to 1990s the Chicago metropolitan area had very active group(s) that hosted many performances especially by renowned artists but this dwindled in the past two decades. The rise of fusion and popular Bollywood music has among the causes.
The Society began public activities in October 2012 in donated gallery space on the Clybourn corridor. It was incorporated as a not-for-profit with the State of Illinois on March 8, 2013 and subsequently obtained 501-C3 status with the IRS. Over five years, SACMS has produced and presented a wide range of performances by talented local and visiting artists. Now in our sixth season, we have put on events in fine venues, including (among others) DePaul University, Indian Boundary Park Cultural Center, and the Merit School of Music, building ties with these important institutions. We are especially proud to have launched an annual student concert taking place at the Chicago Park District's Indian Boundary Park Cultural Center. This builds ties with area teachers and provides budding musicians performance opportunities. These activities give Chicagoans of all ethnicities the chance to enjoy these cultural performances. In 2017 we staged five events in total, archiving them either in part or in full. The past two years have been significant in presenting northern and southern indian classical music traditions to audiences in intimate settings and spaces in the city of Chicago, which has now given us a strong and loyal following.
This profile is the owner of this organization and can't be deleted. Here are some other things you can do:
1. Hide this profile from view. To do this this, click 'edit' next to the profile name and check "Hidden from public view"
2. Delete this organization and all its data. To this go to settings and click on 'delete this organization'