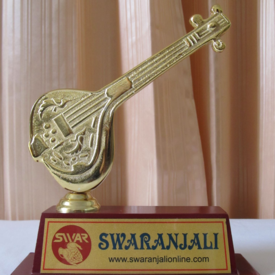 SWARANJALI
@swaranjali
Swaranjali, Organisation for the promotion of Indian classical Art and Culture and its Freelance Non Recognised Artists
About Swaranjali:
Swaranjali,Organisation for the promotion of Indian classical Art and Culture and its Freelance Non Recognised Artists (Regd.no S-47921, U/S 12A Income Tax Act 1961 Registration no- DEL - SR2394 -11092014, Donation Exemption Certificate U/S 80G under Income Tax act 1961.) was founded by Subrata De in India to promote not only Sitar, but all the genres of Hindustani Classical music in India and abroad. Registered under the Society Act, 1861 in December 2003, the organization is a platform for students and enthusiasts of Indian classical music aimed at providing them a platform to exchange knowledge about the various disciplines and styles and encourage collaborations. Swaranjali organizes concerts for students and budding artists several times a year to nurture talent by creating a performance space.
To revive Indian classical music within the country, Swaranjali provides music appreciation and learning courses. Indian music has an unbroken musical tradition in the world. Indian music, also known as "Sangeet" consists of vocal music, instrumental music and dance. "Raag" and "Taal" define the present day Indian music streams of Hindustani Sangeet and Carnatic Sangeet. There are many musical instruments that are peculiar to India and many others without due recognition. Indian music is believed to be developed from the Vedas, through a complex interaction between people from diverse races and cultures. However, Indian youth are increasingly being driven away from Indian classical music due to the wave of western influence. In contrast, people outside India are becoming more receptive to classical music forms.
Additionally, it encourages a contemporary approach to performance and delivery rather than the traditional style of presentation to better connect with the changing diaspora of audience. To uphold India's unbroken musical traditions, Swaranjali has organized many concerts including Samay Chakra, Sufiana Evening, Shraddhanjali, Shaam-e-Mausiqui, Samagam, Sur-Sandhya, Sur-Taal 2006, Swar Utsav, Ozone Prativa Manch and others. Every year, Swaranjali hosts the Gharana Festival, NRI Music and Dance Festival, Murchhana Festival, Jharkhand Mahotsava, Pravasi Bharatiya Sangeet Nrittya-Mahotsava etc. During Covid 19 Pandemic time Swaranjali's Financial supports and helps 100+ freelance artists in India and organsied online concerts like Music without Boundaries, World Sitar Festival 2020 and Swaranjali Online Talk Shows.
In association with Pracheen Kala Kendra, OZONE Groups, Sahitya Kala Parishad, Sangeet Natak Academy, India Habitat Centre, ICCR, Zonal Cultural Centres, Lok Kala Manch, MNC etc., Swaranjali has organized several concerts of Indian classical Music and Dance in various cities in India like Delhi, Mumbai, Bhubaneswar, Chandigarh, Kolkata, Vishakhapatnam, Bhopal etc.
CONTACT:
Founder, Swaranjali,
Address- A 2315, SFB, Green Field Colony Faridabad, Haryana 121010, India
Email- sitarsubrata@gmail.com Tel # +91-9910300319
Website# www.subratade.com www.swaranjali.org
This profile is the owner of this organization and can't be deleted. Here are some other things you can do:
1. Hide this profile from view. To do this this, click 'edit' next to the profile name and check "Hidden from public view"
2. Delete this organization and all its data. To this go to settings and click on 'delete this organization'